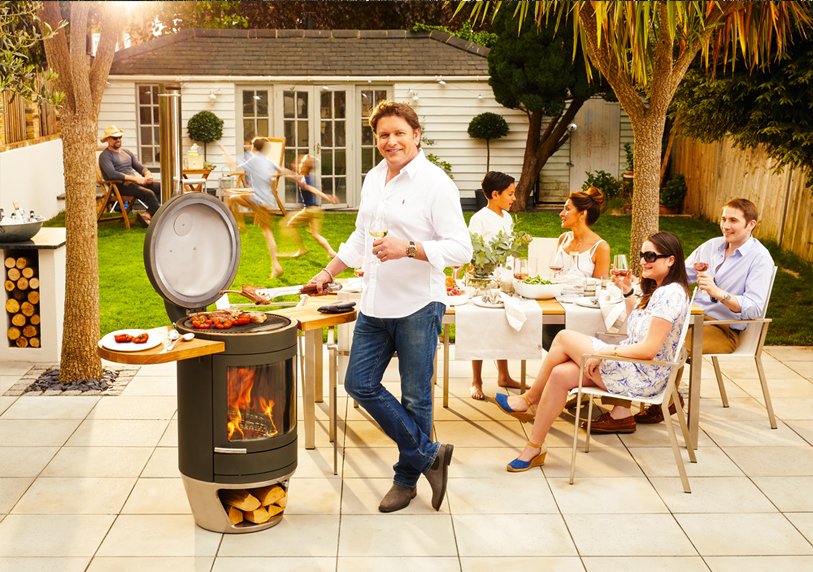 A day in the life of a stylist's assistant pt.3
A day in the life of a stylist's assistant pt.3
The ins and outs of our recent photoshoots: Family townhouse shoot
With only a day's grace period between the previous shoot and this one, there was a very quick turnaround getting everything back from the roof terrace location to the warehouse and then getting the right props organised again for the next shoot. This was all brilliantly overseen by our warehouse manager, however and with no foreseen hiccups, we were ready to go again. A few additional bits and pieces were added to the Tesco food delivery from my end, though as I learnt from the first shoot that one box of chocolate fingers was simply not enough! The life of a stylist's assistant never ends!
PATHETIC FALLACY
I arrived at the shoot after a wonderfully easy commute – in my car – anything to avoid the tube and found that my colleague bringing the new product to the shoot in his rather large van had arrived safely and even better found somewhere to park. For the second time, parking was a potential issue as the owners had warned us that despite there being free parking on their road it was usually rather full. I managed to find somewhere to park my little car although I am fairly sure the space was meant for a smart car; with sheer determination and deep breathing however, I squeezed myself into the spot and felt rather proud with my efforts – it was just lucky I didn't need to get anything out of the boot! As I arrived at the house feeling excited, especially as the sun was peeking through the clouds, my colleague greeted me with a look of concern as he had not anticipated having to get the extremely heavy subject of the photoshoot down some stone steps in the garden. In a moment of near perfect pathetic fallacy, the sun scuttled back behind the clouds. I remained steadfastly confident, however and plastered a smile across my face to hide my own concern as a whole team of people were on their way including a certain celebrity who was to star in the shots – there was no time for creased brows. My phone buzzed with a message from the warehouse manager to say the van drivers bringing all the props were going to be about 30 minutes late as they were stuck in heavy traffic – these being the guys who would be best to help manoeuvre the product down the tricksome stone steps. To my delight I discovered the owners possessed a magical Nespresso machine, however, so coffees were made and we all had a moment of distraction with some much needed caffeine.
The location we were shooting in had a garden room which our stylist, Ali and I decided would be the perfect spot to unload and keep all the props during the shoot. When the van turned up with everything, I rolled up my sleeves for some more weight lifting and we got everything off the van and into the garden room smoothly. Whilst all this was happening the food delivery arrived, as did the Home Economist ready with all her essentials for the shoot and she set about getting organised in the main house. Following in quick succession was the make up artist with her many suitcases filled with wondrous make-up and hair styling tools and our completely fabulous photographer, Nicky Johnstone. As I was unpacking all the props with Ali, I noticed that the new Chesneys product was sitting proudly where we wanted it to be, it had made the great journey down the stone steps and was ready for its close up. The sun was out, all the team were assembled, the Nespresso machine was receiving a lot of attention and everyone was busily getting ready. We had some children with us for this shoot and I made sure that they were presented with some lovely choccy treats and juice boxes which were met with a chorus of perfectly harmonious "Thank You's" each time something was put down in front of them – quite possibly the most polite children I have ever come across! There was a wonderful buzz in the air as everyone was commenting on what a great location choice it was and where the best place for the shots would be. Our celebrity guest star, chef James Martin, had also arrived, found somewhere to park with no trouble at all (phew), and was whisked off for hair and make-up.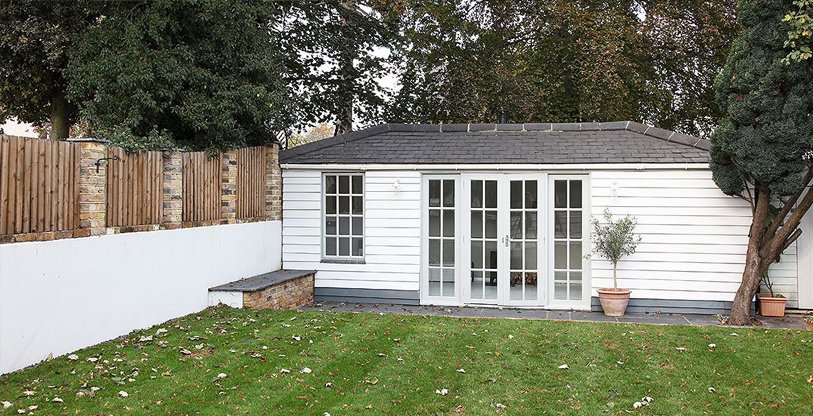 PUZZLING PROPS AND MAKEOVERS
We borrowed a lovely table and set of chairs from Indian Ocean for this shoot and Ali had sourced numerous pieces of gorgeous glass and tableware which she set about styling on the table. I started to unpack some fabulous lanterns from Lights 4 Fun which are clearly meant to only be taken out of the box and not put back into the box due to the tight composition of the polystyrene. Ali then asked me to assemble a set of glavanised Café Lights which were rather puzzling to put together and took longer than either of us anticipated but once up, looked wonderful. Thankfully one of the gorgeous little boys brought me a bottle of water which was hugely appreciated as it was now a lovely summer's day. I didn't actually complete the task at hand as I was suddenly called away for make-up as I was one of the models for this shoot, which I had conveniently forgotten. Our resident make-up artist, Victoria Barnes, did a fab job and made everyone look very glamourous as she did for the last shoot and even popped some hair gel into the little boys' hair, much to their excitement. After lots of setting up and of course ironing – mainly by Ali, I have to admit – we were ready to take the first few shots.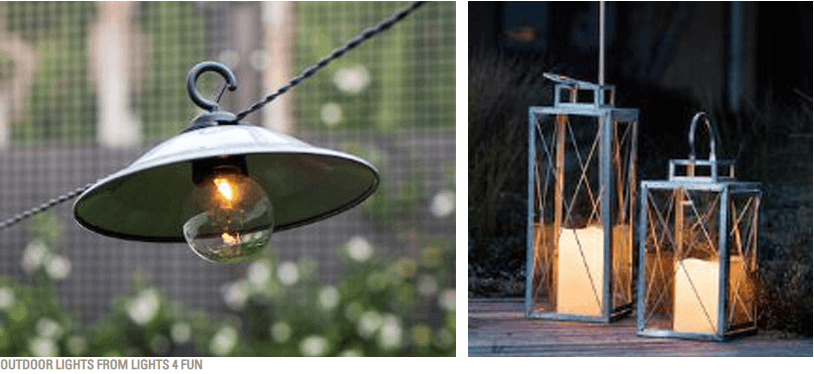 MODELLING
We were all given our places at the table, instructed to pick up our wine glasses and look like we were having a fabulous time – this was not hard at all. The setting was lovely, the company was great and when instructed to laugh raucously, we all did, which then of course made us all erupt into further merriment. The wind was doing its bit again to undo Victoria's hard work, so she was constantly jumping on set adjusting hair, touching up foundation and powder and adding lippy (not just to the girls!). Nicky directed us all like the pro he is and the kids had a wonderful time in the background doing cartwheels and generally being as active as they possibly could. It didn't feel staged and it was really rather enjoyable – this modelling lark is not so bad, I thought! Once the shots were finished, of course it was off with my modelling hat and back on with my stylist's assistant hat. Ali, being so super organised, however did not really need me to do anything at this stage, so all there was to do was eat!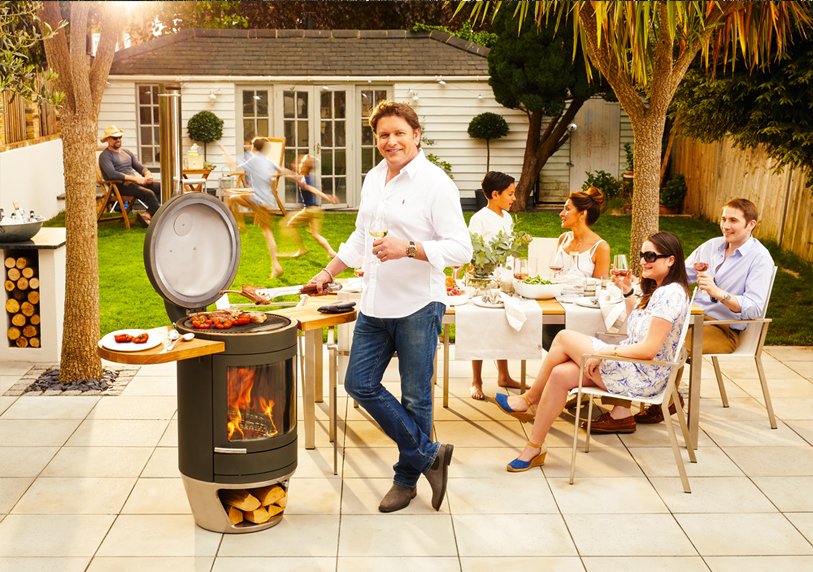 MID-SHOOT LULL
As with our previous shoot, we had some time to wait for the sun to go down. Nicky took some close up shots of our James Martin alongside the new product as well as detailed shots of the product. There was time now though for team bonding – with a cheeky glass of rose, in the sun. There was of course a bit of packing up to do here and there and some prep for the next shot, but Ali insisted she was ok doing it for the moment. I felt rather guilty and thought that perhaps this was my model diva moment: drinking rose instead of hanging fairy lights. The enjoyment was rather scuppered when the clouds suddenly darkened and the heavens opened; like the flash of a camera, everyone ran about picking up camera equipment, grabbing mobile phones and Ali – brilliantly prepared as ever – brought out plastic covers she had brought for the table setting, just in case of rain, which I have to add wasn't forecasted.
LAST ORDERS
Despite our plan being to wait until the sun was going down, the rain showers which at one point produced something closer to hail, brought to life the realisation that we were going to have to try to get the dusk shot done sooner rather than later before a full monsoon hit – the struggles of the life of a stylists assistant! Everything was in place and after some beauty touch ups, we were ready to go, placed in slightly different positions – mine was on the floor on a rather comfy cushion which suited me. No sooner had we started sipping on our wine, posing, laughing and chatting, did a torrential downpour hit us seemingly out of nowhere and there was a mad scramble to cover the table again and get everyone and everything into the shelter. I spotted my little ballet shoes being pummelled by fierce rain drops as I was rushing inside and ran out to get them whilst hearing someone shout across to me to get a camera light close by. It rather reminded me of sailing…. moments of calm and peace interrupted by moments of sheer panic! We all huddled around in jumpers and coats waiting for the rain to stop once again. The day had turned from a gorgeous bright summers day, to a cold, wet, wintry one – good old British weather.
The rain started to cease, however the new concern was that the rain had completely changed the colour of the floor and everything looked a lot darker. The show had to go on though and the shots had to be achieved so out we went, stripping off our lovely winter layers and sitting on slightly damp chairs and cushions (mine had a few plastic bags underneath it for protection). The drops held off however and we got our shots which turned our brilliantly, and you wouldn't know by looking at them how wet and wintry the day had become.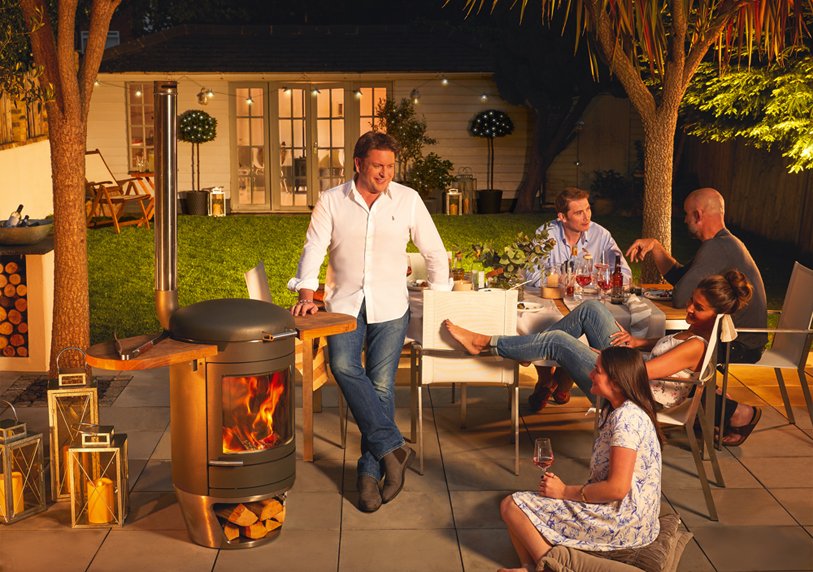 TIDY-UP TIME – life of a stylists assistant
With another successful set of shots under our belt, there was nothing more to do than to change out of our glad rags and tidy up. Unlike the roof terrace shoot where we were able to wrap and pack everything inside the main flat, Ali and I were confined to our little garden room which was rather chilly and the grass outside very soggy. Crossing to and from the main house was a late evening adventure of its own (especially due to the very unsuitable ballet pumps!!) We battled through the elements however and raced against the clock to get everything done by 10pm and managed to only go over by about 15 minutes or so. Ali had her trusty labels ready again as we still had one more shoot to prepare for, at which many of the props would be needed. Just as I was leaving, the owner asked if the large van which had been left on their drive could be moved that night, I called my colleague who had rented the van, however, after a long day, he was treating himself to a well deserved pint or two, therefore moving the van was not going to be possible. Luckily he was back first thing the next morning so all was forgiven!
Another successful shoot day completed with a fabulous set of shots and a great day in the life of a stylist's assistant, a happy James Martin and a happy team. We were all looking forward to the next shoot in Wiltshire, until the weather decided to get up to its old tricks again and forecast heavy rain for the two days we had planned to shoot. The executive decision was made to postpone the shoot for a couple of weeks so it was back to the office for us all to reflect, unwind, check dozens of emails and pat ourselves on the back for a great couple of shoot days with no major hiccups! All in all I enjoyed my experience in the life of a stylist's assistant.
For more updates follow us on Facebook, Twitter, Instagram or Pinterest.