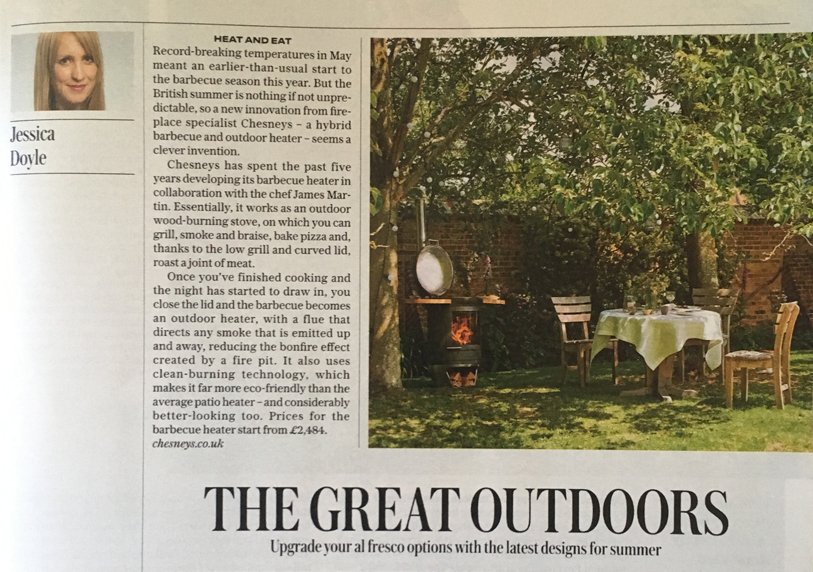 Chesneys HEAT: The Telegraph Magazine
The Chesneys HEAT Collection of barbecue heaters features in the the Telegraph Magazine's article 'The Great Outdoors' highlighting the versatility of the different cooking methods and the unique ability to use HEAT as an outdoor heater once you have finished cooking.
We're so confident that you will love HEAT we'll give you 30 days to try it out. If you don't get on with it, we'll come and take it away, free of charge. We offer a guarantee on all HEAT appliances but not against individual components that may wear and need to be replaced e.g. fire bricks, glass or handles etc. We offer a white glove delivery service that includes installation to a location of your choosing, unwrapping and set up, so your appliance is ready to use (subject to T&Cs).
The Heat & Grill is a high performance dual-function heater barbecue which has been made for those who love nothing more than firing up the barbecue for a spontaneous outdoor feast or simply looking for ways to use their precious outdoor space more often.
Sleek in design, highly durable and powerful in heat, the Garden Gourmet offers luxurious outdoor cooking on a bigger scale, for those natural born entertainers.
Clean Burn is an eco-friendly outdoor wood burning stove. Using the same advanced technology as our collection of indoor wood burning stoves, this outdoor heater emits a substantial amount of glowing heat, producing next to no smoke and runs on very little fuel.
The Garden Party provides a gourmet experience of the highest quality for even large groups of your friends and family.
For more updates follow us on Facebook, Twitter, Instagram or Pinterest.