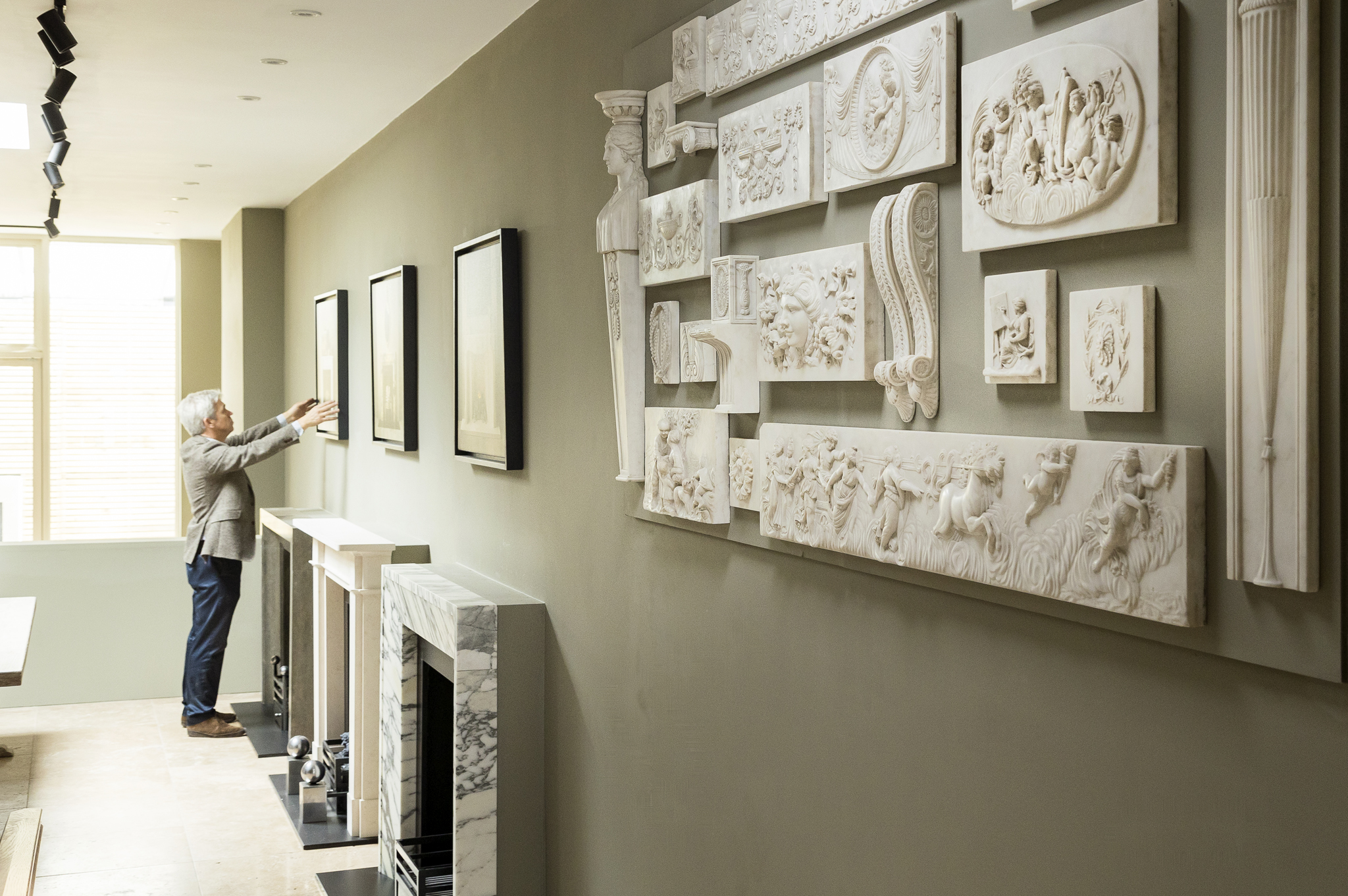 New Showroom – Chelsea Design Studio
Chelsea Design Studio now open
We are delighted to announce that Chesneys new Design Studio opens at 570 Kings Road this week. The new showroom displays a selection of our most popular designs, both period and contemporary but with special emphasis on showcasing more minimalist designs in rare and unusual materials. We are seeing a growing trend for specifiers and design professionals in particular to treat the material, as much as the design, as the key feature of a fire surround. The new showroom offers an extensive library of materials from which to choose and samples are available for all.
Great settings in beautiful materials
The displays at Chelsea will be the most eclectic and unusual we've ever put together in a single showroom. As well as some of our most popular surrounds such as the Metro, Langley, Burlington and Devonshire, we also have some stunning new designs on display, including the big hit of 2019, The Deco influenced 'Scarpa', and the 'Selborne', a brand new design that incorporates highly polished panels in veneered English Flint, a unique application of a traditional material developed by renowned Designer, Steve Charles.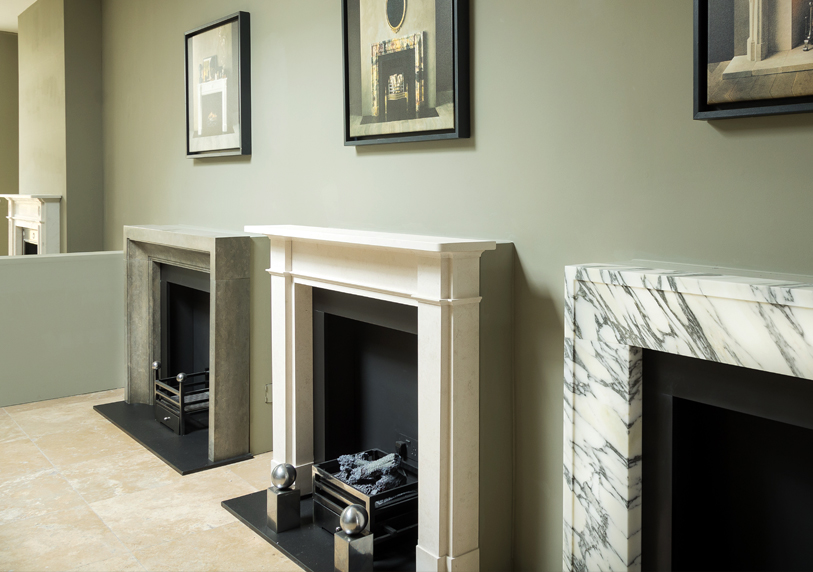 The Scarpa (L), The Devonshire (Centre) and the Metro (R)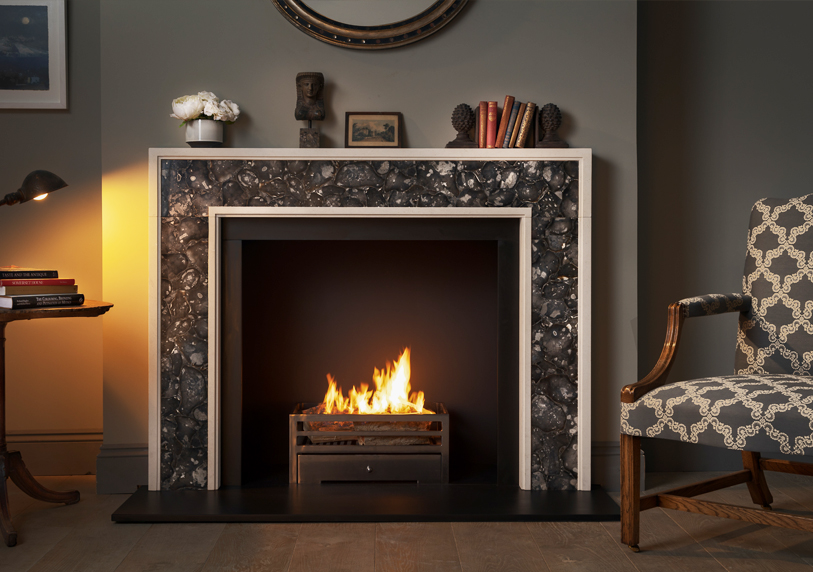 The Selborne
The breadth of materials on display is unique, with an array of unusual and beautiful marbles and stones complemented by interiors and accents that include a variety of faux metal and other finishes. The displays have been carefully curated to provide a novel and original approach to contemporary fireplace design.

From left to right, The Stirling in Nero Marquina, The Mansfield, The Clandon and The Burlington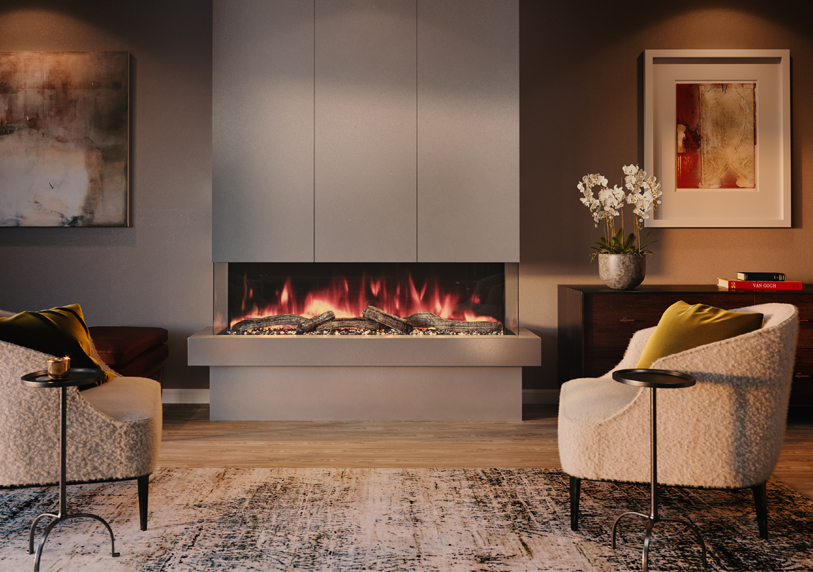 Innovation to the fore – Introducing Luxxcon
We are also unveiling a new polished concrete chimneybreast concept, Luxxcon. A simple, modular design statement, available in 2 sizes and multiples colours, a Luxxcon unit can be installed with either an electric or ethanol fire and provides a contemporary design solution in those rooms that lack the key architectural feature of a chimney breast.
Don't want to visit right now? We have a unique new solution
For customers who are not based in London or unable to visit a showroom during these difficult times, Chelsea will also offer a uniquely flexible approach to meetings, consultations and product selection. We've all been using video platforms over the past 6 months, be it zoom, Teams or facetime, but the challenge of being able to see live product has remained….until now.
In order to enable our customers and their clients to interact with us from the comfort of their own homes or offices, we have developed our unique 'Video Design' studio. This is an innovative, online tool that houses beautifully shot film of nearly a hundred of our most popular surrounds, stoves, grates and related products. Designers will be able to book online consultations with our sales staff and watch detailed videos of products under consideration, and can use the same platform independently with their own clients, should they wish to.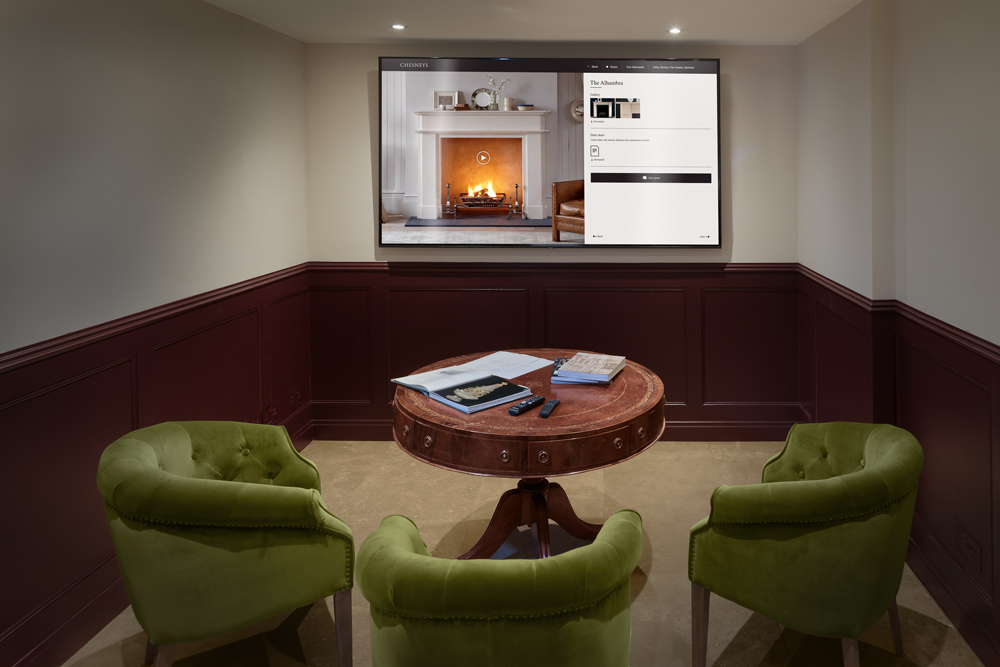 Designer Hub
We have an area on our website exclusively for designers, featuring relevant content, access to products, easy contact and a Designer Showcase where we will feature any of your projects that use Chesneys products, providing an opportunity for your work to be seen by the substantial number of visitors to our site. Please click here
We look forward to meeting you
If you want to book a visit, in person or remotely, please get in touch. We'll be opening the doors on Wednesday 2nd of December and looking forward to meeting you.