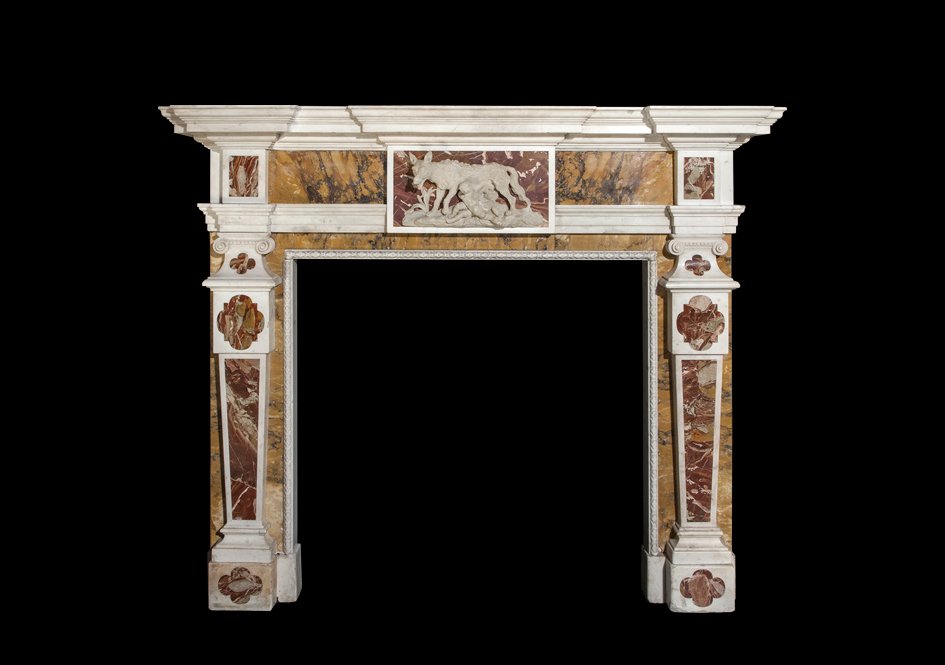 GEO-ZD98
The Romulus and Remus chimneypiece, c.1745. A George II marble chimneypiece in Italian Statuary, Convent Siena and Sicilian Jasper marbles. Attributed to the workshops of Thomas Carter the Elder 1702-1756.
A magnificent carved statuary marble chimneypiece inlayed with richly figured convent Sienna and Sicilian Jasper marbles, the jambs are in the form of Architectural pedestals inlayed with Jasper and surmounted by Ionic capitals beneath a bed moulding and inlayed end blocks. The frieze is centred with an exquisitely carved tablet depicting Romulus and Remus suckling the she-wolf from the mythology of Rome's foundation. The frieze panels flanking the tablet are of convent Sienna marbles. The chimneypiece has a generously moulded break front shelf.
There are two chimneypieces of this period and quality with precisely the same theme seen on the plaque; one at Uppark in the Saloon and one at Saltram House, both carved by Thomas Carter the Elder 1702-1756.
Thomas carter was one of the finest sculptors of his generation to specialize in elaborate chimneypieces. In 1734 Carter opened his workshops in Portugal Row near Hyde Park Corner, London and is said to have been encouraged in his early work by a neighbour, Charles Gervais, Principal Painter to the King and a keen collector of sculptures. His early commissions comprised mainly of monuments, memorials and portrait busts but during the 1740s the Carter workshops specialized increasingly in high quality elaborate marble chimneypieces.
The outstanding quality of the sculpture of the centre tablet, its mythological subject matter, the polychromatic combination of Sienna and Jasper marble and the use of ionic hermed pilasters in the design are all details that are closely associated with Carter's work.
The design of the chimneypiece is typical of the period 1745-1750, a time when Carter was manufacturing chimneypieces for the grandest town houses and country mansions.
Please note this antique is held at Chesneys New York