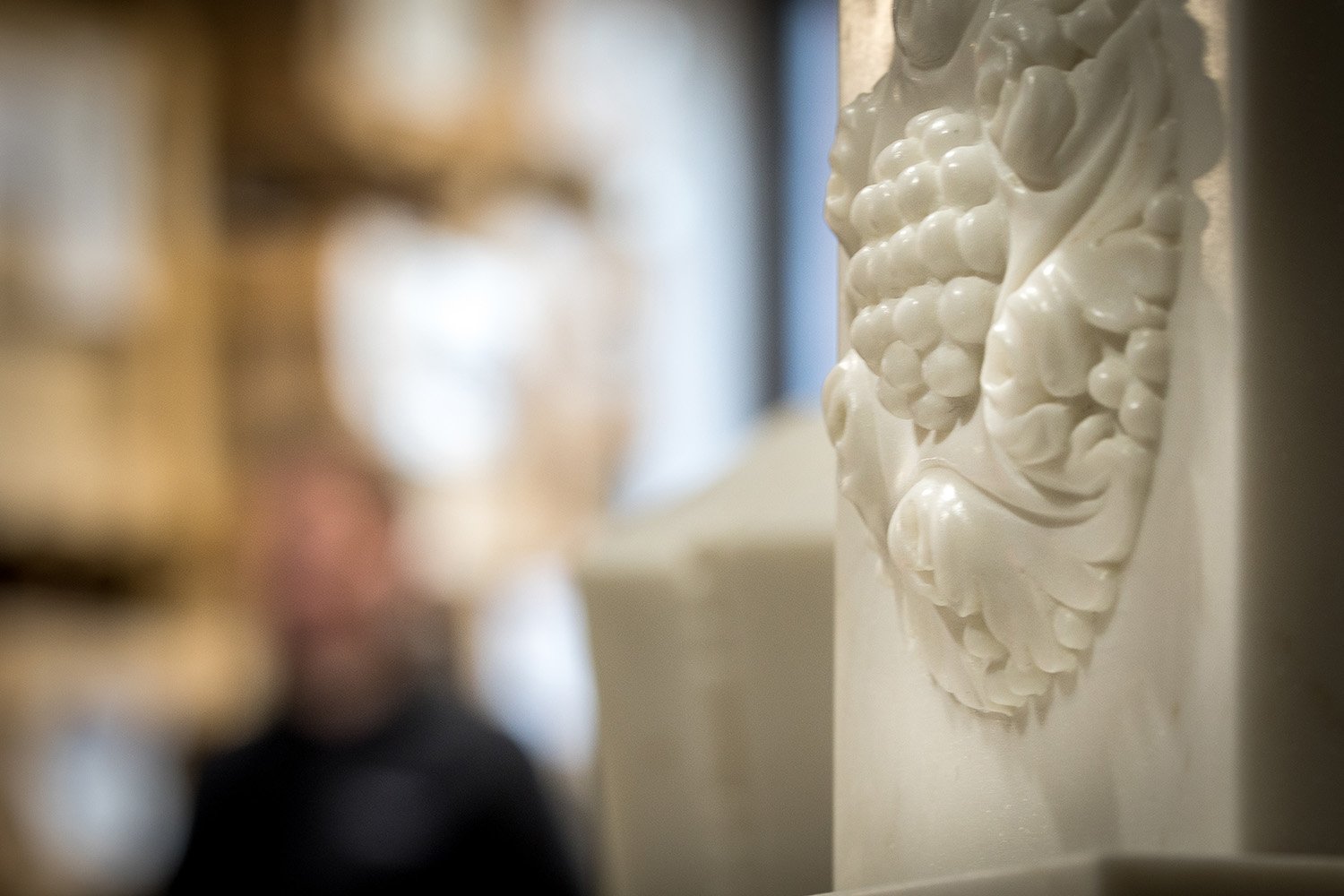 A brilliantly British affair
British style and culture is reflected through bespoke solid marble carvings
There is rarely a dull moment in the Chesneys Bespoke Department. Well, with the possible exception of the monthly factory invoices, that my trusty side-kick and admin ace Rachel Bilski reliably informs me are deadly dull. But each day is different, whether it is working on prototypes for standard range designs, both contemporary and traditional, to fully bespoke items finely tuned to our customer's every whim and want. We aim to please. We were once asked to include two full size statues of doves on the capital of an 18th Century chimneypiece, easy eh? But the very exacting direction was that they had to be as the doves in their own garden and specifically with a "shy" expression. Try explaining that to the Italian mason…. however, the end result was a pair of beautiful, bashful doves.
So never let it be said that that we don't like a challenge here at Chesneys, and therefore when we were asked by the CEO of our New York operation to help him with the Brilliantly British launch planned for February 2017, our creative juices started to do a merry dance… "We want items that are quintessentially British" he said. "Pieces which are instantly recognizable to use in our Instagram competition in and around the D&D trade showrooms in New York." This launch celebrates British companies based in New York and is in conjunction with the British Consulate. He suggested a bowler hat and although we discussed various other options; a Rolls Royce in marble would be a little too heavy…. we came up with three items. A bowler hat, a pair of vintage brogues and an old cricket bat. All to actual size.
Firstly we contacted Lock Hatters of St. James, London for permission to use their design of the bowler hat. The very excellent Hannah Rigby of Lock Hatters PR department proved invaluable as she guided us through the imagery so that we could produce 3D drawings of an authentic hat. Incidentally, did you know the original name for a Bowler hat was a Coke hat? (pronounced Cook) It was first created in 1849 by Lock for Edward Coke the 2nd Earl of Leicester. The name "Bowler" came from Lock's chief hat maker Thomas Bowler who created the design. Check out its fascinating history on their website http://www.lockhatters.co.uk/heritage/the-coke/ Our bespoke draughtsman Luis Vela created the 3D model of our hat in UK size 7 3/8 which was duly fitted to a head of the same size from our Commercial department (name withheld due to embarrassment of head size) and then we were ready to go. The result is very realistic. Our only fear is that somebody will try to wear it at the launch.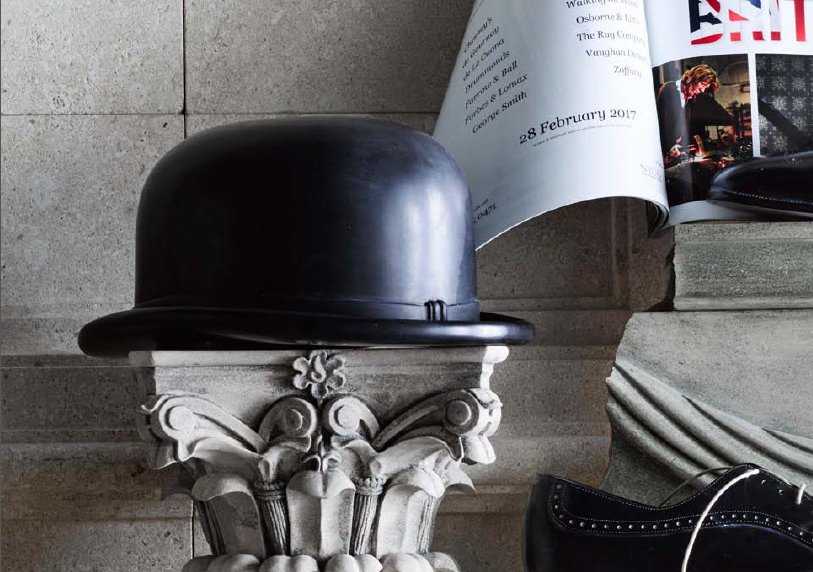 Next we secured a pair of vintage brogues from the aforementioned CEO in New York who has always been an avid collector and has an amazing eye for weird and wonderful things. His collection, I'm told is enviable. The brogues were packed off to our factory to copy exactly. We decided to carve both the hat and the brogues in black marble – carving the lace holes in the shoes so that a pair of Paul Smith pink laces could be added in New York – providing a quirky, up to date, finishing touch – all British.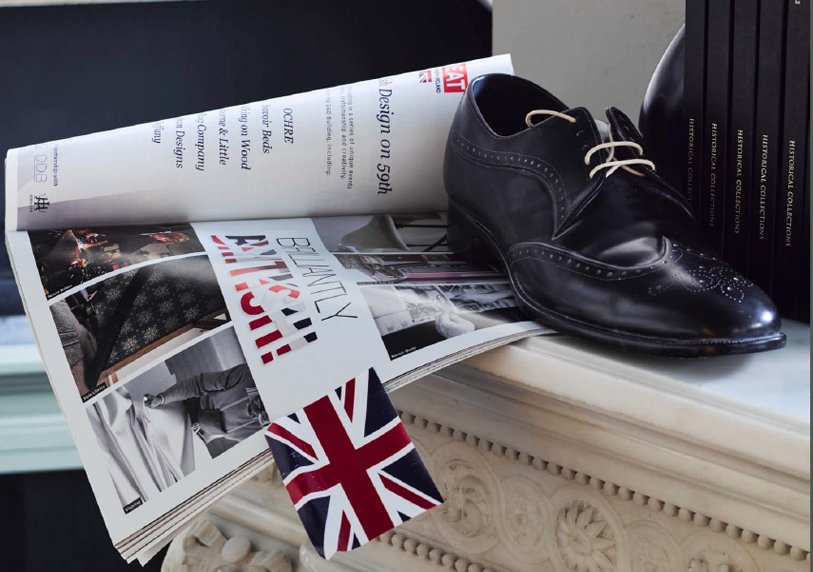 And finally the cricket bat. We found the design from a photograph of Don Bradman's first Test bat circa 1928-29 which was made by Duke & Son of Penshurst, Kent, England. Duke & Son is referred to in Grace's Guide to British Industrial History http://www.gracesguide.co.uk/Duke_and_Son . This same bat subsequently sold for $145,000 at a Melbourne auction in 2008. Sadly, or rather happily for England, Mr. Bradman only scored 18 runs with this bat during the test series that England won 4-1! We carved two limestone versions of the bat: one with a contrasting handle in darker marble, the other entirely in limestone. We carved "Chesneys" where the original Duke & Co. bat had "Model-de-Luxe" and to add to the authenticity of the bat our NY team wrapped waxed string around the handle of the limestone version.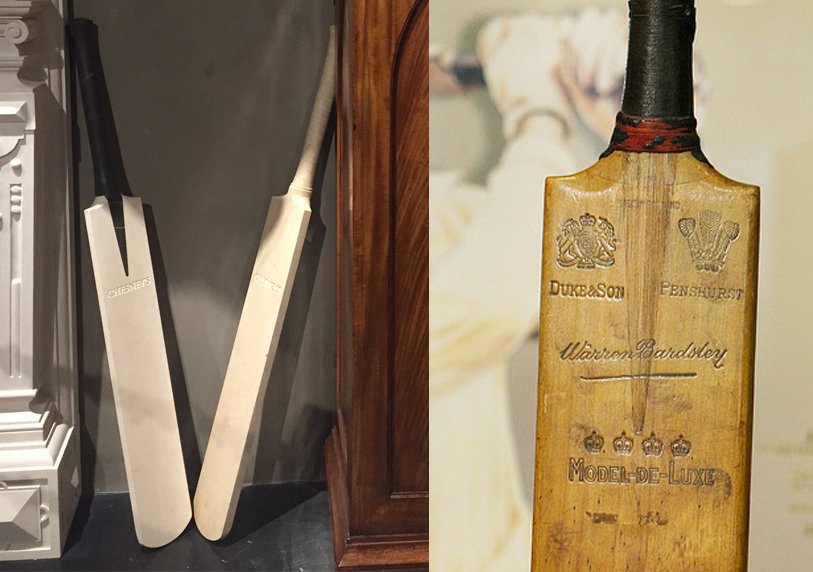 This project was really fun to work on and we hope you like the results.
For more updates follow us on Facebook, Twitter, Instagram or Pinterest.