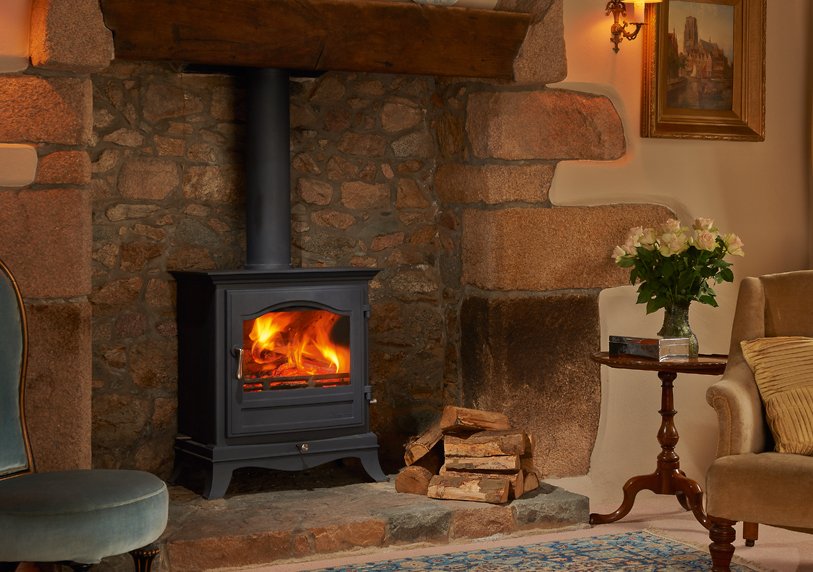 A guide to choosing the best heating option for your home
There are three different options when choosing a heating source for your home: a real wood burning fire, a wood burning stove and an artificial fire. All of these are available from us and look equally good but fulfil different functions.
A WOOD BURNING STOVE
This is the best option if you are looking for a really effective heat source. When choosing and buying a stove it is a really good idea to consider how much heat you want from it. If you are looking for a wood burning stove you need to have a site visit or at least provide the dimensions of the room you would like it to be in, to establish the heat output required and therefore the size of the stove required. They are available in different sizes with outputs from 4 kw to 12 kw, so take advice as to what you will need. Chesney's wood burning stoves are so efficient that they provide a lot of heat using a minimum amount of logs, so it is necessary to take into consideration various other factors in the house such as central heating, underfloor heating and ceiling height before you buy. Many people on their own would choose a stove which is too big or hot for their room not realising how efficient these stoves are and will be sweltering all winter! It is necessary to have your chimney tested before you buy a stove. Chesney's will arrange for it to be lined and install the stove. There is a variety of different styles and colours available from Chesney's, from the more contemporary Shoreditch to the elegant Beaumont and you should choose carefully what will go with your room or in your fireplace. Utilising a stove in addition to a fireplace is a common approach rather than using one or the other. Stoves look great in sitting rooms, dining rooms and even bedrooms.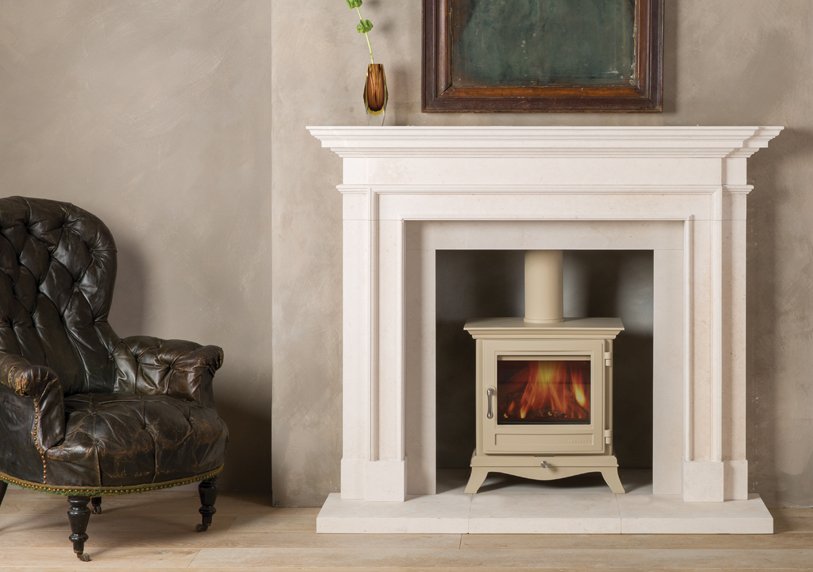 THE BURLINGTON FIRE SURROUND, £2,130 WITH THE BEAUMONT 5 SERIES WOOD BURNING STOVE IN PARCHMENT, £1,410
A REAL FIRE
There is nothing more beautiful or heart-warming than a real coal or wood burning fire but you need to check the rules of where you live and make sure you are in compliance with The Clean Air Act if you want to have a real fire. You also need to check that your chimney is clear and if necessary lined and that you have sufficient air ventilation. Kiln dried wood is best as it causes the least pollution, but you need to make sure you have a good stock of it as well as kindling and firelighters. It can be a little messy with the ash and embers but watching the real flames flicker and dance on a cold winter's night is one of life's great pleasures. And although a real fire looks fantastic –it is not always the best source of heat especially if you have a chimney with a strong draw as much of the heat will just go up the flue. This is why you should consider all the options when buying a fire and surround.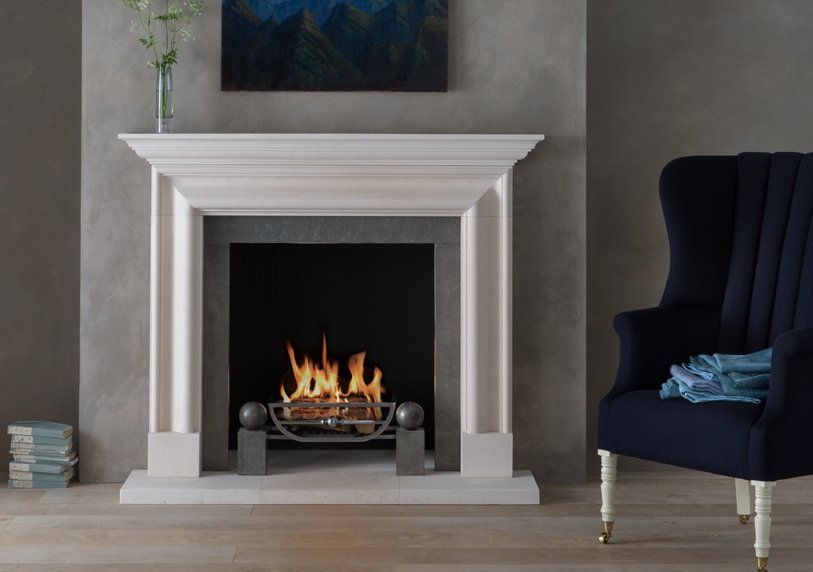 THE ALDERNEY FIRE SURROUND, £2,130 WITH AN OPEN FIRE IN THE MORRIS FIRE BASKET FOR DOGS, £570 AND THE SPHERICAL STEEL FIRE DOGS, £390
AN ARTIFICIAL OPTION – ELECTRIC FIRES, GAS FIRES OR BIO-ETHANOL FIRES
Alternatives to the real thing are electric fires, gas fires or bio-ethanol fires. The pros of an electric or bio-ethanol fire is that you do not need a chimney. In most cases all you need is a mains plug and away you go. Chesney's real flame effect gas fires are so realistic that you would think it was real – there is no mess or need to feed it as you would a real one but these will require a working chimney. It won't provide much heat but it looks pretty and gives a focal point to the room. They tend to be installed in properties which are heated by other means anyway.
Chesney's electric stoves are a great option if you already have heating and you don't have a flue as they are largely decorative with an extremely realistic electric flame effect fire within. They also come in a range of colours and only need an electricity supply and filtered water to operate.
Chesney's provides gas, electric and bio-ethanol fires suitable for most fire baskets which are also available for coal and wood burning fires. Whatever you choose, a site visit will be conducted to establish what needs to be done and to make sure all is possible for installation. The overall style needs to have an aesthetic and accessories such as fire screens, fire tools and log baskets all need to work in unison with the fireplace design.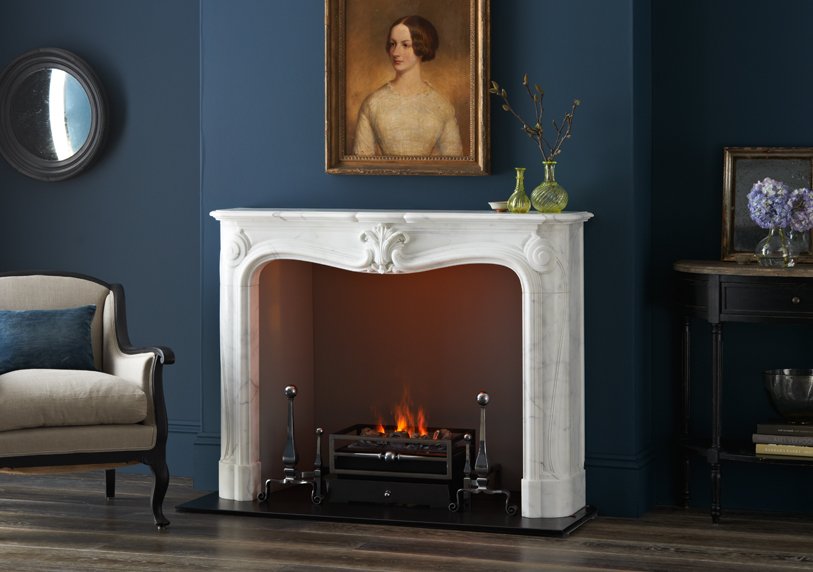 LA ROCHELLE FIRE SURROUND, £4,710 WITH OLYMPUS ELECTRIC FIRE IN THE BYRON BASKET FOR DOGS, £1,044 WITH TELFORD ANDIRONS, £594
For more updates follow us on Facebook, Twitter, Instagram or Pinterest.