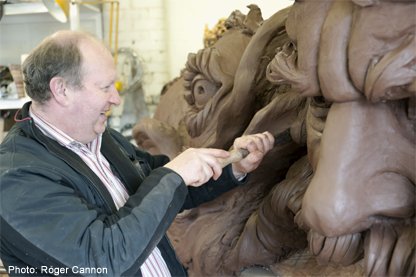 Bespoke projects
Bespoke projects: It's so good to see our friend Alan Lamb working on the Queen's Jubilee Barge for this year's celebrations. Alan has a wealth of experience working on such prestigious projects as St. George's Chapel Windsor, The Victoria and Albert Museum, Orial College Oxford, The Tower of London, Windsor Castle,Worcester Cathedral and The Globe Theatre to name but a few.
We work with Alan on bespoke projects whenever maquettes are required and he has proven an invaluable source of experience and skill.
For those who don't know, a maquette, from the French word meaning scale model or mock up model; can be a preliminary sculpture in clay, wood or even resin, or, if we have an original piece of carving that needs matching we can make a plaster cast taken from a rubber mould made from the original carving.This enables us to achieve more accuracy when producing the more complex bespoke projects. This service is available through our Bespoke Department price on application. Shown here are examples of how we have used a mould and maquette as part of the process of producing the detailed carvings on two bespoke fireplaces.
Author: Lulu Muir – Bespoke and Custom Manager
For more updates follow us on Facebook, Twitter, Instagram or Pinterest.