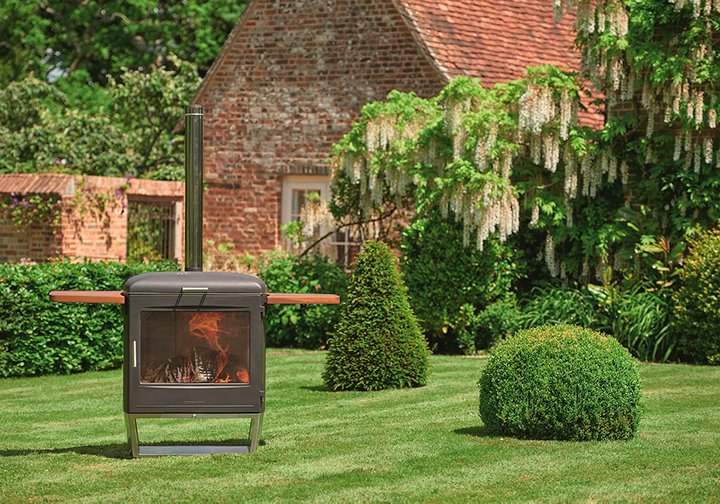 News
Common outdoor cooking and heating issues
We love a barbecue, but providing a luxury outdoor experience for your friends and family doesn't come without its challenges. From the unpredictability of British weather to knowing your barbecues 'heat sweet spot', there's always something that can go annoyingly wrong; especially when you've spent the week planning your menu.
Sure, it might be part of the charm of it all — but taking away those hosting worries allows you to focus on the important moments: making memories and having a good time. That's what we're aiming to help you create with our range of outdoor BBQs and wood burners. Let's look at some common outdoor cooking and heating challenges you might come across when you've got a party on, and how you can easily overcome them with HEAT.
Use our outdoor stoves' dual function under the rain
It's easy to say "Stick up a gazebo and prepare for the worst", but rain more often than not can ruin even the most charming of outdoor get-togethers. It gets cold, people lose interest and the buzz of a sunny day fades away fast; despite your best efforts. As the host, you need to be a quick thinker if you want your guests to stay entertained.
One of the reasons why we built the outdoor range is to give you the versatility you need in these situations. They use the same clean-burn technology seen in our stoves, creating a microclimate that you can control — keeping you and your guests toasty warm. So, if a downpour does happen, lift up the baffle (the heat-proof shutter you use in cook mode) and gather around the fire for a cosy time.
Of course, some of us love cooking outdoors no matter rain or shine, and if the former does occur midway through a roast lamb shoulder cook time, then the insulated lid will keep things in check for you. After all, the barbecue is all about the experience; having people around, enjoying good wine, and tucking into some lovely food together. With one of Chesneys' outdoor BBQs and stoves, you don't need to let a summer shower stop you from doing that — it lets you embrace it.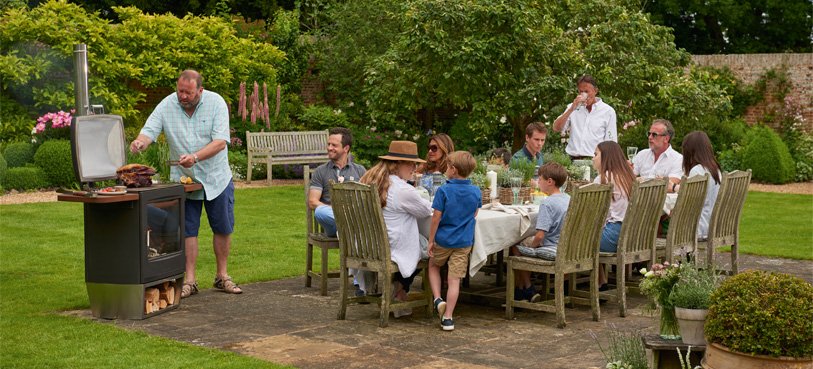 CONTROLLING THE HEAT
The bane of every charcoal barbecuer has to be controlling the heat. When are the coals ready, how long should I wait, how long will be barbecue retain the heat, when will the flames die down? These are very real and consistent challenges that even the more experienced among us still battle with. Gas barbecues, of course, give you a much more controlled environment to work on, but they can often be overly complicated. If anything, they can take away the pleasure of lighting a fire and cooking on it: that's part of the reason why we love outdoor living.
How many times have you overcooked a sirloin due to the lack of temperature control? How often do you need to fill up your propane tanks? Do you take the time to go through all the safety checks for your gas barbecue? Sometimes, all you really want to do is light the barbecue, mingle with your guests, and cook quality produce without the worry of how your coals are doing or discovering the gas grill just won't light.
Our outdoor appliances combine the controlled nature of a gas barbecue with the experience of cooking on charcoal, but in a more eco-friendly way thanks to the same combustion technology we apply to our stoves. It means you only need to light it using wood — taking just 15 minutes to come up to cooking temperature — and gives you a degree of temperature control thanks to the single lever air control system.
This allows you to easily sear a joint of meat before bringing the temperature down for a slow roast, for example. In short, it gives you a quality outdoor cooking experience on a consistent basis.
RESTING YOUR MEAT
It can be a real effort to do this when you're barbecuing, especially if you've got hungry kids running around. It's a core element of cooking we all know the importance of, but there's something about a barbecue that we throw caution to wind and tuck in as soon as the food comes off the grill.
We've thought about this and come up with a simple reasoning as to why we don't do it: time and convenience. When you're cooking inside there's often more space, there are fewer people around you, and you might not be opening that second bottle of Burgundy that's been sat on the wine rack waiting to be shared.
We've provided a quality optional extra for the outdoor range to give you flexibility and convenience when resting your meat: removable side shelves. They give you plenty of room to keep things organised and there's no need to trudge back inside to rest the meat in the kitchen. It makes it a bit easier for you, allows you to stay outside and chat with your guests and keeps you in control of the cooking area.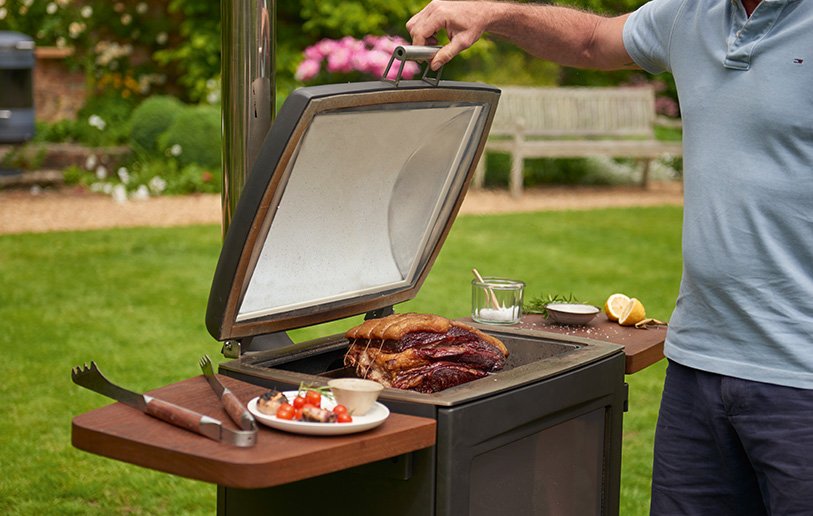 Keep the party going with one of our outdoor BBQ and stove
Post-barbecue, part of the experience is staying outdoors with a few blankets, great company, and a belly full of good food. The problem, however, is that unless you've got a patio heater or fire-pit, it can get cold pretty quickly. We all know how a dip in temperature can cause any excellent outdoor party to disperse.
We've alluded to its heating aspects above, but this is what our outdoor BBQs and wood burners were truly built for: a quality cooking experience before a seamless transition into an outdoor heater. Layer on a few more logs and you're good to go into the small hours.
At Chesneys, we're aiming to deliver you a truly memorable outdoor eating and heating experience — helping you make the summer last a little bit longer. For more information, have a look at our Heat & Grill, Garden Gourmet and Garden Party – some of our great pieces from the outdoor collection. For more updates follow us on Facebook, Twitter, Instagram or Pinterest.
Back to Outdoor Living News