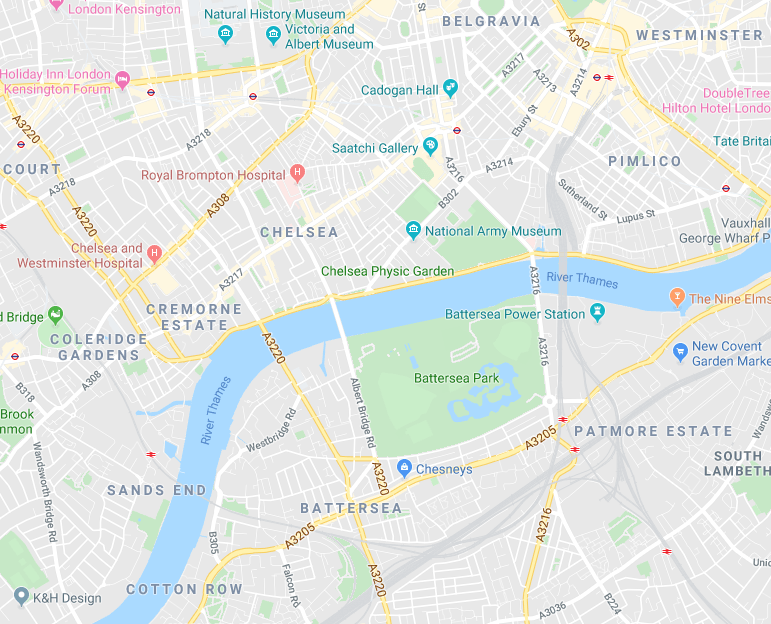 Design in SW3 (pt.1 – Pimlico)
Part One Pimlico: An inspiring browse into some of the interiors brands in SW3 which excite us.
Inspiration is everywhere; whether you are striding along the high street, observing shop fronts and those passing by, walking the dog in the park or countryside, sitting at home reading your favourite magazine or lying on a beach, colours, textures, shapes and materials will provide inspiration for a new curtain colour, style of chair or even an entire room scheme. With the intention of finding inspiration in a more obvious way, we recently popped into a few of our favourite shops in London's fashionable Chelsea to see what the latest trends emerging on the luxury high street are.
JOANNA WOOD
Renowned interior designer, Joanna Wood, has a real eye for chic, tasteful home accessories and her shop in Belgravia is a treasure trove of wonders. As soon as you enter there is so much to take in from glimmering crystal and glassware, to exotically coloured china, charmingly quirky notebooks, lacquer bathroom accessories in soft pastels, luxurious faux fur throws, shimmering metallics and lovely lampshades. There truly is something here for everyone, the range of products beautifully displayed in this pretty boutique shop is endless and offers the perfect present solution for any person, on any occasion. Joanna is a fan of sourcing her carefully selected collection from international design fairs in Europe and year-on-year the collections are remarkably fresh and exciting. Just in time for Easter, there is also a display of enchanting Easter-themed products including felt and painted wooden hanging decorations, egg decorating kits and bristle bunnies. In keeping with the current trend for everything green, the window is suitably dressed with an array of stunning pieces set against a beautiful backdrop of Lewis & Wood wallpaper.
www.joannawood.co.uk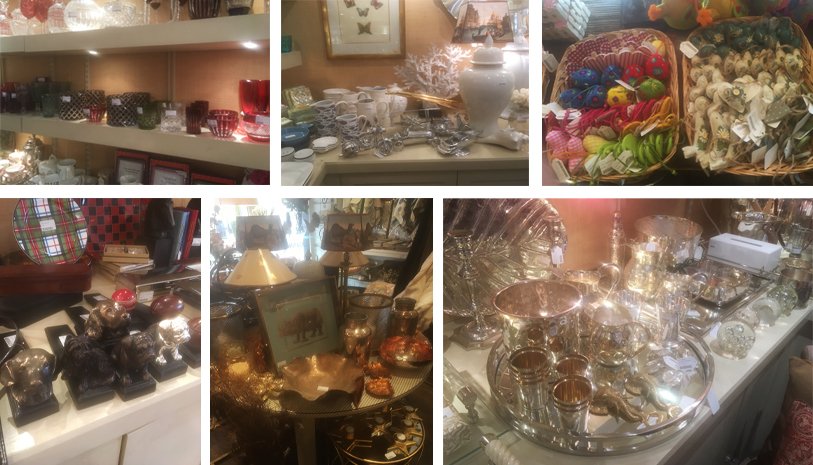 SOANE BRITAIN
Walking into Soane feels a bit like entering a far-away land. The aroma from their sweet scented candles and incense is incredibly enticing and the array of colours and shapes is mesmerising. The showroom contains a series of room-sets, all of which are absolutely beautiful and perfectly curated. This is a brand which really knows a thing or two about designing furniture, lighting and fabric at the height of elegance. As well as stylish upholstered and rattan furniture, there are touches of metallics dotted around in the fashionable drinks trolleys, side tables and wall-lights adding glamour and shine. Founded in 1997 by Lulu Lytle and Christopher Hodsoll, Soane prides itself on making everything in their range in Britain and they only work with the best craftsmen – the fine art of rattan weaving is still practiced in England, today due to Soane's determination to revive this dying craft. The fabric and wallpaper room contains enough inspiration for a palace – the different styles and texture gracefully displayed are really captivating. An inspiring brand with wonderfully inspiring products, Soane is a must visit.
www.soane.co.uk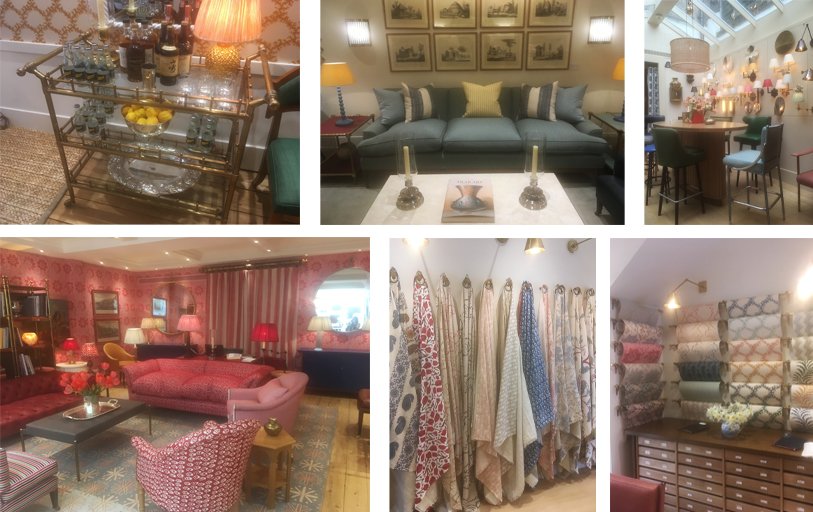 LINLEY
Following a complete re-vamp in the summer, the Linley showroom in Pimlico is looking seriously impressive – the space has been re-designed to give the feeling of a sleek apartment/loft. The highly luxurious products have been carefully placed to give a light and spacious result, it is not overcrowded but there is a huge amount to see and take in. The furniture is very clean and modern, handcrafted in wood with metal and leather touches adding texture. A recent collaboration with designer, Matthew Hilton called The Savile Collection, includes modular sofas, armchairs, coffee tables and sides tables in dark stained oak, brushed stainless steel and charcoal grey boucle wool. Pieces from the popular Henley range with its vibrantly coloured geometric triangle motif perfectly complement the range. Viscount Linley's brand offers a range of personalised items, fully bespoke cabinetry as well as individual pieces and an interior design service, all of which can be seen and discussed at this stylish showroom. With a brand new fitted kitchen, upstairs mezzanine space, private room complete with a state of the art wine storage facility, one can forget that this is first and foremost, a shop! Perhaps one of the most impressive pieces to capture the imagination is the enormous London Skyline Screen which takes up an entire wall of the showroom and with 30,000 pieces intricately fitted together, it really is a work of art and a demonstration of exquisite marquetry. It is said to have taken two craftsman 1,200 hours to assemble it – a real reflection of British talent and craftsmanship. Following on with this city skyline theme, there are a number of new stained wooden boxes with a gloss finish featuring famous skylines from around the globe including Paris, New York, Doha and of course London which can be altered to suit from a jewellery box to a humidor.
www.davidlinley.com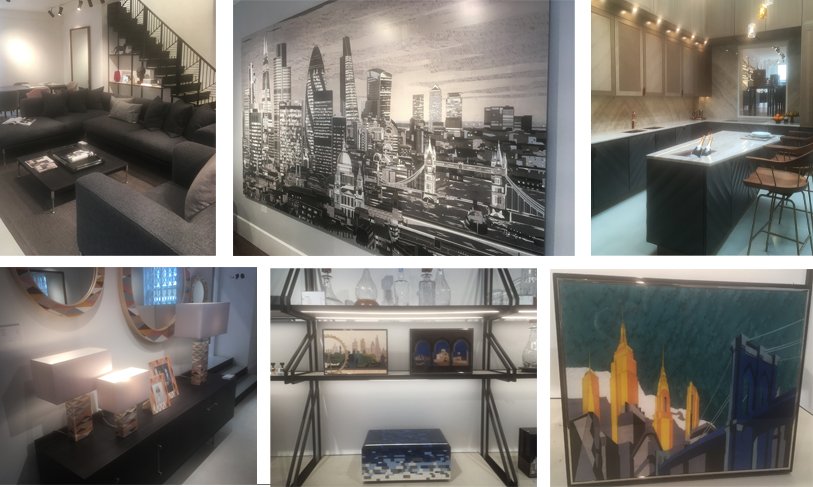 ROBERT KIME
World renowned interior designer, Robert Kime, has a new showroom in Belgravia and it is an intoxicating place filled with heavily detailed fabrics, antique furniture, exotic lampshades and rugs in deep reds, blues and gold. There are parts of this showroom which have the feeling of a less crowded souk, simply due to the richness of colour, pattern and products which frequent it – there is that wonderful feeling of organised chaos. With so many lovely things to feast your eyes on it is a real haven from the busy streets of SW3. There are of course some carefully put together room-sets in this showroom, but it is rather wonderful knowing that you can take cushions and rugs from their racks without worrying about moving things around. A really beautiful blue and gold cabinet holds neatly folded pieces of fabric which are a collection of antique fragments which is one of the things the brand is known for. There is also a vast array of fabrics inspired by original prints which Robert has sourced and collected for years from across the globe. With its dark wooden floors, this shop really transports you to another world and a wonderful one at that – it is a really fabulous source of inspiration.
www.robertkime.com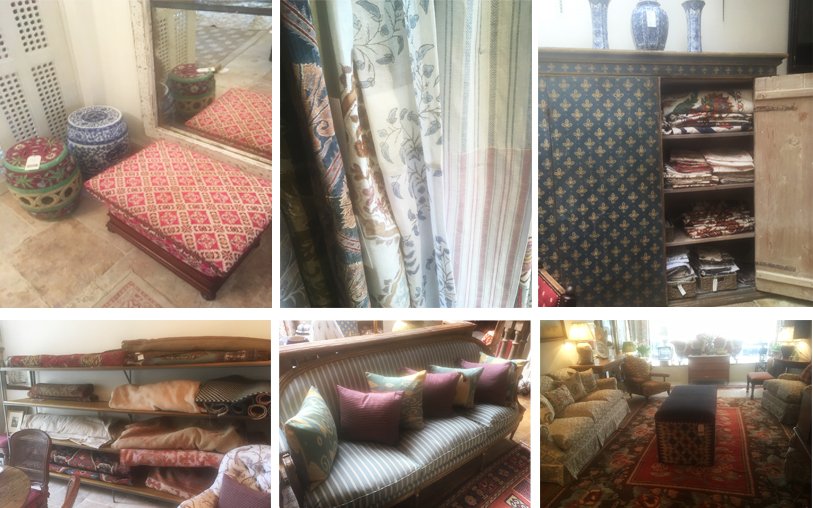 For more updates follow us on Facebook, Twitter, Instagram or Pinterest.