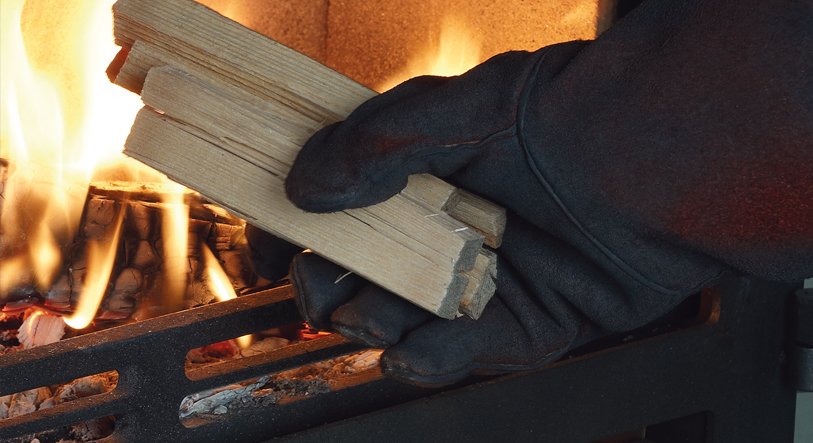 How to use a wood burning stove
How to use a wood burning stove: Remember the gloves. This is the First piece of advice I'd give when it comes to using a stove as these are extremely efficient appliances which generate a great deal of heat.
Remember that wood burns best on a bed of its own ash- you do not have to clean it out before every use. We clean our wood burning stove at most every fortnight even though it's burnt from 9am-5pm, 6 days a week in winter. The most effective technique for building the fire is to make a small stacked structure of wood by basically making a hash tag out of stacked kindling around a fire lighter with one single log on the top, bark side down.
I would recommend a natural fire lighter similar to the flamers that we sell, which resemble a small straw bundle. Having laid the fire, light it and leave the stove door slightly open with the air lever pulled all the way out. This lets the air flow over the kindling which will soon be burning very quickly.
The log shouldn't take too long to light and should catch quite fast. After about 10 minutes when the log is burning well add a new log. Close the door and push the air supply lever in to half way towards the stove. By the next time you refuel you can push this lever in further, this will slow the fires pace and make the log last longer.
When you need to re-fuel the fire, open up the air supply lever, gently open the door, place your new logs in the stove, close the door and close down the air supply lever to the previous position. If you need to revive the fire pop on a small piece of kindling and open the air flow all the way out. Once this catches fire place on a small log and repeat as above.
The best way to learn to use your stove is to practice with it. Follow the instructions given and make sure you use the correct aged and seasoned timber. We recommend kiln dried fire wood, nothing treated and nothing with nails in.
Author: Eve Richens – Sales/Admin Executive
For more updates follow us on Facebook, Twitter, Instagram or Pinterest.