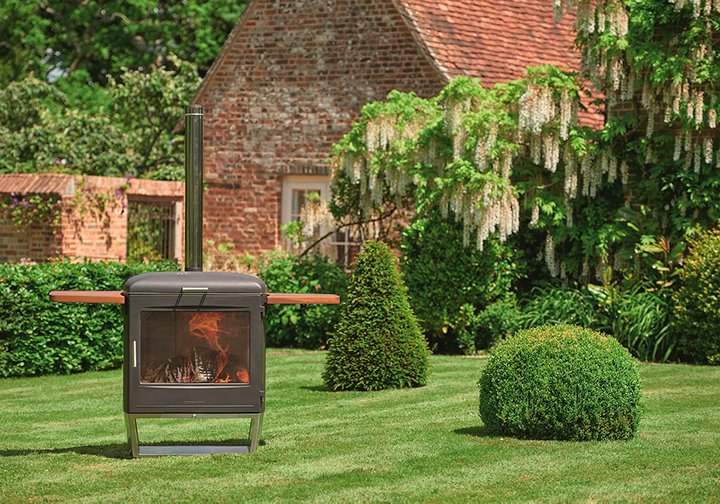 News
Luxury Outdoor Living: The Great British Garden
Luxury outdoor living: Britain is home to some of the world's most beautiful gardens. Flowers in full bloom, clinking glasses and children laughing are why entertaining outside is our favourite thing about warm weather. The blue skies and cool breeze, the smell of a wood-stoked grill in the air… nothing beats Britain at the height of summer.
The UK has a proud gardening tradition, so designing an outdoor living oasis that rivals your neighbours may be daunting. A garden that lacks direction could mean months of hard gardening will still look like an overgrown accident come July. Or worse, installing a lavish statue or feature that's trendy at the time may look dated after a year or two. Especially if the competition is either side of your house.
Luckily, our secret to a stunning outdoor space is simple: create a focal point. Centre the eye on a timeless feature. It may seem obvious, but we would say it's the quickest way to create somewhere beautiful, balanced, and undeniably British.
Your perfect British garden
Features can be anything from a gazebo to a koi pond, but we think an outdoor seating area can be the perfect focal point of a proper British garden. Carve out a place in your garden that people you love want to spend time in. We like to think of it as your living room, nestled in the beauty of the great outdoors. An area that's comfortable, spacious and welcoming. Essential for sparking conversation. A place where you can catch up for hours and break bread with those closest to you.
Once your furniture is placed, customising the new settees with statement throws, plump cushions and bright, summery crockery will truly make this garden feature your own. This is where you want your guests to eat, talk and feel most relaxed. Coordinating coasters on the coffee table are a fashionable touch, too. Now's the time to experiment with trend-led pieces that reflect your personal style, adding accents of colour and fun.
Get an outdoor BBQ to the centre of your garden
Of course, by directing everyone's attention to this lavish seating arrangement for the afternoon, inevitably bellies will rumble and a summer chill might start to creep in. Thankfully, our range of outdoor BBQs and wood burners is perfectly designed for such a situation. We've designed these barbecue heaters to be the true statement piece of your great British garden: the reason why people will gather in your garden and stay for hours on end. The wonderfully designed seating area you've provided for them will attract your guests of course, but the hosting ability a barbecue heater can give you is what will make them stay.
Sadly, most traditional barbecues are clunky, bulky and blindingly metallic — focused more on function than design. That's why, at Chesneys, we've crafted a barbecue heater that anyone would be proud to place centre stage in their garden and plays a huge part in their outdoor living experience. A modern take on British heritage design, Chesneys' outdoor collection reflect the gardens they take root in: a perfect blend of modern and traditional British design. With outstanding temperature control, variable cooking heights and a digital thermometer, owning a barbecue heater is an unrivalled outdoor cooking experience, too — allowing you to solve multiple outdoor eating and heating challenges. Check out our collection of outdoor BBQs and wood burners: the Heat & Grill, the Garden Gourmet and the Garden Party.