UP TO 20% DISCOUNT ON THE HEAT COLLECTION
Chesneys is offering up to 20% discount on our beautiful and unique dual function HEAT collection of heater barbeques:
Use voucher code HEAT10 to save 10% on a Clean Burn or Heat & Grill.
Use voucher code GOURMET20 to save 20% on a Terrace Gourmet, Garden Gourmet or Garden Party.
Offer available until 18th May. Offer also available at participating HEAT stockists.
CHELSEA FOWER SHOW SPECIAL OFFERS
To celebrate our participation in the virtual Chelsea Flower show, Chesneys are making 2 great offers on our unique dual-function Heater BBQs
• Use voucher code HEAT10 to save 10% on a Clean Burn or Heat & Grill
• Use voucher code CHELSEA20+ to both save 20% on our Garden Gourmet models (Terrace Gourmet, Garden Gourmet and Garden Party) and receive a FREE Gourmet Cooking kit
Offer available until 2nd June from Chesneys and our participating stockists. Gourmet Garden kit comprises a wok ring and pizza stone.
MAKE OUTDOORS YOURS
Our innovative 2-in-1 heater barbeques offer a year-round outdoor heating and cooking experience unlike anything you've seen before.
The Heat Collection
Our unique HEAT range has a design for everyone.
All prices include VAT.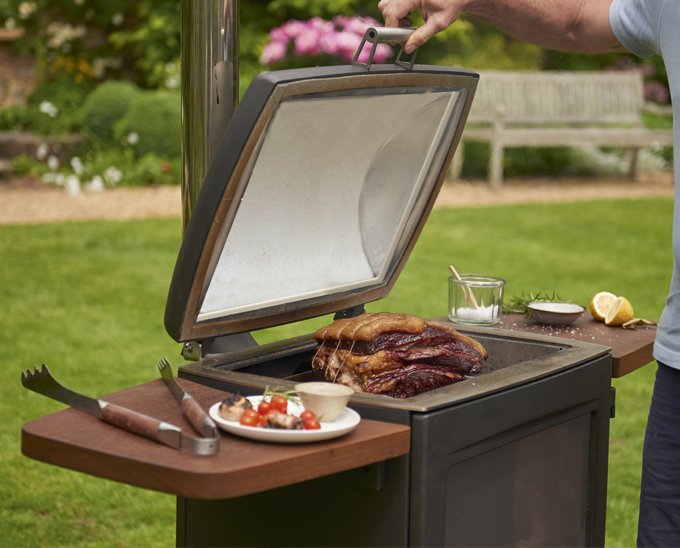 Garden Party
£2,999 plus delivery

Limited stock – Delivery lead time 2-3 weeks.
---
The daddy of heater BBQs, delivers a gourmet experience for the largest groups of friends and family, all year round.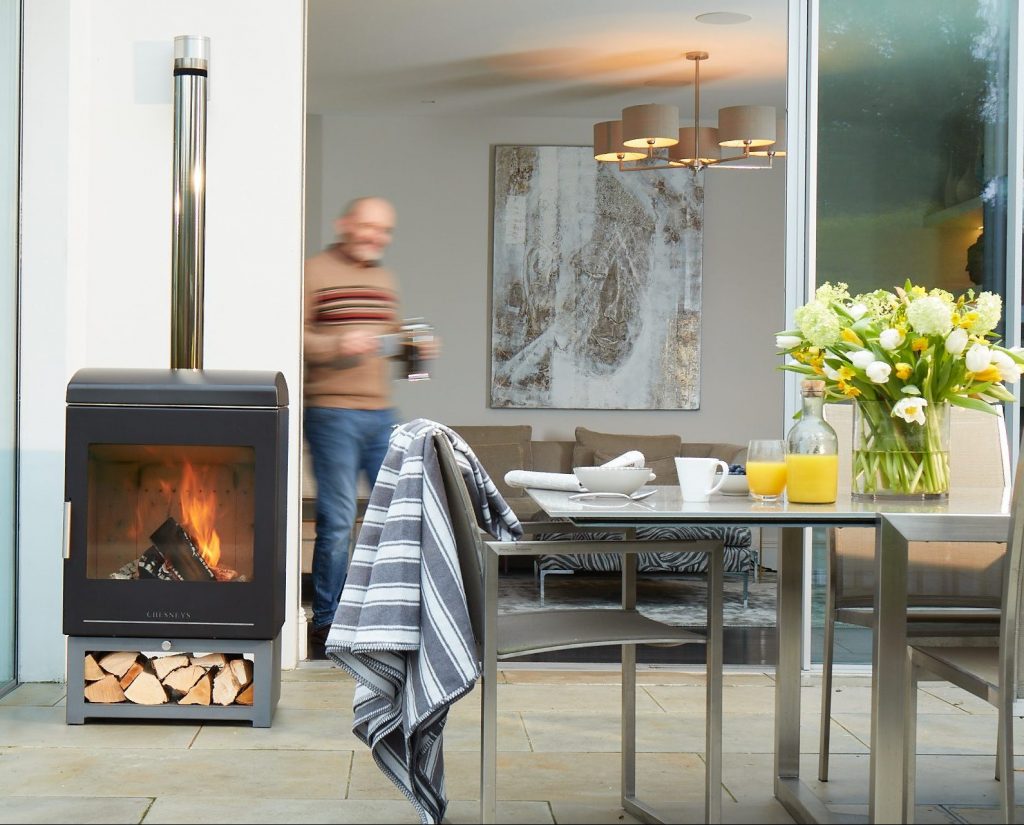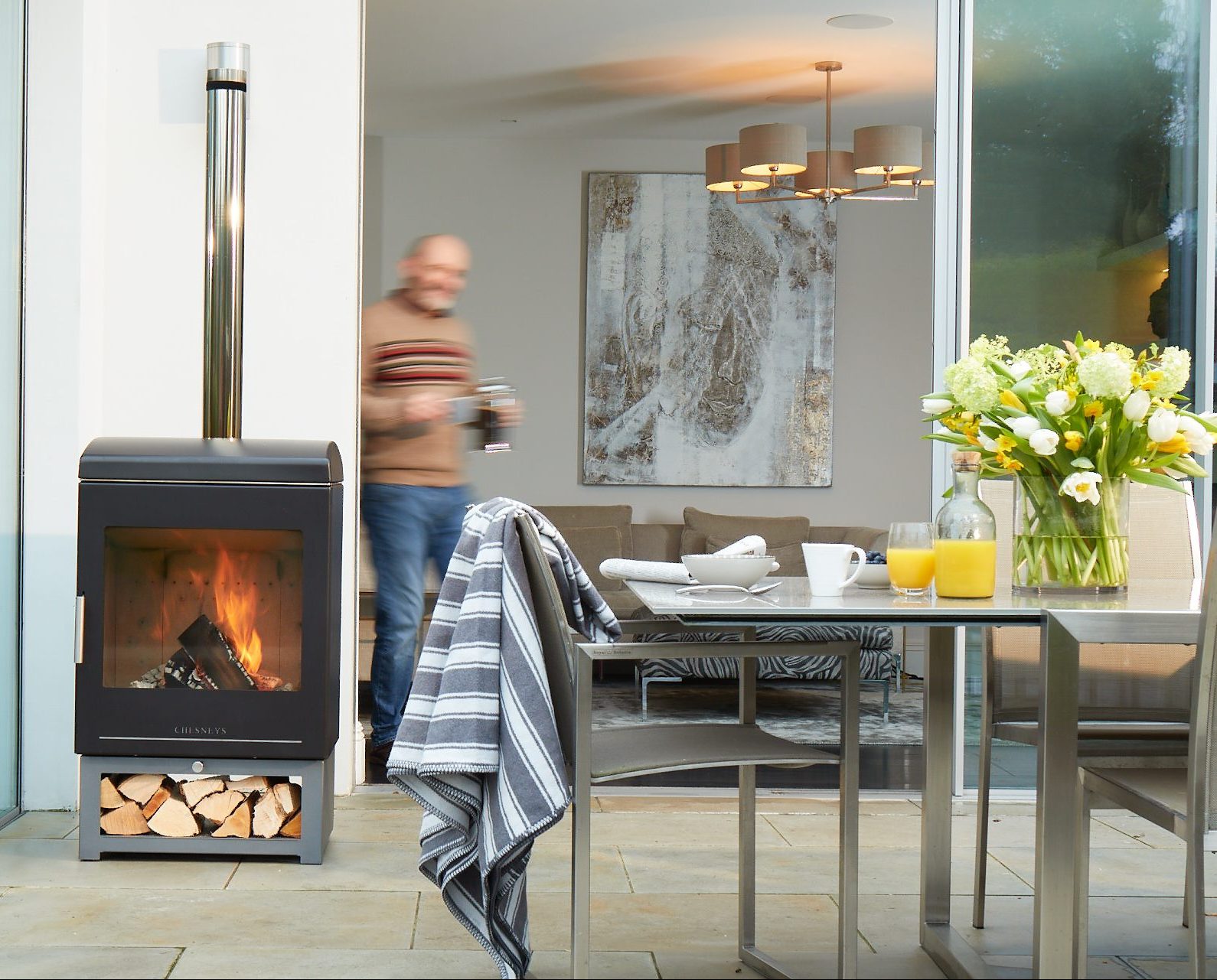 Clean Burn
£1,249 plus delivery
Limited stock – Delivery lead time 2-3 weeks.
---
And for those of you that want the best in outdoor heating but already have a high-end BBQ, this heat-only model will enable you to get more from your garden, all-year-round.
Chesneys HEAT at RHS Chelsea
See the Chesneys HEAT stand at previous RHS Chelasea Flower Show events
SEE HEAT IN ACTION
James Martin at the 2018 launch of our Heat range
TAKING OUR EXPERTISE OUTDOORS
Chesneys has a reputation for excellence in interior design. But we have always had an eye on the way our customers' lives are changing.
We saw an increasing desire to make the outdoors part of their lives, So we set our sights on creating the first outdoor wood burning stove but which could also work as a barbecue; the first dual-function appliance of its type.
WE'VE TURNED OUTDOOR HEATING INSIDE OUT
DUAL FUNCTION
The Heat & Grill and Gourmet Range are the first single appliances on the market to successfully combine an efficient outdoor heater with a barbecue.
Efficient
The heat is delivered from a sealed chamber, meaning that the burn rate and heat output can be regulated by a simple control system.
Environmental
The Heat range of Heater Barbecues employs the same technology used in our range of indoor wood burning stoves and therefore only produce a clean burn.
Atmospheric
The Heat range allows a generous but protected view of the fire not only making it a highly atmospheric experience but reducing any need to move if the wind changes direction.
To stay updated follow us on Facebook, Twitter, Instagram or Pinterest
Need help?
If you need more information or some assistance making a selection from our large range of products, don't hesitate to get in touch.
HEAT Accessories & Fuel
Chesneys have a selection of accessories for the Outdoor Living Range.