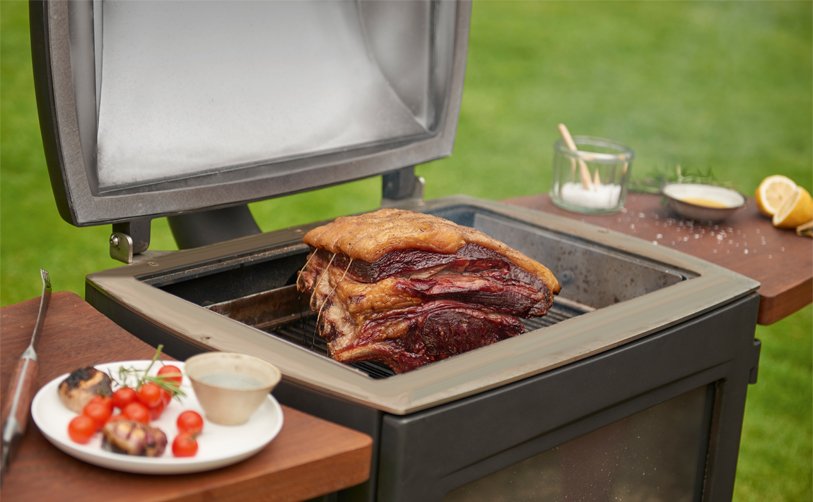 News
How to make the most out of outdoor eating
Just as the kitchen is the heart of the home, an outdoor kitchen belongs at the heart of al fresco entertaining. Eating outside is a simple pleasure and one that we love to indulge in once the sun comes out. However, the heating element of an outdoor kitchen is often somewhat neglected — especially in the UK. This is something we really wanted to rectify, and not just with a tired fire pit or chiminea.
As such, we'll talk you through not only the key components that form a show-stopping outdoor kitchen, but how you can create the perfect outdoor eating and heating experience for your family and guests with one.
WHAT IS AN OUTDOOR KITCHEN?
Firstly, it's important we distinguish what we mean by 'outdoor kitchen'. A quick Google search throws up a number of elaborate outdoor cooking areas — from budget grilling stations to magnificent, fully furnished kitchens. An outdoor kitchen, essentially, is exactly what it sounds like. They're a true statement piece and take outdoor living to the next, luxurious level.
Regardless of the type of outdoor kitchen you're interested in, whether it's extravagant or simple, there's one element that remains constant in your decision-making process: you're investing to host. An outdoor kitchen gives you the time and space to throw some truly wonderful get-togethers.
What BBQ to chose for your outdoor kitchen
By this point, most of the key features of a truly unique outdoor kitchen have been ticked off. There's just one ingredient missing, and we believe it's the most important of all: what you cook on.
We've dedicated the last few years to perfecting the outdoor living experience, and our new collection of outdoor BBQs and wood burners is designed to do just that.
All four models in the collection are an outdoor host's best friend, each providing a generous cooking surface alongside easy-to-use temperature controls and the option to add wooden surfaces on either side for food preparation. And, of course, they all include a built-in wood-burning stove. Using the same unique clean-burning technology we apply to our stoves, the outdoor range can innovate your hosting experience by providing you with a seamless transition from cooking to heating.
Many hosts may forget the importance of heating once you everyone has had their fill of good food. Happily, our outdoor BBQs and stoves can solve a multitude of common heating and eating problems, and provide your guests with a cosy area to cuddle around once the sun goes down. For us, they complete an outdoor kitchen by offering something a bit different — something unexpected. Add one to your outdoor kitchen, and your guests will thank you – check out our Heat & Grill, Garden Party and Garden Gourmet now.
WHY IS AN OUTDOOR KITCHEN SO IMPORTANT FOR ENTERTAINING?
Entertaining outdoors is all about striking the perfect balance between excellent cooking and even-better hosting. With a traditional kitchen, that can be hard to achieve. Too much time is spent dashing in and out of your house, leaving less to spend with your guests. Traditional barbecues have solved this problem to a degree, but aren't exactly bastions of versatility and heating capabilities.
An outdoor kitchen solves both of these tricky hosting situations, providing both the freedom to cook outside and the capacity to cook well.
Just picture yourself and your guests laughing and eating around a warm and well-equipped outdoor kitchen. It's an idyllic evening, and one which can be made a reality if you can perfect the following elements; you can easily find visual inspiration for these searching for outdoor kitchen pin boards on Pinterest.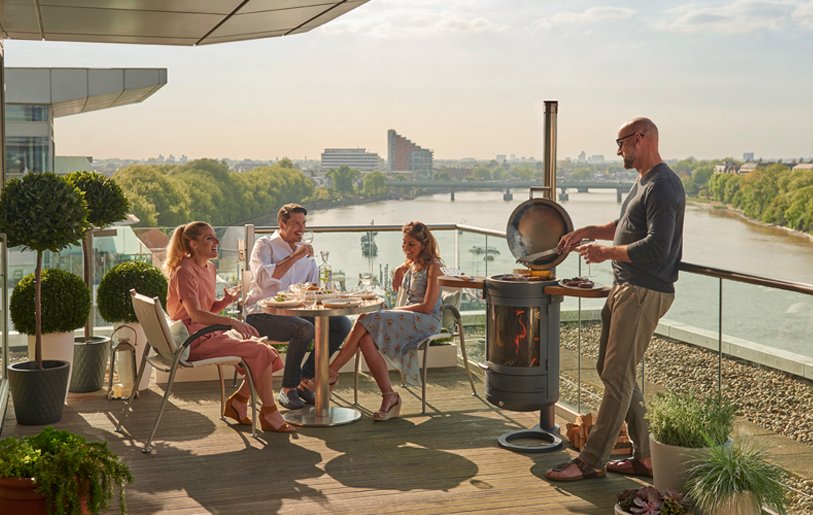 THE FOOD PREPARATION AREA
A beautiful area to prepare food and store all your kitchen supplies will be imperative. Island and bar-style structures are particularly popular, with waterproof surfaces such as concrete and stainless steel typically providing the best solutions for the long-term.
We've seen astounding outdoor food prep stations achieved with both pre-made and DIY/upcycled solutions. The former offers convenience and polish; the latter offers value-for-money and the opportunity to get creative.
Outdoor cooking equipment essentials
Enjoying cooking and eating outside is as much about having the right area at your disposal, with room to prepare and a comfortable well thought-through space for your guests, as it is about your outdoor cooking skills. Bespoke outdoor kitchens come in many forms and can cost thousands of pounds but simply ticking these simple boxes in terms of your entertaining area, can be done far more economically. First up you need a good preparation area; a flat area in which you can prepare food, store tools and accessories when not in use and plate your food as it becomes ready. An outdoor sink is not an essential but can be added simply, close to your outdoor tap, relatively cheaply. A heat supply, other than your BBQ or smoker is probably essential however, if you wish to enjoy a British evening outdoors, with happy guests. The Chesneys dual-function Heater BBQs provides a wonderful source of heating while uniquely doubling as a brilliant BBQ. You then of course need a comfortable seating area, with cushions and perhaps rugs to hand, providing your guests the utmost comfort and hopefully their fair share of access to the fire. And finally you need shelter, should the weather take a turn for the worst. The wind can be the enemy as much as the rain and so thinking about sheltered areas with natural or bought-in windbreakers is just as important as a table parasol. Get all of these things right and you'll be entertaining outdoors all year round, in no time at all.
SHELTER
While some hosts prefer a totally al fresco dining setup, it's generally advisable to incorporate some shelter into your outdoor kitchen design. This is the UK, after all, and besides, guests and cooks alike tend to enjoy the option to move between outdoor and partially enclosed spaces.
Shack-style kitchen shelters are particularly popular, but really, the only limit is your imagination. From tiki huts and conservatories to gazebos and extra-large parasols, there's a vast array of options to choose from.
THE OUTDOOR KITCHEN SINK
No kitchen is complete without a sink. However, you don't need to go overboard with this. Simply installing one on the outside wall of your house, preferably underneath or close to an existing tap, could save you a small fortune on plumbing costs. Just something to consider is this one.
SEATING
Few components can define the vibe of an outdoor kitchen quite like its seating. Where chic bar stools add a sophisticated vibe, rattan easy chairs can foster a more chilled-out feel. Hammocks can create a sense of escapism, while formal dining chairs and tables will make dinner parties ooze sophistication. The option you choose will leave your guests with a lasting impression of this space, so choose wisely.
For more updates follow us on Facebook, Twitter, Instagram or Pinterest.
Back to Outdoor Living News