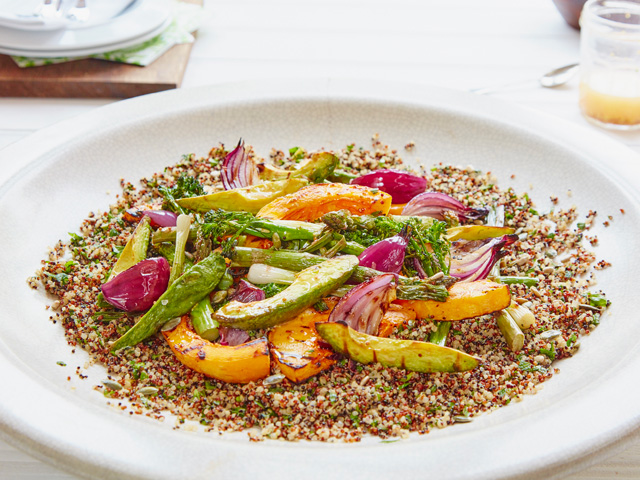 recipe
CHARRED VEGETABLE AND QUINOA SALAD WITH GRAPEFRUIT VINAIGRETTE
CHARRED VEGETABLE AND QUINOA SALAD WITH GRAPEFRUIT VINAIGRETTE
Ingredients:
200g quinoa
3 tbsp mixed chopped herbs (such as parsley, basil, mint, coriander, dill)
2 tbsp pumpkin seeds
2 tbsp sunflower seeds
1 small-medium butternut squash, peeled and cut into 1cm thick slices
1 red onion, peeled and cut into wedges
200g Tenderstem broccoli
1 bunch asparagus, spears sliced in half lengthways if particularly thick
1 bunch spring onions, trimmed
1 large avocado, peeled, stoned and cut into thick slices
olive oil
small handful chopped parsley
Vinaigrette:
Grated zest and juice of ½ grapefruit
2 tsp honey
1 tsp wholegrain mustard
80ml extra virgin olive oil
sea salt and freshly ground black pepper
---
Method:
Put the quinoa in a saucepan and cover with 500ml water. Bring to the boil and cook at a rolling boil for 2 minutes. Cover with a lid and cook on low for 10 minutes. Remove from the heat, keeping the lid on, and sit for 5 minutes. Run a fork through to separate the grains and leave to cool.
Toss the cooled quinoa with the chopped herbs and season with salt and pepper. Spoon onto a large serving platter or bowl.
To make the dressing, put all of the ingredients in a small clean jar and shake well until combined.
Heat a small frying pan over a medium heat and add the seeds. Toss around for a minute or so until they are golden and toasted.
Prepare the barbeque with the baffle down, set at a hot temperature for grilling (about 250-350°C).
Coat all of the prepared vegetables in a little olive oil. Working in batches cook the veg directly on the grill, turning occasionally until they are showing golden char lines are becoming tender. The times will vary on the veg, for example the butternut squash will take around 8 minutes and the spring onions around 2 minutes. If you feel they are getting too charred and not cooking then move to the sides of the grill, or reduce the temperature.
When all of the vegetables are cooked, arrange on top of the quinoa. Scatter over the seeds and chopped parsley, and finish by generously drizzling with the dressing.
Back to Recipes