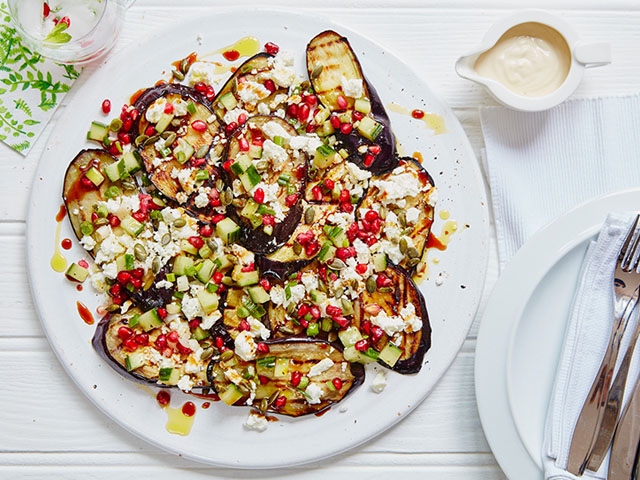 recipe
GRILLED AUBERGINE, POMEGRANATE SALSA, FETA AND TAHINI DRESSING
Ingredients:
1/3 cucumber
4 spring onions, chopped
75g pomegranate seeds
1 tbsp extra virgin olive oil
juice 1 lemon
4 tbsp natural yoghurt
2 tbsp tahini
1 small clove garlic, crushed
olive oil
flaked sea salt and freshly ground black pepper
4 aubergine
200g feta cheese
1 tbsp toasted pumpkin seeds
1-2 tbsp pomegranate molasses
sea salt and freshly ground black pepper
---
Method:
Cut the cucumber in half and scoop out the seeds with a teaspoon. Cut the cucumber flesh into small chunks. Put into a bowl and lightly mix with the spring onion, pomegranate seeds, extra virgin olive oil and a little of the lemon juice. Season with salt and pepper.
In a separate bowl, make a dressing by mixing together the yoghurt, tahini, garlic, remaining lemon juice, and 2 tbsp olive oil and 2 tbsp water. Season with salt and pepper.
Thinly slice the aubergine to approximately 1cm in thickness.
Prepare the barbeque with the baffle in the upright position set for indirect grilling, at (about 300°C).
Brush olive oil over the aubergine slices and lay on the grill. Close the lid and allow to cook for 3-4 minutes before turning and cooking on the other side.
When the aubergine is golden and tender, transfer to a platter or individual plates. Spoon over the pomegranate salsa, crumble over the feta and  scatter with pumpkin seeds. Drizzle with extra virgin olive oil and some pomegranate molasses. Serve with the tahini dressing to pour over.
Back to Recipes