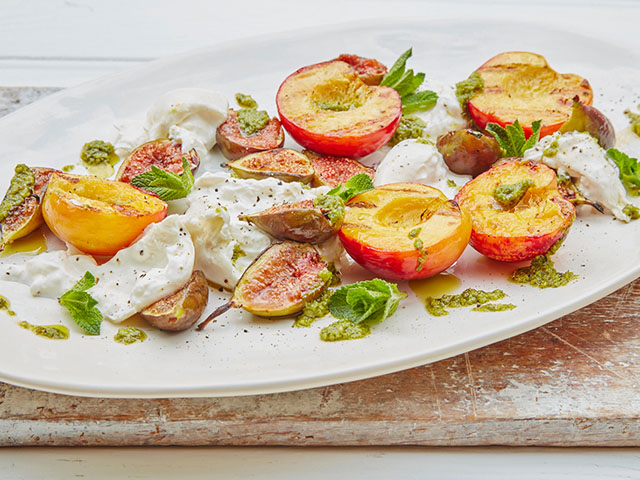 recipe
GRILLED FIGS OR PEACHES, BURRATA AND MINT PESTO
Ingredients:
8 fresh figs or 2-3 ripe peaches
olive oil for drizzling
2 x 200g balls burrata (or buffalo mozzarella)
For the pesto:
25g mint leaves
25g fresh basil
40g grated parmesan cheese
40gpinenuts
1 clove garlic, roughly chopped
grated zest of 1 lemon
flaked sea salt and freshly ground black pepper
100ml extra virgin olive oil
---
Method:
To make the pesto, place all of the ingredients apart from the olive oil into a food processor and pulse until finely chopped. Slowly add the olive oil and blend until smooth. Add extra oil or a splash of water to loosen if necessary. If you're not using this straight away, cover the surface with a layer of oil to prevent discolouration.
Cut the figs in half, or cut the peaches into quarters and remove the stone. Rub all over with a little oil and season with salt, pepper.
Prepare the barbeque with the baffle in the down position set at a hot temperature for grilling (about 250-350°C).
Lay the cut fruit on the grill, cut sides down and cook for a minute or so until you have charred lines. Turn and cook the other cut side until charred.
Transfer to plates. Tear the burrata into chunky pieces and sit along side the fruit. Drizzle or spoon over the pesto. Finish with a final drizzle of olive oil and twist of pepper.
Back to Recipes