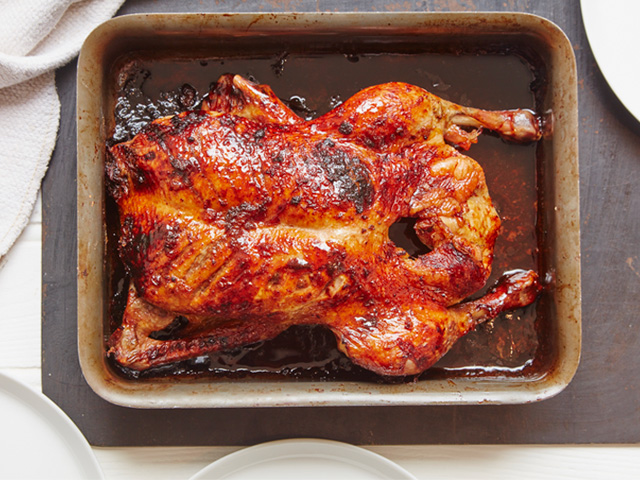 recipe
HONEY AND GINGER SLOW ROAST DUCK
Ingredients:
1 oven-ready duck, approx. 2kg
25g finely grated fresh ginger
1 tsp sea salt
freshly ground black pepper
6 tbsp runny honey
50ml soy sauce
1 red chilli, seeded and finely sliced
1-2 tsp toasted sesame seeds
---
Method:
Lightly score the duck skin four to five times on each breast, making sure you don't cut into the flesh. Rub over the grated ginger, salt and pepper, sit in a heavy duty roasting tray that sits on the barbeque with the lid down.
Prepare the barbeque with the baffle in upright position, so it is burning at about 150°C for low and slow cooking.
Put the duck on the barbeque and cook for 1½ hours with the lid down. After 1½  hours, carefully pour out as much of the fat you can from the tray as possible (keep the fat as it's great for roasting potatoes). Drizzle over the honey and return to the barbeque, cooking with the lid down for a further 1 hour, basting the duck with any fat and honey every 15 minutes or so.
If the honey seems to be burning on the base of the tray, just add a splash of water to loosen it down slightly. After a total of 2 ½ hours cooking, the sticky honey and ginger duck can be removed from the roasting tray. Transfer on to a board or tray and leave to rest for 15 minutes.
Pour out any excess fat from the roasting tray and sit back on the barbeque. Stir in 100ml water, the soy sauce and chilli. Bring to a simmer, scraping any sticky residue from the bottom.
Scatter sesame seeds over the duck before slicing or tearing apart. Serve with the sauce to pour over.
Back to Recipes