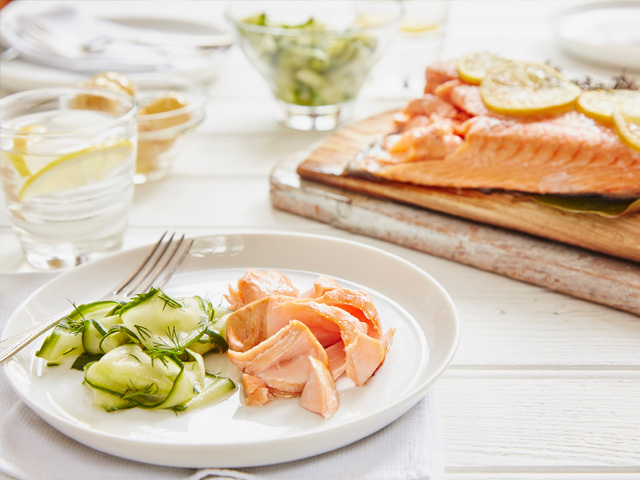 recipe
HOT SMOKED SALMON WITH PICKLED CUCUMBER
Ingredients:
500g fillet of salmon, pin boned, skin on
5-6 bay leaves
1 lemon, sliced
bunch dill
flaked sea salt and freshly ground black pepper
1 cedar smoking plank
1 litre cider, optional
For the pickled cucumber:
1 large cucumber
4 tbsp white wine vinegar
4 tsp caster sugar
1 tsp salt
2 tbsp chopped dill
---
Method:
Cut the cucumber in half lengthways, then lay it on a chopping board. Use a vegetable peeler and shave long thin ribbons and put in a non-metallic bowl.
Put the vinegar, sugar and salt in a small saucepan and gently heat until the sugar has dissolved. Remove from the heat, pour over the cucumber and put in the fridge for at least 1 hour, or as long as overnight to lightly pickle.
Soak the plank of wood in water or for an even better flavour, cider for about 1 hour.
Prepare the barbeque with the baffle in upright position, so it is burning at about 150°C for low and slow cooking.
Sit the salmon on top of the soaked plank of wood and slip bay leaves under the salmon.  Lay slices of lemon and sprigs of dill on top and sit the plank on the barbeque grill. Cover with the lid and leave to hot smoke for about 40 minutes, until the salmon just starts to feel firm when lightly pressed in the centre.
Before serving the cucumber, stir through the chopped dill.
Serve the salmon hot or cold with the pickled cucumber on the side.
Back to Recipes