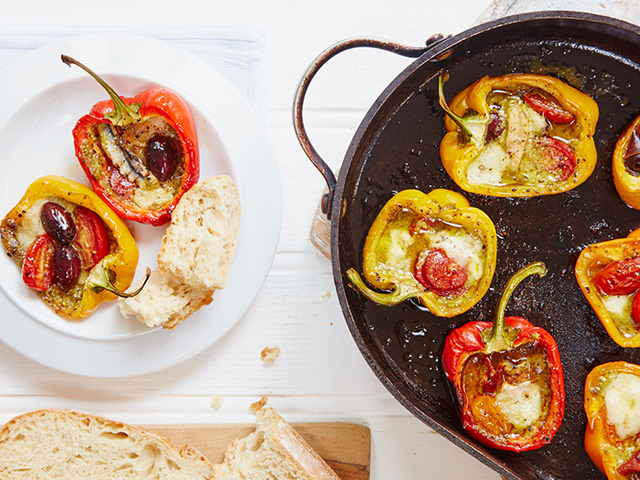 recipe
MEDITERRANEAN BAKED PEPPERS
Ingredients:
4 x medium sized red, orange or yellow peppers
3 tbsp pesto, tapenade or sun-dried tomato paste
2 tomatoes, quartered or 8 cherry tomatoes, halved
1 small red onion, finely sliced
small handful of fresh basil, parsley or oregano
1 tbsp balsamic vinegar
olive oil
A selection of the below:
pitted olives
capers
anchovies
thinly sliced meat (Parma ham, Serrano ham, chorizo, salami etc)
cheese (mozzarella, brie, goats cheese, parmesan, feta, halloumi, dolcelate)
---
Method:
Cut the peppers in half lengthways, keeping the stalk in tact if possible. Remove the core, seeds and white membrane. Spread the pesto, tapenade or sun-dried tomato paste inside each half and add the tomatoes, onion and fresh herbs. Continue adding your chosen fillings, making sure you don't fill them too high. Finish by drizzling with some balsamic vinegar, a decent glug of olive oil and season with salt and pepper. Sit in a heavy based roasting tray that sits into your barbeque when the lid is down.
Prepare the barbeque with the baffle in upright position and heat to approximately 180-200°C for baking.
Put the roasting tray on the grill, cover with the lid and cook for about 30 minutes until they are softened but still just gold their shape and the fillings are melted, bubbling and slightly golden. Serve hot or warm. Leftovers are also delicious cold.
Back to Recipes