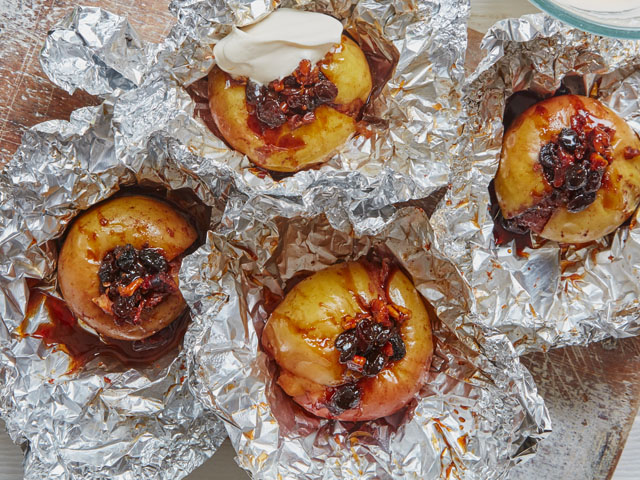 recipe
ROAST APPLES WITH RAISINS AND PECANS
Ingredients:
4 large cox or royal gala apples
50g raisins
50ml dark rum or sweet sherry
75g brown sugar
1 tsp ground cinnamon
finely grated zest of ½ orange
50g pecan nuts
25g butter
ice-cream, clotted cream or Greek yoghurt to serve
---
Method:
Remove the core from the apples using a corer or small knife, to create a cavity through the middle of each apple to stuff. Sit each apple on a sheet of foil, large enough to wrap the apples well.
Mix together the raisins, rum or sherry, sugar, cinnamon, orange zest and pecan nuts. Stuff generously into the apples, letting any excess spill over. Top the apples with a dot of butter and wrap each one tightly so they are well sealed.
Prepare the barbeque with the baffle in upright position, so it is burning at about 180°C.
Place the apples in the barbeque, sitting on the grill. Cover with the lid and cook for 35-40 minutes, until soft to touch, rotating a couple of times for even cooking.
Leave to cool for 5 minutes before unwrapping and topping with ice-cream, clotted cream or yoghurt.
Back to Recipes