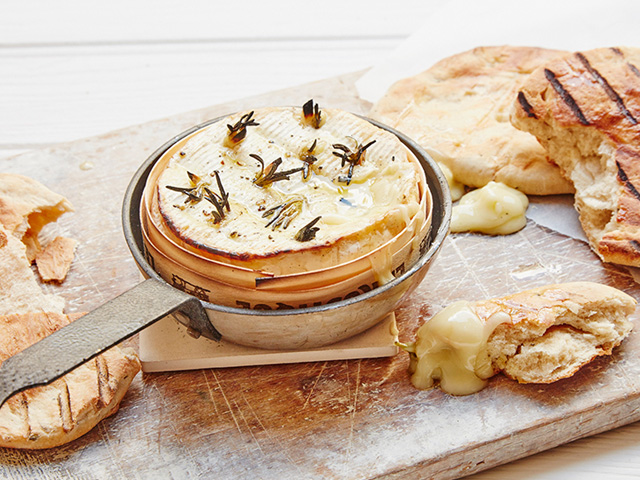 recipe
ROSEMARY, GARLIC AND TRUFFLE BAKED CAMEMBERT WITH ROSEMARY FLATBREAD
Ingredients:
For the flatbread:
2 tsp easy bake yeast
1 tsp caster sugar
175ml milk, lukewarm
60ml water, lukewarm
325g white bread flour
1 tsp flaked sea salt
1-2 stalks rosemary, leaves finely chopped
1 tbsp olive oil
For the Camembert:
1 boxed camembert cheese
1-2 stalks rosemary
large clove garlic, peeled and sliced
1-2 tsp truffle oil
---
Method:
Put the yeast and sugar in bowl. Pour over the warm milk and water. Stir to combine then set aside for 5-10 minutes until the surface becomes slightly frothy.
Put the flour in a large mixing bowl and stir in the salt and chopped rosemary. Make a well in the centre and pour in the yeast mixture and olive oil. Bring the mixture together and when completely combined, turn out onto a clean work top and knead for about 5 minutes until it's smooth and elastic. Transfer to a clean lightly oiled bow. Cover with a damp tea towel or piece of cling film and leave in a warm-ish place for around 45 minutes until the dough has doubled in size.
Divide into 6-8 portions and roll out to give flat rounds. Cover and keep cool until ready to cook.
To prepare the Camembert, remove from any plastic packaging and place the cheese back into the box. Place the lid under the base for extra support. Score the top of the cheese in a lattice pattern. Using a skewer or tip of a sharp knife, pierce holes in the cheese and insert the pieces of garlic and sprigs or rosemary. Season with a twist of black pepper and drizzle with some truffle oil.
Prepare the barbeque with the baffle in upright position and heat to approximately 220°C for baking.
Sit the box of camembert in a heavy based ovenproof frying pan or baking dish, then onto the barbeque grill. Cover with the lid and leave to bake for 20 minutes until the cheese is golden and melted. Remove and leave to sit for 5 minutes while you cook the flatbread.
Lay the flatbreads on the grill and cook with the lid up for 1-2 minute each side until becoming golden and slightly puffed up. Cut or tear into pieces and dip into the cheese.
Back to Recipes