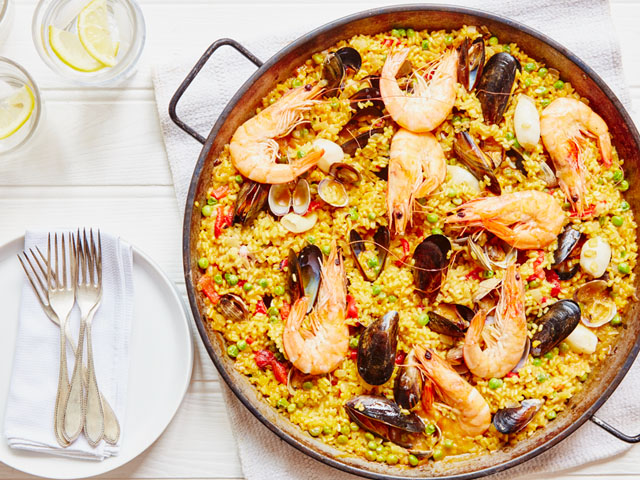 Paella is a perfect summers evening meal for a get together with friends or family.
Cooked on an open fire in a shallow frying pan (paella), it creates a wonderful mediterranean feeling as you share this classic tapas dish and enjoy the sunset.
Ingredients:
3 tablespoons olive oil
2 onions, chopped
3 cloves of garlic, crushed
600g paella rice (preferably Calasparra rice)
400ml white wine
a large pinch of saffron strands
2 tsp smoked paprika (use hot smoked paprika if you want a spicy kick)
2 litres hot fish or chicken stock
500g mussels
250g clams
4 small squid, cleaned and cut into rings
200g frozen peas, defrosted
2 roasted red peppers, cut into strips (ones from a tin or jar are ideal)
sea salt and freshly ground black pepper
8 raw tiger prawns, shell on
1 small bunch of flat-leaf parsley, chopped
8 lemon wedges
---
Method:
Clean the mussels and clams by washing under cold running water, discarding any open shells that don't close when tapped.
Prepare the barbeque with the baffle in upright position and heat to approximately 180-200°C for baking.
Sit a large paella pan or skillet on top of the grill plate. Add a really good glug of olive oil and sauté the onion until it has softened, stirring continuously.
Stir in the garlic and rice for a minute or so until the rice is coated in the oil, then add the wine, saffron, paprika and enough stock to cover the rice (about two-thirds of the measured quantity). Stir well and bring to a simmer. Allow to gently simmer with the lid up and cook for about 10 minutes, stirring occasionally to prevent the rice sticking to the bottom of the pan. Add some more stock if it is being absorbed too quickly.
Stir in the mussels, clams, squid, peas and peppers and season with salt and pepper. Arrange the whole prawns on top and pour over the remaining stock. Cover with the barbeque lid and leave to about 10–15 minutes, until the rice is tender and the seafood is cooked through (the mussel and clam shells should be open).
Sprinkle over the parsley and place the lemon wedges on top. Serve the paella straight away.
Back to Recipes