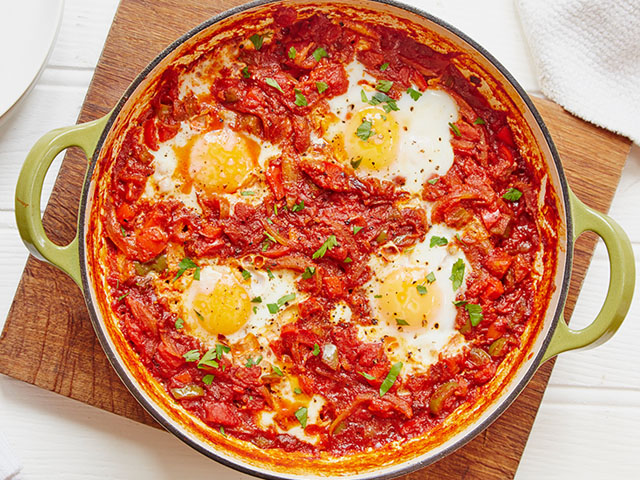 recipe
SHAKSHUKA (TURKISH BAKED EGGS)
Ingredients:
3 tbsp olive oil
1 onion, finely sliced
1 green pepper, diced
1 red pepper, diced
4 cloves garlic, peeled and crushed
2 tsp paprika
½ tsp cumin seeds
2 tsp harissa paste
2 x 400g/14oz tinned chopped tomatoes
1 tbsp lemon juice
2 tsp sugar
4 eggs
small bunch coriander, roughly chopped
---
Method:
Prepare the barbeque with the baffle in upright position and heat to approximately 180-200°C for baking.
Sit a large ovenproof frying pan or casserole on the grill. Add the olive oil and onion. Cook gently until the onion is golden, stirring frequently. Add the diced peppers and fry for about 5 minutes or so until the peppers are softened, then stir in the garlic, paprika and cumin. Cook for a couple of minutes to release their flavour and aroma.
Stir in the harissa, chopped tomatoes, lemon juice and sugar. Bring to a simmer and gently cook with the barbeque lid open for about 20 minutes until the sauce has thickened. Have a taste for seasoning and adjust if necessary.
Make 4 holes/craters in the sauce and break in the eggs. Season them lightly then cover with the barbeque lid. Cook for about 4-5 minutes until the egg whites are only just, set but the yolks still nice and soft.
Scatter with coriander and serve.
Back to Recipes