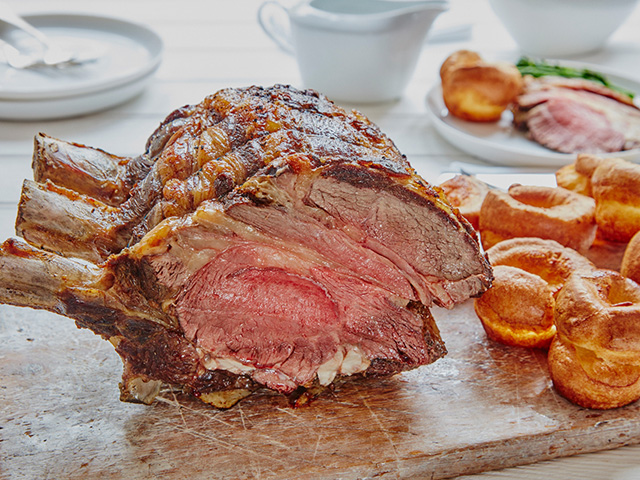 recipe
SLOW ROAST RIB OF BEEF WITH HORSERADISH YORKSHIRE PUDDINGS
Ingredients:
Well-aged 3 bone rib of beef, trimmed and tied
Olive oil
Flaked sea salt and freshly ground black pepper
1 bulb of garlic, halved
few sprigs of rosemary or thyme
2-3 bay leaves
1 litre vegetable stock
Horseradish Yorkshire puddings:
115g plain flour
3 eggs
150ml milk
1 tbsp horseradish sauce
½ tsp salt
sunflower oil, for cooking
---
Method:
 Allow the beef to reach room temperature by leaving out of the fridge for 30 minutes. To make the Yorkshire puddings, simply beat everything together until the mixture is completely lump free. Pour into a jug. Chill until needed.
Pour about 1 tsp sunflower oil into each hole of a Yorkshire pudding tray. You will have enough batter to 12 Yorkshire's.
Sit the beef in a deep heavy based roasting tray, rub with olive oil and season with salt and pepper. Scatter in the garlic, herbs and bay leaves then pour in the stock. Cover the tray with a large piece of foil, making a tent over the top. Secure at the edges to prevent steam escaping when you start the roasting process.
Prepare the barbeque with the baffle in the upright position, so it's burning at about 120°C for low and slow cooking.
Sit the beef roasting tray on the grill and cover with the lid. Leave to slowly roast for about 4 hours. After 3 hours take your temperature probe or meat thermometer and insert into the centre of the beef. You ideally want the beef reach an internal temperature of 52-54°C, for a medium-rare finish. If it's not at temperature continue checking every so often. Remove the roasting tray from the barbeque once it reaches temperature.
Increase the heat of the barbeque by dropping the baffle and set for direct grilling (approximately 250°C -350°C).
Remove the beef from the roasting tray and sit the beef directly on the grill. Turn occasionally to obtain colour all over the joint.  You can use the roasting juices left in the roasting tray to make a gravy or use for stock another day. Once you have a golden colour all over, remove form the barbeque and leave in a warm place to rest for around 30 minutes.
While the beef is resting, set the barbeque for baking with the baffle in the upright position and the heat to approximately 220°C.
Put the Yorkshire pudding tray in the barbeque to heat up for a couple of minutes. When the oil is smoking hot, immediately pour in the batter. Cover with the barbeque lid and cook for 20-25 minutes, making sure you don't lift the lid for the first 20 minutes. If they are not crisp enough, continue to cook for a further 5 minutes.
Slice the rested beef and serve with the Yorkshire puddings and accompaniments of your choice.
Back to Recipes