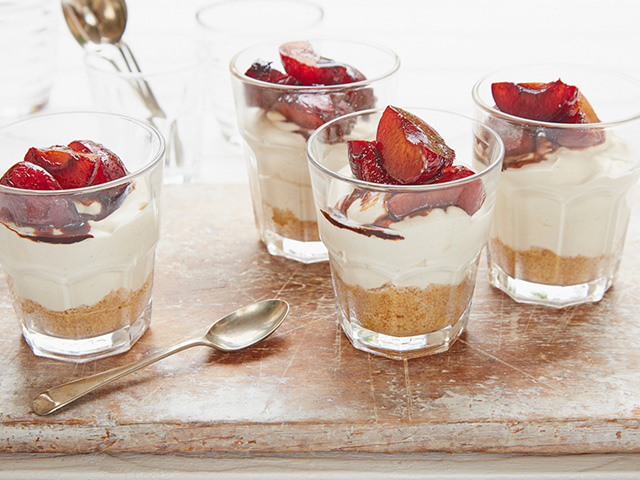 recipe
VANILLA CHEESECAKES WITH BAKED PLUMS
Ingredients:
For the base:
150g digestive biscuits
75g butter
For the topping:
200g mascarpone cheese
175g Greek yoghurt
75g caster sugar
grated zest 1 lemon
1 tsp vanilla bean paste
100ml double cream
6-8 ripe plums, halved or quartered
2 tbsp caster sugar
75ml port or apple juice
---
Method:
Crush the biscuits to a fine crumb in a plastic bag with a rolling pin or in a blender. Melt the butter in a saucepan and then thoroughly mix in the biscuit crumbs. Divide the crumbs between 4-6 glasses, dishes or ramekins, and firmly press into the base with the back of a spoon. Set aside.
Mix together the mascarpone cheese, Greek yoghurt, sugar, lemon zest and vanilla until smooth. In a separate bowl, whisk the double cream until it just forms soft peaks. Fold into the vanilla mascarpone mixture. Spoon on top of the cheesecake bases levelling off the surface with the back of a spoon. Chill in the fridge until needed.
Prepare the barbeque with the baffle in upright position and heat to approximately 220°C for baking.
Put the plum pieces in a small roasting tray and pour over the port or orange juice, and sprinkle with the sugar. Bake in the barbeque with the lids down for about 10-15 minutes until the plums are starting to soften and become syrupy.
If serving straight away, spoon over the top of the cheesecakes while hot, or leave to cool first before spooning on top.
Back to Recipes