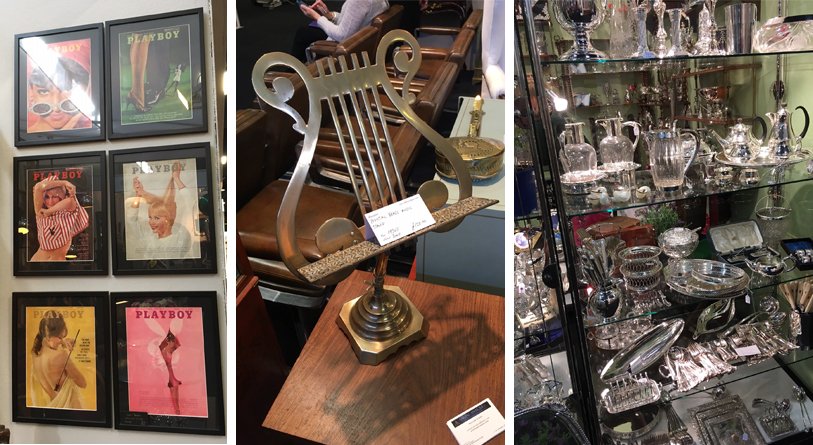 The decorative antiques & textiles fair 2017
Arts, antiques, textiles and miscelanny
A visit to the eponymous annual spring fair in Battersea park
Each spring, autumn and winter art and antiques lovers flock to Battersea Park to feast their eyes on an array of tantalising antiques, unique artwork, vintage fashion, quirky memorabilia, beautiful textiles, lighting, furniture and sculpture. The Decorative Antiques & Textiles Fair is held three times a year and is a wonderful display of antiques and 20th century interior design. Launched in 1985 and still going strong, the fair is a real destination for beautiful things with a deeply instilled heritage. With our days getting longer and the emphasis on being outside returning, there was a real focus on garden furniture, urns and unusal decorative pieces for the garden.
GREEN THEME
To celebrate the return of spring, the organisers of the fair created 'The Morning Room Revisited' which drew stock from the dealers to create a beautifully styled creative space, between kitchen and garden room, with decorative storage ideas and quiet seating areas. A highlight on this stand was the stone dog sculpture, gazing out at the view – much like ours do here at the showroom! With green being a prominent colour in both fashion and interiors this year, it was a clever nod to the trend – as well as being seasonal. Various other stands at the show were also displaying this wonderful vibrant shade of green, making the show feel very spring-like indeed.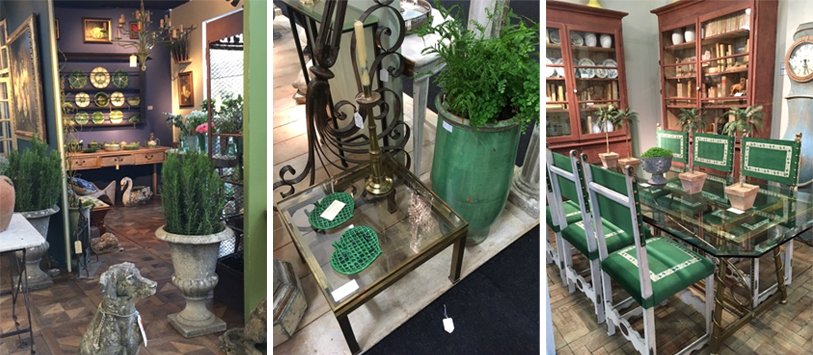 THE ARTS
The fair was full of beautiful pieces – of course to be expected at an Arts Fair. As well as a number of classic paintings featuring outdoor sports such as hunting, shooting and fishing, there were some modern pieces as well as some wonderfully quirky ones done by legendary artists including Picasso, Jean Cocteau, Sir Anish Kapoor and Salvador Dali – real collector's items. A stand dedicated to aboriginal art was also rather eye-catching with mesmorising prints in stunning colours with a few painted digeridoos propped on the side.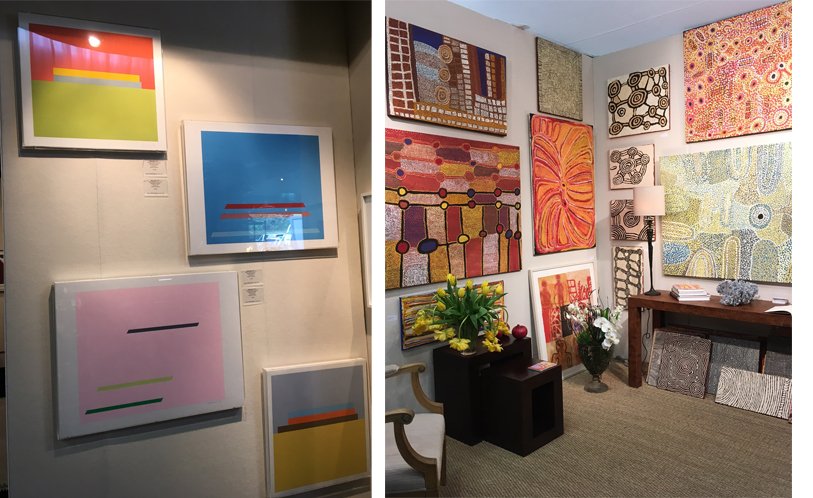 COSTAL CHIC
Coastal style is and will always be a popular trend in interiors. Cream painted cabinets, pale wood chairs, painted blue tables and blue and white textiles all contribute to achieving this look. Accessories tend to feature shells, boats, ropes, sand – anything to evoke the feeling of being by the sea. It is a calm and serene way to style a room and not only seen in holiday homes. There were a few standout pieces/stands at the fair with a strong coastal vibe including a rather wonderful and unusual drinks fridge – because let's face it, everyone likes to have a drink by the sea!
LIGHT UP
One usually expects to see lots of lovely lighting at an antiques fair and this one did not disappoint. There were also some highly unexpected and rather amusing pieces on show including lamp bases made from musical instruments and garden utensils with wonderful feather lampshades. Another stand-out pair of lights had carved swans for bases. There was a lot of creative flair in the lighting department, as well as lots of colour with bright blue and green pendant lights, pleated Moroccan style lampshades and a charming silver bird lamp base with a vibrantly coloured gemoetric-style lampshade.

HANDCRAFTED AND SCULPTED
There were a number of impressive sculptures in stone and marble on display at the fair despicting animals, birds and humans. Craftsmanship is a key theme in interiors for this year and indeed there were many other examples of fine craftsmanship such as a stand devoted to varying sizes of upholstered armchairs – some in a pre-upholstered state and stunning etched crystal glassware. There were many stands with impressive painted ceramic vases and urns as well in beautiful, bold and bright colours.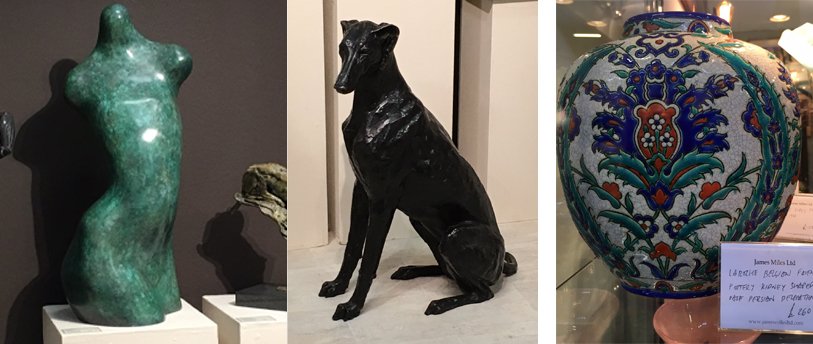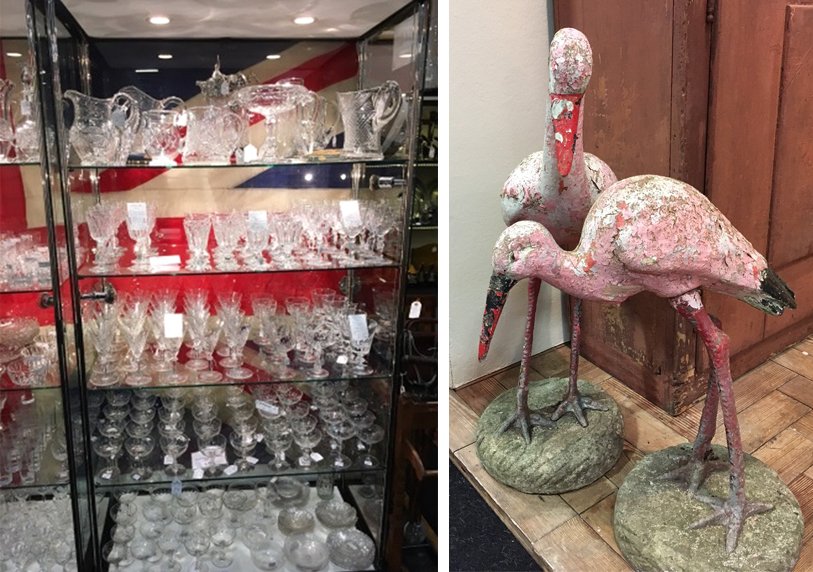 FASHION IS ART
Art is subjective and for many, fashion is art. There were some truly fabulous pieces on show from an origianl Hermes Kelly – one of the Gods of the bag worlds!- to a Chanel purse as well as hundreds of gorgeous gold and sparkly jewels! There was also a fair few vintage Louis Vuitton bags and suitcases available in near-pristine condition which were hard to walk away from…

ALL THE REST
As well as the aforementioned, there were so many wonderful things to cast your eye over, from a strikingly bright table with a bird motif, incredible silverware, a stunning side table with Portoro marble top and framed dated Playboy covers! I woud strongly recommend this fair to anyone interested in art, antiques, textiles, fashion, jewellery and of course interiors. The show will return in the Autumn in October – see you there!