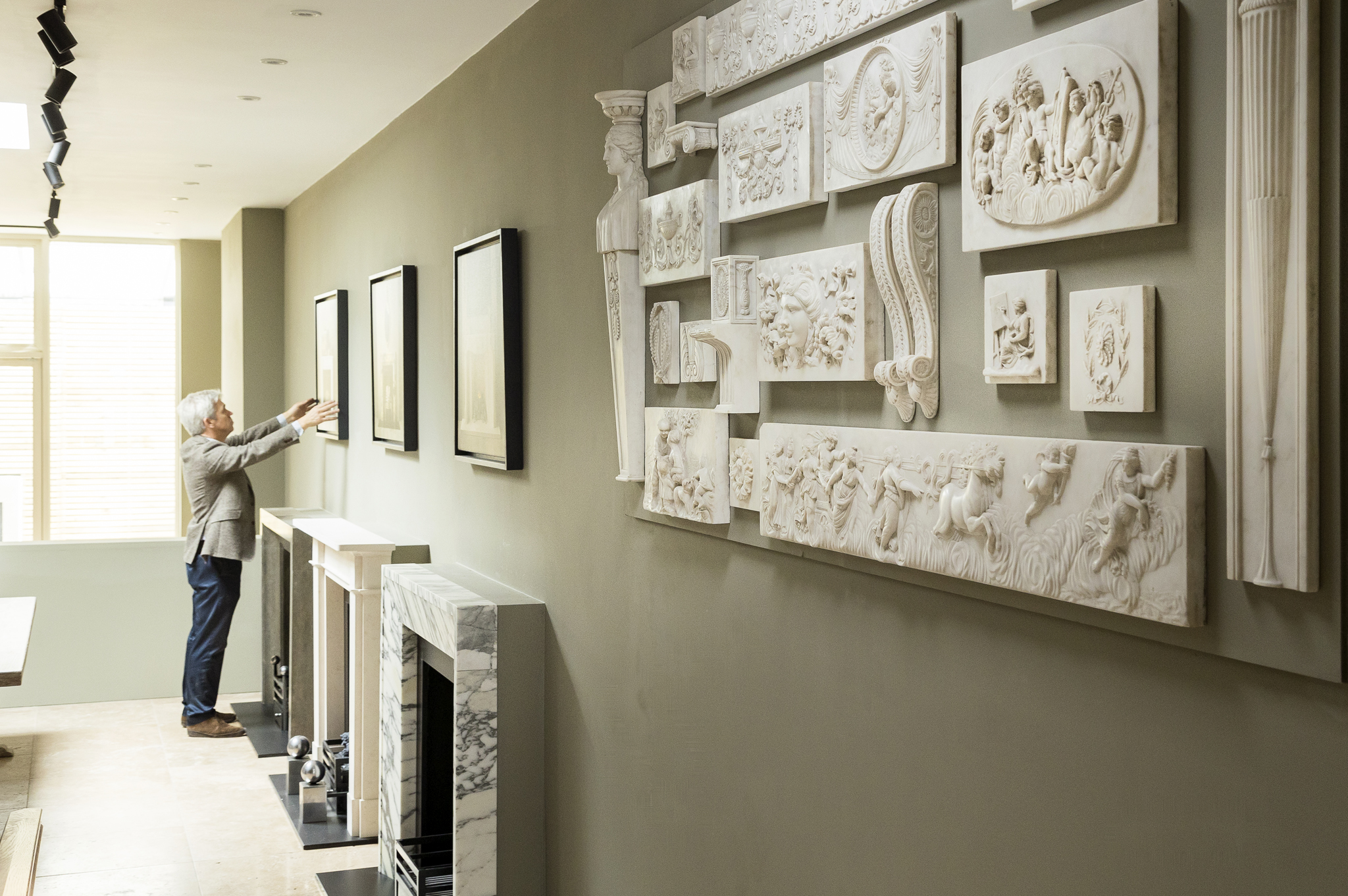 Chelsea Design Studio opening December 2nd – Why Chelsea, Why now?
Chelsea Design Studio opening December 2nd – Why Chelsea, Why now?
Chesneys have been working with the Interior Design community and their customers for more than 35 years and have done so successfully from our Battersea and North London showrooms. Designers, in particular, were at that time spread across London and although there has always been a concentration in the middle and south western parts of town, geography was not as important as it is today.
Over the past decade or so however, the picture has changed and partly with the success of the Chelsea Harbour Design Centre and Design Quarter, as well as the growth of the Pimlico Square community, we knew the time to open in Chelsea had arrived.
The new showroom at 570 Kings Road is called the 'Chesneys Design Studio' and not only features an array of the most relevant products but also offers a great working environment, a fully stocked 'materials' room and our unique 'Video Design' suite, a video selection experience that can be enjoyed in-store or remotely, via video-conference.
Great settings in beautiful materials
The combined displays at Chelsea will be the most exciting we've ever put together in a single showroom. As well as some of our most popular surrounds; the Metro, Langley, Burlington and Devonshire, we also have some stunning new designs including the big hit of 2019 the Scarpa and the Selborne, a brand new piece developed specifically for Chelsea.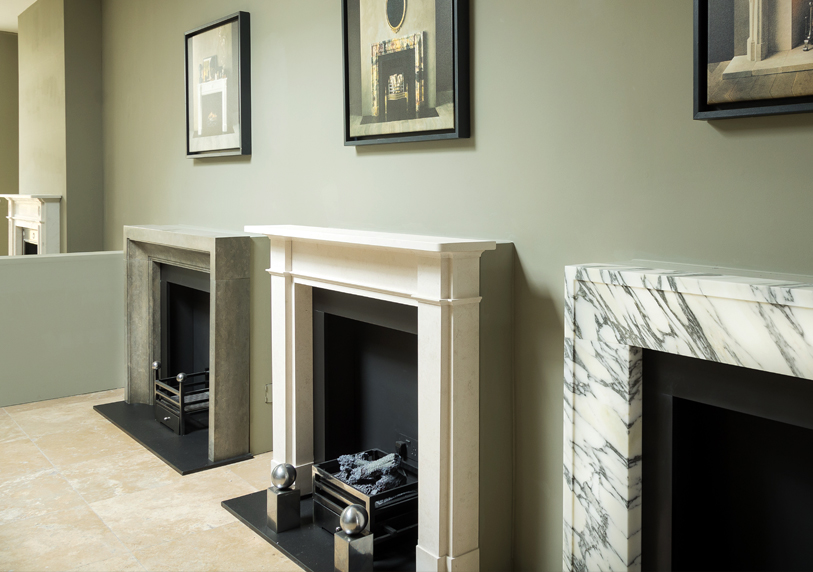 The Scarpa (L), The Devonshire (Centre) and the Metro (R)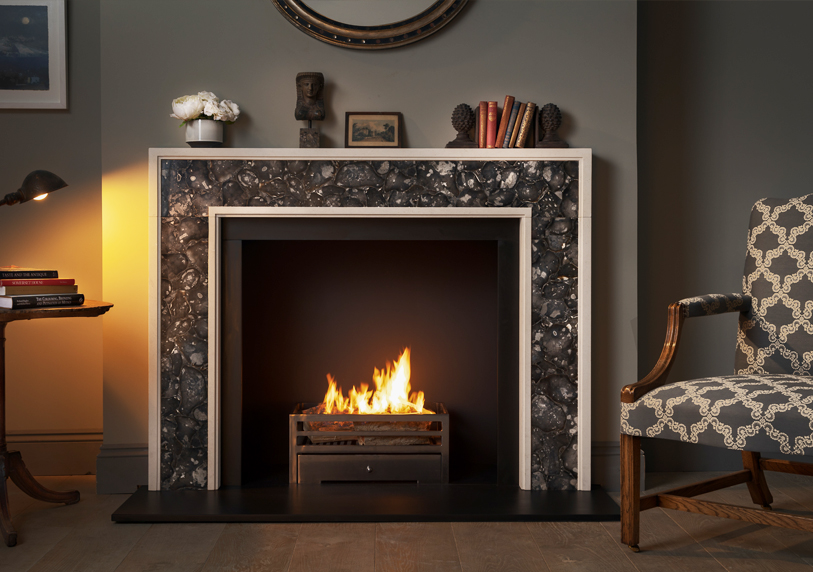 The Selborne
The materials on display are even more exciting, with a whole array of unusual and beautiful marbles complemented by detailed, thought-provoking interiors and slips including herringbone, faux gold and reeded fibre. The display is a feast for the eye but also will hopefully create debate, highlighting just what can be done with imaginative use of special material.

From left to right, The Stirling in Nero Marquina, The Mansfield, The Clandon and The Burlington
Don't want to visit right now? We have a unique new solution
For customers who are not based in London or unable or reluctant to visit during these difficult times, Chelsea will also offer a uniquely flexible approach to meetings, consultations and product selection. We've all been using video platforms over the past 6 months, be it Zoom, Teams or FaceTime, but the challenge of being able to see live product has remained….until now.
In order to enable our customers to not only speak to us from the comfort of their own homes or offices, while also able to see our full portfolio, we have developed our unique 'Video Design' studio. An innovative, online tool that currently houses nearly a hundred of our most popular surrounds, stoves, grates and related products, buyers will now be able to book online consultations and watch detailed videos of the products under consideration. Over the coming months we will be completing our collection and we believe making Chesneys the most convenient way to add heat to any interior scheme.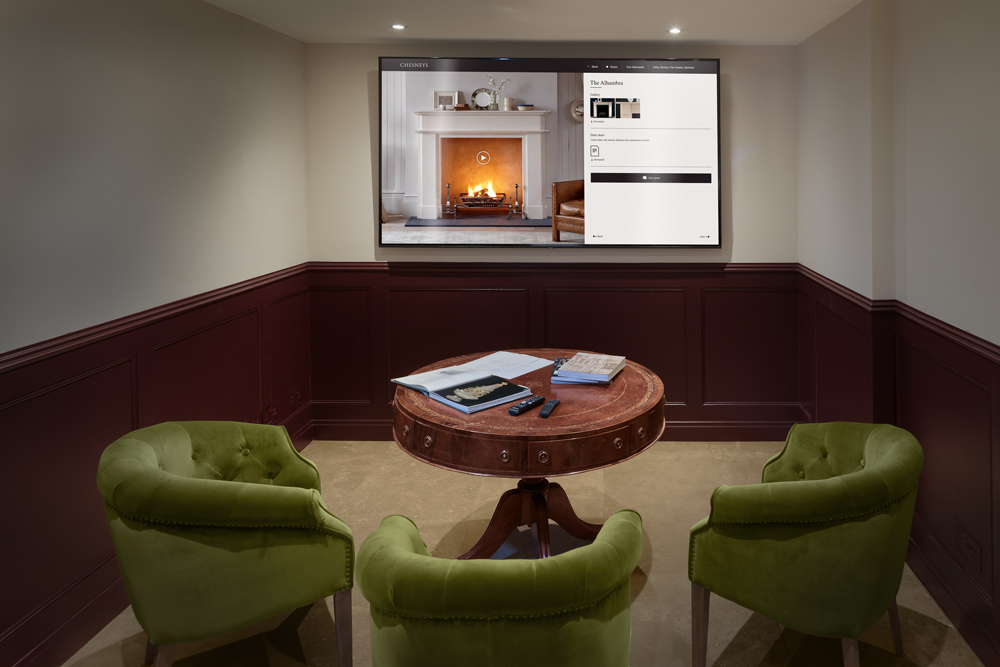 Everyone Welcome
Although our new showroom has been created with designers in mind, we believe it will offer a great experience for all our customers who want access to advice on our whole range and inspiration aplenty. Remaining at the heart of the Fireplace business in London for the past 35 years, has involved not only producing exquisite fireplaces and settings but also constantly reinventing our offer to meet customer needs. In that spirit, we felt the time was right to position ourselves geographically at the heart of things, as well as creatively.
Chelsea has always been a great place for interior designers and direct customers alike to to develop their interior schemes and we hope, from this week, it will be even better.