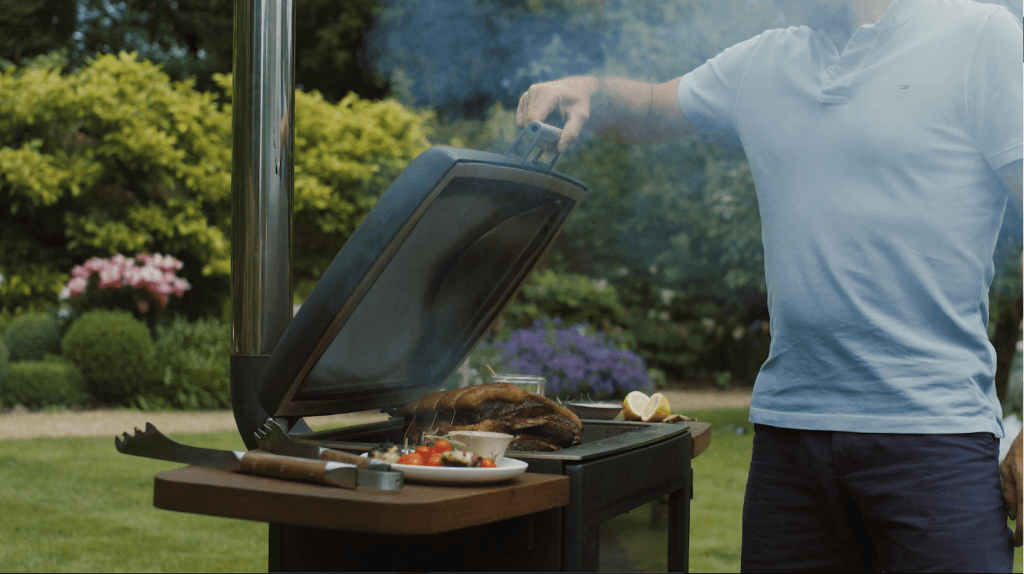 News
The Outdoor Range: an interview with Paul Chesney
We sat down with our owner, Paul Chesney, to discuss what inspired him to develop the new range of outdoor BBQs and wood burners. From learning about how the idea of creating the perfect outdoor eating and heating experience came about, to discovering the challenges that came along the way, one thing is clear: he just wants to make beautiful products. Let's get into the interview.
WHAT INSPIRED YOU TO DEVELOP THE OUTDOOR RANGE?
When we launched, our now very successful, range of wood-burning stoves ten years ago, I thought: why don't we look at utilising the stove technology we've already got, but just for outside rather than inside.
From there, it naturally evolved into the dual functionality of the outdoor range. I remember sitting in a hotel room in Harrogate with the technical guys who designed the stoves, the senior sales director and manager when we first launched the stoves range into the trade, and we all agreed that this was the logical next step.
But, it then took a long time to actually revisit the idea. We wanted to do something different, but we had just launched the stoves so our plates were full at the time. So, it's only in the last four or five years, that we really started working on the outdoor range in earnest.
And the thing is, taking what is a relatively simple concept — developing an outdoor heater that's also a barbecue — was, in reality, immensely challenging.
You see, we also wanted to provide a really clean experience, so you don't come away smelling of smoke. It took a long time to work out how to incorporate everything we wanted to make it not only work perfectly, but be completely unique as well.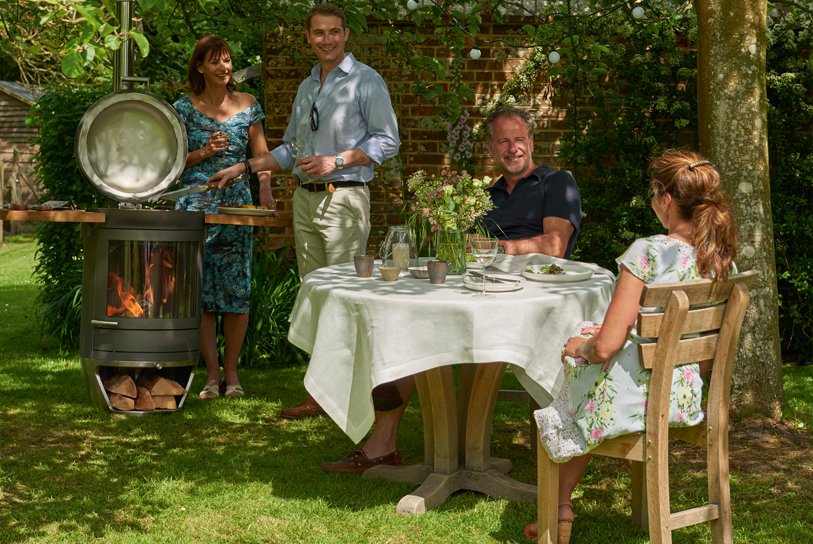 WHAT WERE THE CHALLENGES?
Well, there were two elements to this. If you look at the heating aspect, you'd think it was just a question of taking a stove a putting it outside. But it isn't at all. You have to consider durability, robustness: making it tough enough to withstand the elements and the unpredictability of British weather. As such, various aspects of the original stove manufacturing process had to be revisited and changed.
The second thing was how to incorporate a degree of controllability in order to allow you to cook on it with precision. That was so important for us: it had to be able to cook perfectly. This took a lot of development work because traditional barbecues don't allow you to do this.
WHERE DOES THE MANUFACTURING PROCESS TAKE PLACE?
So, the products are mix of steel and cast iron. Wherever we can we try and source elements through our own market. The iron castings come from Telford, for example. However, the actual assembly takes place in Denmark and Croatia due to their quality reputation.
CAN YOU GO INTO PRICE TRANSPARENCY?
When we set about designing our outdoor BBQs and stoves, one of the criteria we set ourselves was that it had to look beautiful — to have an iconic appearance. It had to look totally unique. This is what makes it expensive. For instance, if you look at the external panels on each barbecue heater, they're rounded off. We didn't want to just make a square box. It's the little touches like this that make it look beautiful, but also what drives the cost of production up.
The whole thing has been designed to be as attractive as possible, and materials — what it's made out of — also has a huge impact on that. For example, the base of it is brushed stainless steel which is very expensive to manufacture. The shape of lid, the rotatable grill that allows you cook in a variety of ways, which is a unique feature, are also both difficult to make, but they're designed to give you the optimal heating and eating experience.
That's the whole point. It's expensive because it looks beautiful and performs to the highest degree. Of course, this in itself isn't a unique thing, but the fact that you can also enjoy staying outdoors for longer thanks to the heating element, is.
WHY DO YOU THINK IT ACHIEVED RECOGNITION AT THE CHELSEA FLOWER SHOW?
Simple, the judging panel saw the product as a way for people to enjoy their gardens for longer…and it's beautiful to look at.
WHAT WOULD BE YOUR TIP ON USING THE OUTDOOR APPLIANCES FOR THE FIRST TIME?
I burn everything. But, because of thermal rotation, heat moves all the way around the product; like an oven, except it's outside. It cooks on both sides, you don't need to keep turning it. It makes it much easier. There's also a big distance between the grill and the fire so you don't get the flare ups that burn your food. As such, I can cook great food very easily — I don't burn anything anymore.
Because it's based off the stove technology, you can utilise the heat control which means you can optimise the temperature to what you need as well. So, cook a joint on it like you would in an oven. It'll just taste better because you're barbecuing.
WHAT DO THE NEW OUTDOOR PRODUCTS MEAN TO YOU?
It's not just about cooking, we're promising you an enhanced lifestyle experience. We want people to enjoy sitting in front of the fire, to relax, to bring people together.
HAS IT CHANGED YOUR HOSTING EXPERIENCE?
Absolutely, we're spending so much more time outside with family and friends.
HOW OFTEN YOU DO YOU USE IT?
2-3 times a week. We also use bamboo plates and cutlery so we avoid having to wash up. Little Cherry are really good for that sort of stuff. It just takes the stress away.
WHAT WAS THE FIRST THING YOU COOKED ON IT?
Steak. It was delicious.
ARE THERE ANY PLANS TO EXPAND THE RANGE?
Yes, we're looking at producing just an outdoor heater next year for those who don't need the barbecue element. As such, we can retail this at a lower price point. There's a few more things up our sleeves that I can't talk about yet, too.
Back to Outdoor Living News