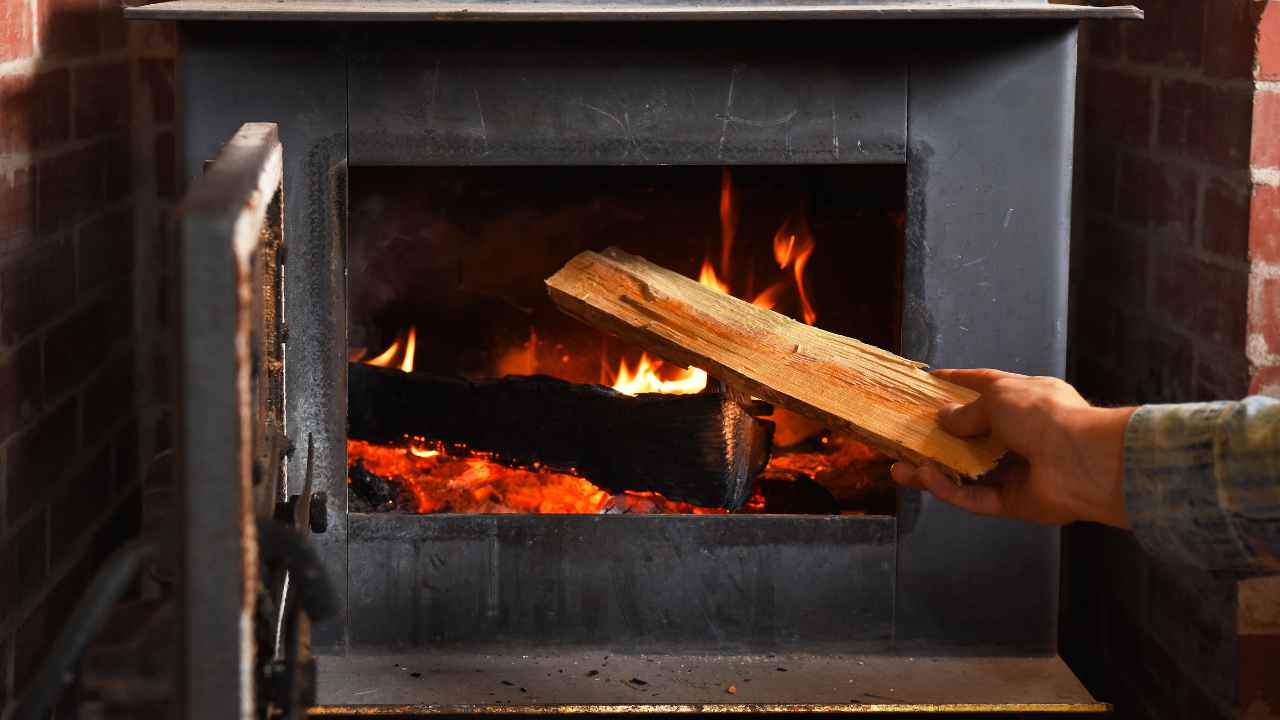 Wood Burning Stoves vs Gas Stoves
When it comes to heating your home, the choices available have never been greater but so too have the considerations you will want to bear in mind – from cost effectiveness to environmental impact – when making your choice. 
Wood burning stoves are a very popular option in UK homes. With their timeless charm and rustic appeal, they offer an attractive way to bring warmth and comfort to your living space. But how do wood burning stoves compare to gas stoves? In this ultimate comparison guide, we'll look at the pros and cons of both wood burning stoves and gas stoves so you can make an informed decision on the best choice for your home and your family.
What are Wood Burning Stoves?
Wood burning stoves are closed-fronted heating devices that burn wood to generate heat. The main parts of the stove itself will include a firebox, door, air vents and controls, baffle, ash pan, flue collar and stove pipe. 
Once a fire is lit within the firebox, which is lined on the back and sides with a heat resistant material, and the door is closed, the stove's air vents and baffle work together to ensure the fuel is combusted in the most complete way.
Wood burning stoves have been around for centuries and were originally used as a source of heat and cooking. Today, they have been through a design and manufacturing evolution to offer exceptional efficiency and minimal emissions. 
Constructed in either steel or cast iron, many people choose a wood burner for its rustic and traditional design, but as the technology has moved on in recent decades, so too has the design options available. There is now a wealth of different styles available that can add charm and warmth to any room decor. The traditional looking stove is still very much an option, but you can now choose from a range of more streamlined contemporary looking stove, a Scandinavian style cylindrical style, teardrop shapes and many more. Plus, there is a range of finishes and colourways as big as your imagination.
What are Gas Stoves?
Gas stoves are a popular alternative to traditional wood burning stoves. These stoves are fuelled using natural, mains gas and feature a burner under an arrangement of artificial fuel – this can be either wood logs, coal or even pebbles and stones. They typically feature simple controls such as an adjustable on/off dial for the gas flow, an ignition button, and a handheld remote control.  
Gas stoves were first introduced in the late-19th century, but it wasn't until the mid 1950s that sales of gas fires and stoves really took off in the UK. Their popularity was boosted by the introduction of the Clean Air Act in 1956 which restricted the use of solid fuel in urban areas. Developments in design and technology since mean that the flame picture in a gas stove is virtually indistinguishable from a real fire, plus the use of catalytic convertors in some gas stoves means installation in homes without a chimney or flue is also an option. 
As with wood burning stoves, gas stoves are available in a wide range of designs giving you options to create a stunning centrepiece or a focal point that blends perfectly with the room. 
The Aesthetics of Wood Burning Stoves Vs Gas Stoves
When it comes to aesthetics, both types of stoves have their own unique charm. The biggest difference between the two is the impact on your senses. While both can look visually stunning, a wood burning stove also has the added appeal of offering a comforting sound and smell. This trade-off between the ease and convenience of gas and the natural crackling noise and scent of wood fire is a key consideration.
As already discussed, there are endless options in appliance design across both fuel types but as a general rule, wood burning stoves tend to lend themselves to more traditional design schemes, whereas a gas stove gives a more modern and sleeker look. As a gas stove requires virtually no hands-on user operation (other than turning the appliance on and off), it may also be a better option if you like to keep your living space clean and clutter free. A wood stove on the other hand requires a certain amount of "equipment"; a poker and heat proof glove for example, as well as the fuel itself. However, there are excellent accessory sets and storage options available that can be a design feature in themselves.
Another key consideration when it comes to aesthetics is the installation itself. The complexity of any fireplace installation varies depending on several factors, but the key things to bear in mind will be the type of chimney or flue installation required and, in the case of a gas stove, the proximity to a gas and, in some cases, an electricity supply. 
Replacing an open fire with a wood burning stove, or an existing gas fire with a gas stove is likely to cause the least disruption to existing décor, but very often a new stove installation will require work such as plastering, creating the ideal opportunity to let your imagination run wild with a whole new interior scheme.   
Comparing the Efficiency of Wood Burning Stoves Vs Gas Stoves
When we talk about "efficiency" in the context of stoves, we mean the amount of fuel that is converted to useable heat; this is expressed as a percentage. You may see this written as "seasonal space heating efficiency" in some brochures and it is an important factor to bear in mind as the efficiency of your stove will have a significant impact on how much it costs to run. 
Here in the UK the efficiency of both gas and wood burning stoves is dictated by legislation. A wood burning stove manufactured on or after 1st January 2022 must comply with the efficiency limits set out in the Ecodesign Regulation (EU) 2015/1185. This states that the seasonal space heating efficiency of a closed fronted stove burning wood logs should be not less than 65%.
In the case of gas stoves, (EU) 2015/1188 applies. This states that the seasonal space heating efficiency of a close fronted gas stove must not be less than 72%.
Many modern wood and gas stoves on the market can achieve efficiencies in excess of 80%. With a wood stove there are several variables that can affect the efficiency that is achieved, such as the quality of the wood fuel, the burn period and the air wash system employed within the stove. A gas stove will deliver its stated efficiency each and every time and may come with helpful user features such a programmable thermostat and remote control, making it a sound choice if consistency is a key consideration for you. 
The Cost Implication: Wood Burning Stoves Vs Gas Stoves
One of the biggest factors that most homeowners consider when purchasing a new stove is the cost. While both wood burning and gas stoves have their advantages, they can differ greatly in terms of their cost implications.
As well as the price of the appliance itself, there is also the installation to finance and the ongoing running costs to consider.
It will typically be more expensive to purchase a gas stove than a wood stove. Prices for a high-end gas stove range from approximately £2,500 to £3,500. A wood burning stove of the same quality will range from between £1,800 to £3,000. 
Installation costs can vary quite significantly depending on your location, the type of property you live in and whether you are able to use an existing flue, need to re-line an existing chimney or if a brand-new flue or external twin wall system is needed. Consumer website Checkatrade estimates £2,000 as the average wood stove installation cost and £850 as the average price for a gas stove install.
Both types of installation require a professional – either a Gas Safe registered installer or an installer that is a member of a recognised solid fuel competent person scheme e.g. HETAS or OFTEC, depending on the fuel type.
Wood is a renewable fuel source, whereas gas is a fossil fuel that is subject to price fluctuations.  At the time of writing (July 2023) gas is costing just over 9p per kWh and kiln dried logs are just over 11p, but it is worth bearing in mind that a wood burning stove, particularly one made of cast iron, will radiate heat for some time after the last log has burnt down, whereas a gas stove will not.
In terms of ongoing maintenance costs, a wood burning stove has more moving parts that may require replacing through wear and tear over time such as the rope seal on the door. Plus, you will also need to factor in the cost of having your chimney swept at least once a year. A gas stove will require an annual gas safety check by a registered Gas Safe engineer.
Safety Considerations: Wood Burning Stoves Vs Gas Stoves
In addition to the installation requirements outlined about, when it comes to home and user safety, both wood burning and gas stoves have their own risks and precautions that it is important to bear in mind. 
It is a legal requirement for a carbon monoxide alarm to be installed in any room containing a fixed combustion appliance (except gas cookers). You should ensure that the CO detector is tested regularly – once a week is good practice.
Following the manufacturer's instructions for lighting and controlling your stove is vital. If you choose a wood burning stove only use the fuel recommended by the manufacturer and never burn chemically treated wood or waste in your stove. 
Modern gas stoves have the advantage of having a range of safety features including room temperature control, oxygen depletion sensor and flame failure device. 
Sparks can be emitted from a wood burner when opening the door to re-fuel, so it is important to ensure that a heat resistant hearth of the required dimensions is installed and if you have young children or vulnerable adults at home, a fire guard makes good common sense.
Environmental Impact: Wood Burning Stoves Vs Gas Stoves
The environmental impact of wood burning stoves and gas stoves is a key consideration for anyone looking to install a heating appliance. The burning of both types of fuel produces carbon dioxide; mains gas produces 0.210 KgCO2e per kWh, compared to 0.024 KgCO2e per kWh for kiln dried logs. (Source: Nottingham Energy Partnership).
Gas is a fossil fuel, whereas wood is a more sustainable option, as it is a renewable resource. It is important to note, however, that burning wood also releases pollutants into the air in the form of particulates, which can have negative health impacts. Modern wood stoves are designed to have very low emissions and the same legislation that stipulates the efficiency of a wood stove – the Ecodesign Regulation – also sets standards for maximum permitted levels of emissions. 
Overall, the environmental impact of wood burning stoves vs gas stoves is complex, and it is important to weigh up the pros and cons before as part of your buying decision.
Choosing the Right Stove for You: Wood Burning or Gas?
When it comes to choosing between a wood burning stove and a gas stove, it ultimately depends on your personal preferences and priorities. If you crave the rustic aesthetic and ambiance that comes with a wood burning stove, and don't mind the extra maintenance, then it may be the right choice for you. On the other hand, if convenience and efficiency are your top priorities, a gas stove may be the better option. 
If you live in a Smoke Control Area and choose a wood burning stove, you will need to ensure that the appliance is Defra Exempt to burn wood. Your local authority planning department will be able to advise if Smoke Control Area regulations apply to you and you can find a list of all exempted stove appliances on the Defra website here.
Consider your lifestyle, budget, and priorities when making your decision, and don't be afraid to consult with a professional to make an informed choice – your local independent retailer will be pleased to help.
Wood Burning Stoves vs Gas Stoves
We hope you have found this a useful article looking at the many considerations in your choice of gas or wood burning stove. Ultimately, both wood burning stoves and gas stoves can provide a wonderful warmth, comfort, and ambiance to your home, creating a focal point for the family to gather or a space for solitude curled up with a cuppa and your favourite book. 
With innovative engineering and exemplary attention to detail, Chesneys' range of gas and wood stoves have been designed to the highest standards for the most discerning of homeowners.  Take a look at our complete range of stoves here.
Frequently Asked Questions (FAQs)
Will I need to have my chimney lined?
A wood burning stove chimney or flue must meet the requirements of Approved Document J of the Building Regulations. Depending on the size and construction of a pre-existing chimney you may well need to have it lined to use a wood burner. Whether you choose a balanced or conventional flued appliance will determine the flueing requirements for a gas stove. A pre-existing chimney will need to be lined for a gas stove, or if there is no pre-existing chimney, a twin wall system installed.
Will my stove need ventilation?
Ventilation, such as an air brick, will need to be installed for a wood stove over 5kW and a gas stove over 7kW output.
What size stove do I need?
You will need approximately 1kW of heat output for every 14 cubic meters of space you wish to heat. For example, a living room measuring 5m wide x 4.5m long x 2.4 m high = 54m3 will require 3.8kW of heat to achieve 21oC. This is just a rough guide though and there are several factors, such as your home's construction, that will need to be taken into consideration. We recommend you seek the advice of your local Chesneys' retailer for advice.
Can I install a wood burning stove in a Smoke Control Area?
Yes, providing the appliance is Defra Exempt. An easy way to identify a Defra Exempt stove is to look for one that is certified at Level 3 or above within the clearSkies appliance certification scheme. All of Chesneys' wood burning stove models have been certified as clearSkies Level 4 or above.
What is the difference between a conventional flue and a balanced flue for a gas stove?
A conventional flue relies on the natural circulation of heated air and can work on either open or glass fronted gas fires. A balanced flue only works on a room-sealed appliance and uses a twin-walled pipe to vent combustion products to the outside. All of Chesneys' gas stoves can be installed using either a conventional or balanced flue.