Created by chef Dhruv Baker
White miso, ginger and sesame chicken thighs
This is a super simple recipe that really delivers on flavour and is always a hit at home!
Ingredients:
2 x tbsp white miso paste
1 x tbsp sesame oil
4-5 x tbsp mirin
2 x tbsp soy sauce
1.5 x tbsp rice vinegar (optional)
1.5 x tbsp caster / light brown sugar
1 x tbsp finely grated peeled ginger
12 x chicken thighs (boneless)
1 x tsp vegetable oil
2 x spring onions finely sliced to garnish
Black and white sesame seeds to garnish
Serves 4.
Serve with sticky rice and sliced spring onions.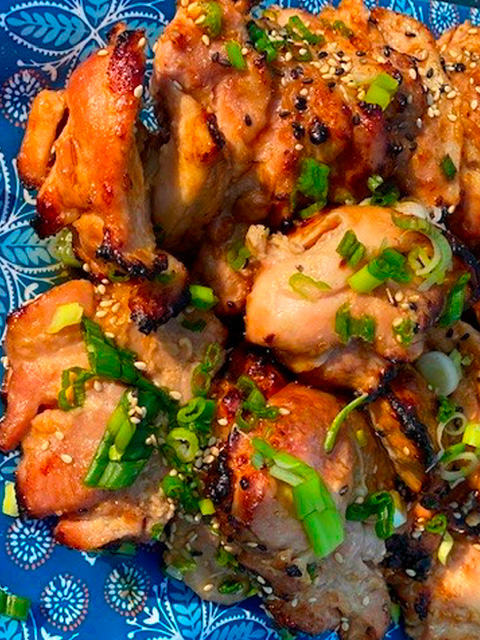 Method:
Mix all the ingredients up to the chicken (but not the chicken) in a large non-metallic bowl.
Add the chicken, cover the bowl with clingfilm and marinate for a few hours (overnight ideal).
Heat the GARDEN PARTY (I used 3-4 shovels of the Chesneys charcoal) and when you reach a temperature
of 200°C – 230°C lay the chicken skin side down on the grill, cover and cook for 8-10 minutes. You can regulate the temperature accurately with the air control lever.
When the skin is crisp and golden turn, cook skin side up for a further 8-10 minutes.
Alternatively, skewer the chicken onto long flat skewers and turn once after 8-10 minutes then cook for a further 8-10 minutes.
Serve with sticky or jasmine rice, scatter over the spring onions and sesame seeds and serve immediately