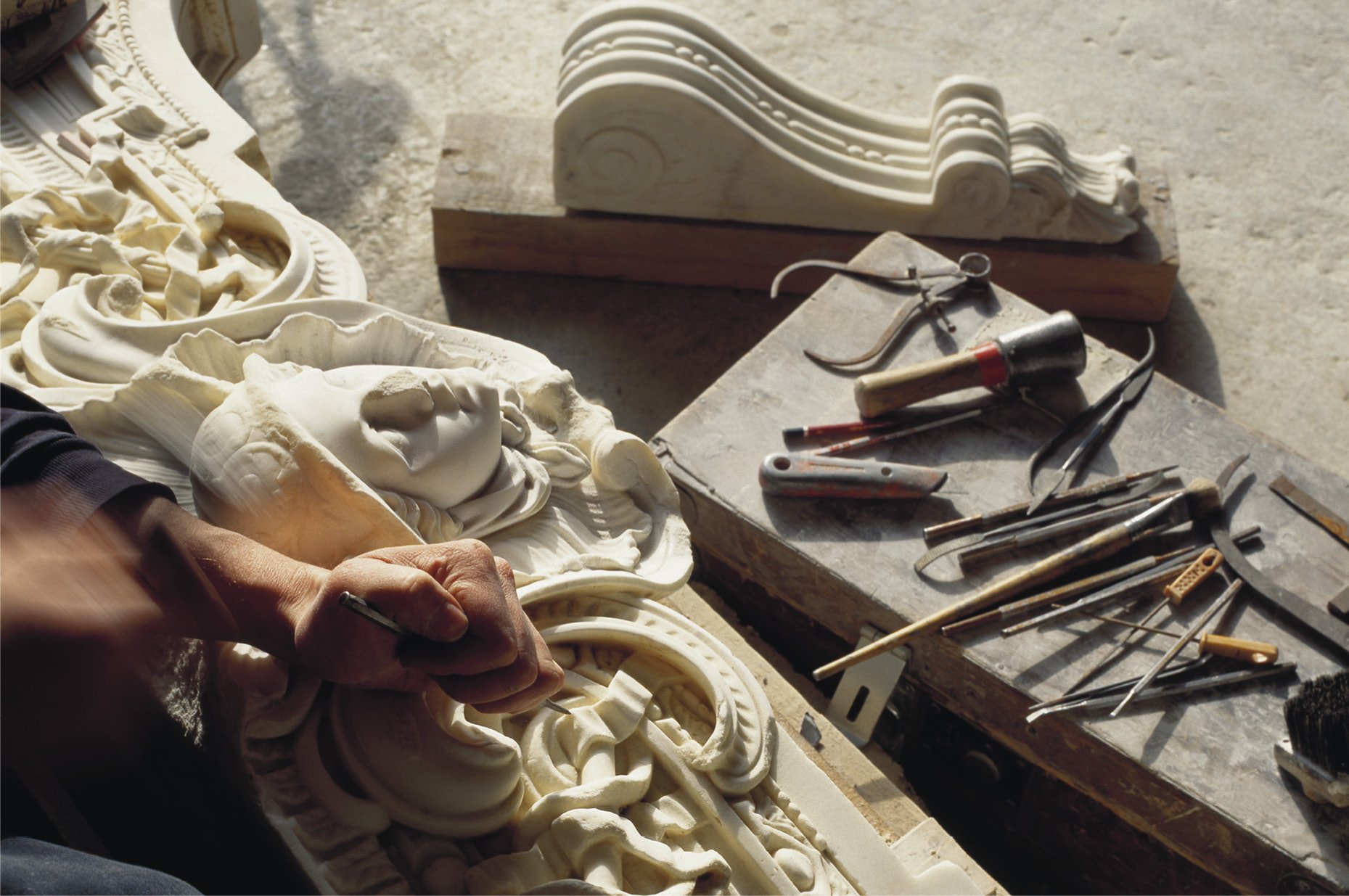 Restoring a fireplace to reveal its striking beauty
In the early days, Chesneys dealt exclusively with restoring and sale of all genres of antique fireplace. These included marble and stone chimneypieces, cast iron register grates, fire baskets and fire dogs ranging in date from the late 17th century to the Edwardian era.
Although we are more widely known today for our extensive ranges of reproduction fire surrounds, grates, wood burning stoves and gas fires, we still maintain a specialist workshop in central London where we continue restoring a wide variety of antique pieces. Some of the processes involved in our restoration work do not require specialist machinery or workshop conditions and can be undertaken by the willing amateur at home in situ. As Chesneys' Head Mason, I have provided a few tips to help restore the shine to a neglected fireplace:
If your stone or marble fireplace is looking a bit grubby give it a gentle clean using a weak solution of warm water and household detergent making sure that you use a non-abrasive kitchen pad. You'll be surprised how effective this can be in restoring to its striking appearance.
A great many fireplaces are installed on slate hearths and after a while these invariably start looking a bit dull and showing scratches as slate is quite a soft material. To address this, wash the hearth with a detergent, wait for it to dry and then apply boiled linseed oil or spray it with WD40, and rub this into the surface, taking care to wipe off any excess when you are finished. The hearth will pretty much look as good as new by the time you are finished.
You may have a 19th century cast iron register grate that has been painted several times over the years obscuring the fine cast decoration that is a feature of so many of these grates. Ideally the grate would be removed for shot blasting but more often than not this isn't possible to achieve without the removing the fire surround that has been installed with it. A time consuming but ultimately very satisfying solution is to strip the paint off in situ using a product such Nitromors but make sure that you protect the adjacent area. Once the paint has been removed it is a good idea to give the grate a single coat of primer to inhibit any rusting and then black lead it using Zebrite or another graphite paste. This will produce a very attractive lustrous gun metal finish. A short cut is to leave the paint on the grate and apply black lead to the paint. This will not do anything to reveal the original cast detail but it will nonetheless significantly improve the appearance of the grate.
Find more information on Choosing a Fireplace
These three simple measures can easily be used to achieve a really effective transformation in the appearance of your old fireplace.
Author: Mat Tierney – Head Mason
For more updates follow us on Facebook, Twitter, Instagram or Pinterest.