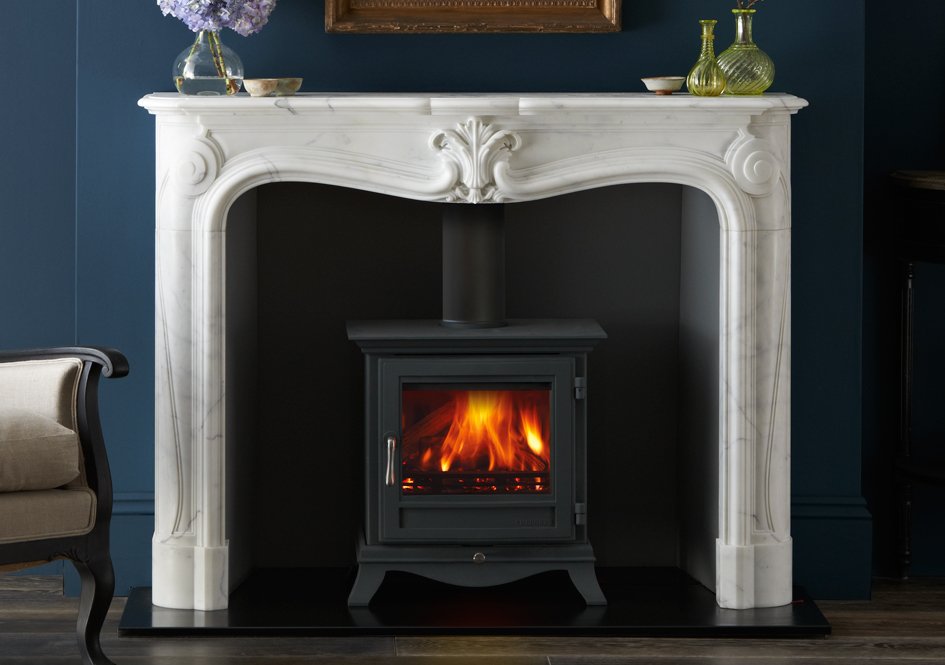 Features to look for in a wood burning stove
There are some really important things to look for in a wood burning stove and you have to be sure you know what you're getting and why before you buy one.
The most important thing to look at first is the efficiency of the Stove. Look for something at around 75% efficiency or above. London and many other major cities are in smoke control zones, see your local council for details, which means the stoves have to be DEFRA exempt to burn wood or smokeless coal in them. Normally a DEFRA exempt stove will be of a high efficiency as it burns its own smoke and the Chesney's range is all at around 80-85% efficient and DEFRA exempt.
Another good thing to look for is an easily controllable stove. Chesney's stoves are controlled by a single air flow lever at the front, you pull it out to let more air in and close it down to let less air in.
One of the most important aesthetic considerations is the glass which should have an air wash or clear view technology. This means that you can see the flames clearly and you should barely ever have to clean the glass, assuming you're using aged and seasoned timber with around 20% moisture content. The wood you burn must not have been treated or painted as this will affect the air wash system. All of the Chesney's stoves have this clean glass technology and as a result we very rarely have to clean the glass on our showroom stoves even though we have them burning 9am-5pm, 6 days a week.
Take the hassle out of cleaning and maintenance with our wood burning stove maintenance guide.
Another good thing to look for in a stove is a body made of steel with cast iron components. As steel can be bent to shape in a single piece it avoids the gaps that occur in a cast iron stove. This makes it highly durable and more efficient. As steel is exceptional at expanding and contracting in the heat it allows the stove a lot of movement. It also heats up quickly transferring the heat. The cast Iron elements of the stove retain and radiate heat for some time after the fire has died down.
Also in the midst of all this technology you should be looking for a stove you like the look of. It's going to be something you look at and use for quite a while and it needs to be pleasing to the eye. Our wood burning stoves are designed to be beautiful as well as practical. They have a painted finish which is easy to touch up but also allows you to pick a colour you really love. A stove does not have to be black any more so why not have something more versatile, or more suited to the light and atmosphere you want to give a room.
A stove is an investment which you should enjoy. Remembering that you'll be using it a lot in winter should prompt you to consider how user friendly it is. It should be simple to use, well designed and not too gimicky.
Author: Eve Richens – Sales/Admin Executive