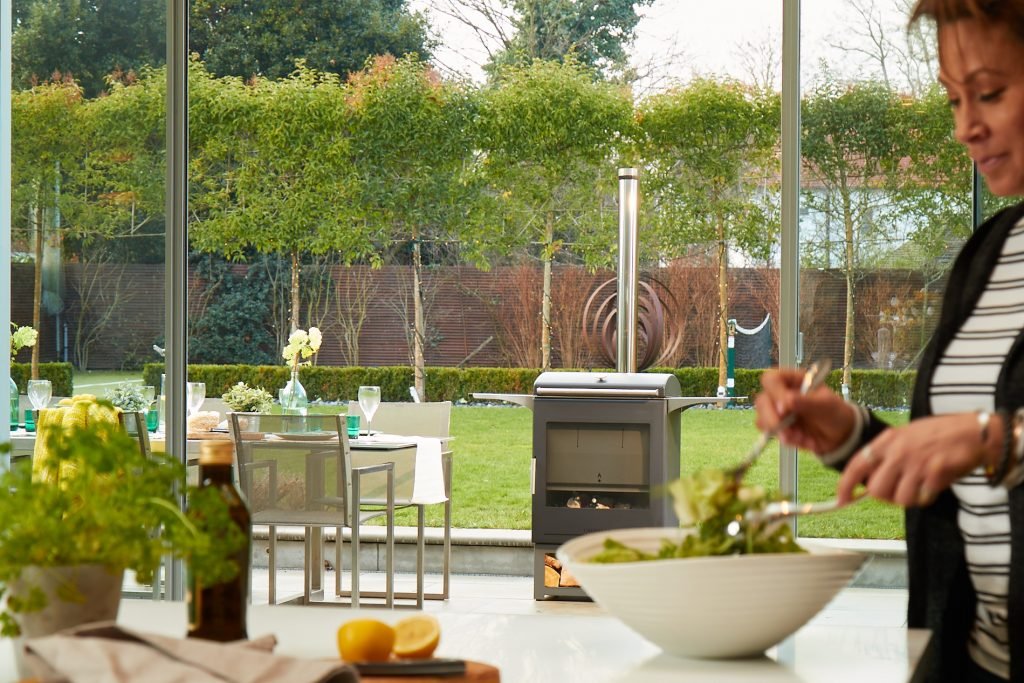 News
Getting the most from your garden with a multi-use heater barbecue
While the scent of barbecuing reminds most people of warm days spent outside, garden spaces aren't just meant for hot, sunny afternoons. In fact, fond memories with family and friends outdoors can be just as easily made during the breezy months — once you know how to make the most of your garden space. Whether you're planning a relaxed afternoon of eating and drinking, or hosting a chic dinner party, the key is to keep everyone as warm and comfortable as they would be indoors. So with a few additions, and the help of the new Chesneys Heat & Grill, we'll recommend some simple ways to transform your garden and make the get the most from your outdoor living spaces.
Grow your own seasonal vegetables
Big or small, landscaped or unruly — every garden has the ability to grow fresh produce. It's no secret that good food comes from great ingredients cooked brilliantly, so why not go one better with a vegetable patch of your own? If your green thumbs have been itching to garden this winter, the early months of January and February are perfect planting time for spinach and cabbage, whilst radishes, potatoes and beets thrive when their seeds are sown in early to mid-Spring. Not only is organic veg tastier, but the satisfaction of serving guests food from your own patch is enough to make any amateur gardener glow with pride. With delicious ingredients in hand, it's time to try vibrant recipes with the family or old friends as eating together provides the perfect time to connect and bond with those you care about.
Feast alfresco with friends
Just as gardening should be a year-round activity, so too should cooking and eating outdoors. To allow for all-weather outdoor dining, design the space specifically for alfresco-style eating. This can be a classic long dining table with plenty of chairs, or if you want it to be more relaxed, keep the ambience casual with comfy outdoor daybeds. You can find them with nifty canopy covers to protect from wind and light drizzles too — all while adding to your cosy intimate space.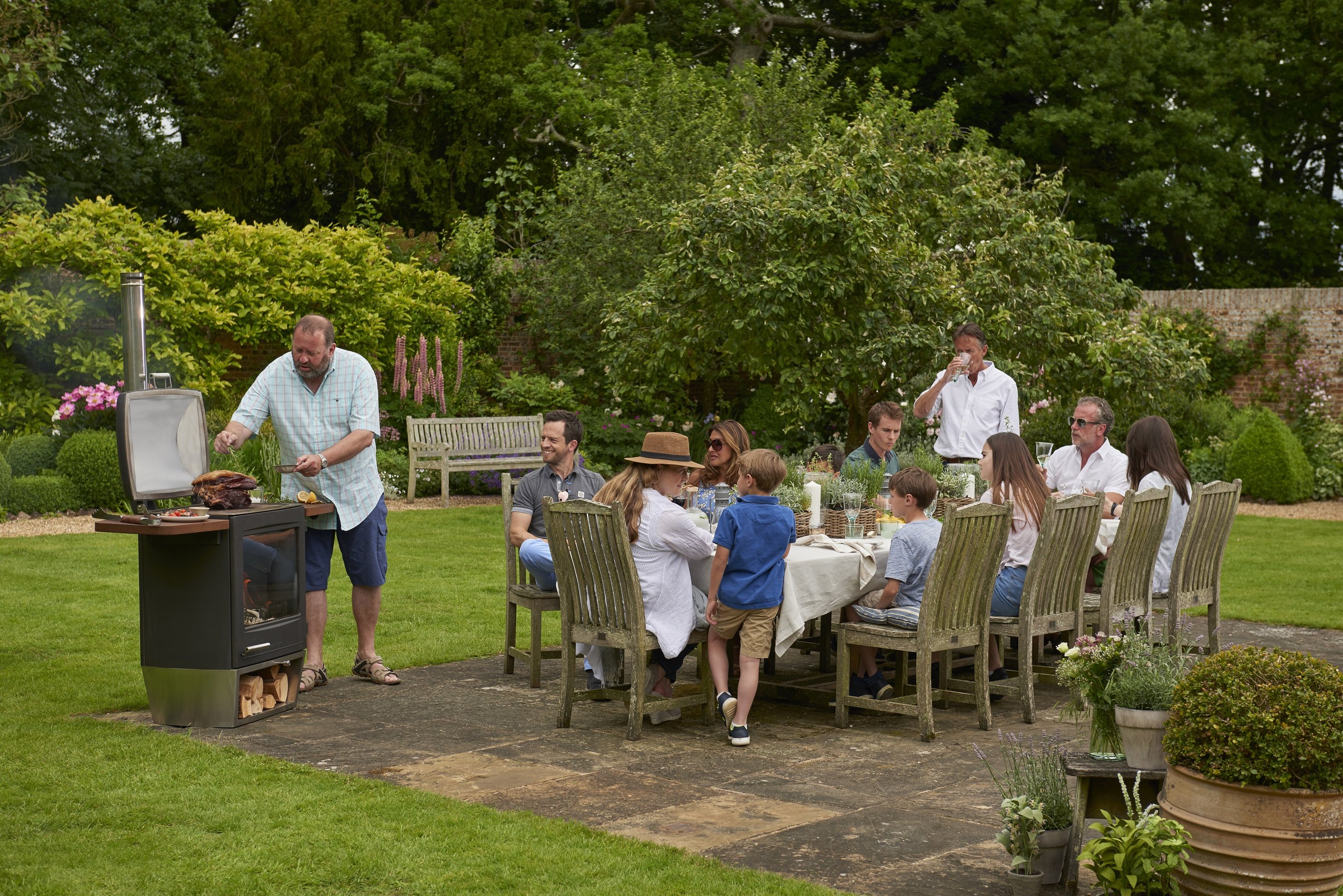 Although traditionally barbecues are associated with summer, grilling outside is a quick, healthy, and delicious way to cook all year round. With a multi-use barbecue like the Chesneys Heat & Grill, you can swap evenings spent indoors with television and takeaways for memorable nights filled with fresh food and fresh air. The high powered dual-fuel barbecue with spacious grill means that you can create delicious, perfectly-cooked dishes for up to fifteen people. We'd recommend a rack of ribs or a tasty side of salmon and roasted seasonal vegetables for a year-round warmer. And if it becomes chilly or the weather turns, the dual-function of HEAT's wood burning stove means that you'll remain toasty while you're cooking. So for those who find cooking in the kitchen stuffy and lonesome, the warmth from the Heat & Grill will bring your company out to you.
Create cosy communal spaces
For intimate evenings with family and friends, swap the screen-watching indoors for an evening of stargazing outside. Creating cosy communal spaces outdoors is one way to make sure that your guests don't retreat inside at the first sight of a cold breeze. One way to do this is by creating inviting outdoor seating areas. Making your outdoor seating spaces to be plush and comfortable seating isn't just the recipe for an inviting evening, but it creates a perfect framework for your heat source to become a bright, warm focal point. The dual-function of Heat & Grill means that once the cooking is over, guests can remain outside, staying toasty by the fire for the duration of the evening. Arrange your garden furniture so that everyone will feel the warmth of the fire, and you can even add some glass lanterns and a few twinkly lights if you want to create the ideal homely effect.
What better way to create a cosy atmosphere than with the crackle and flickering glow of a wood burning stove? Placed as the centrepiece to your outdoor oasis, the sleek black design of the Heat & Grill complements any colour scheme beautifully. The crackling wood fire can be seen through the Heat & Grill's viewing window, providing a hygge ambience to cosy nook. Simply pop some properly-seasoned wood into the fuel chamber, to keep your guests warm all evening long.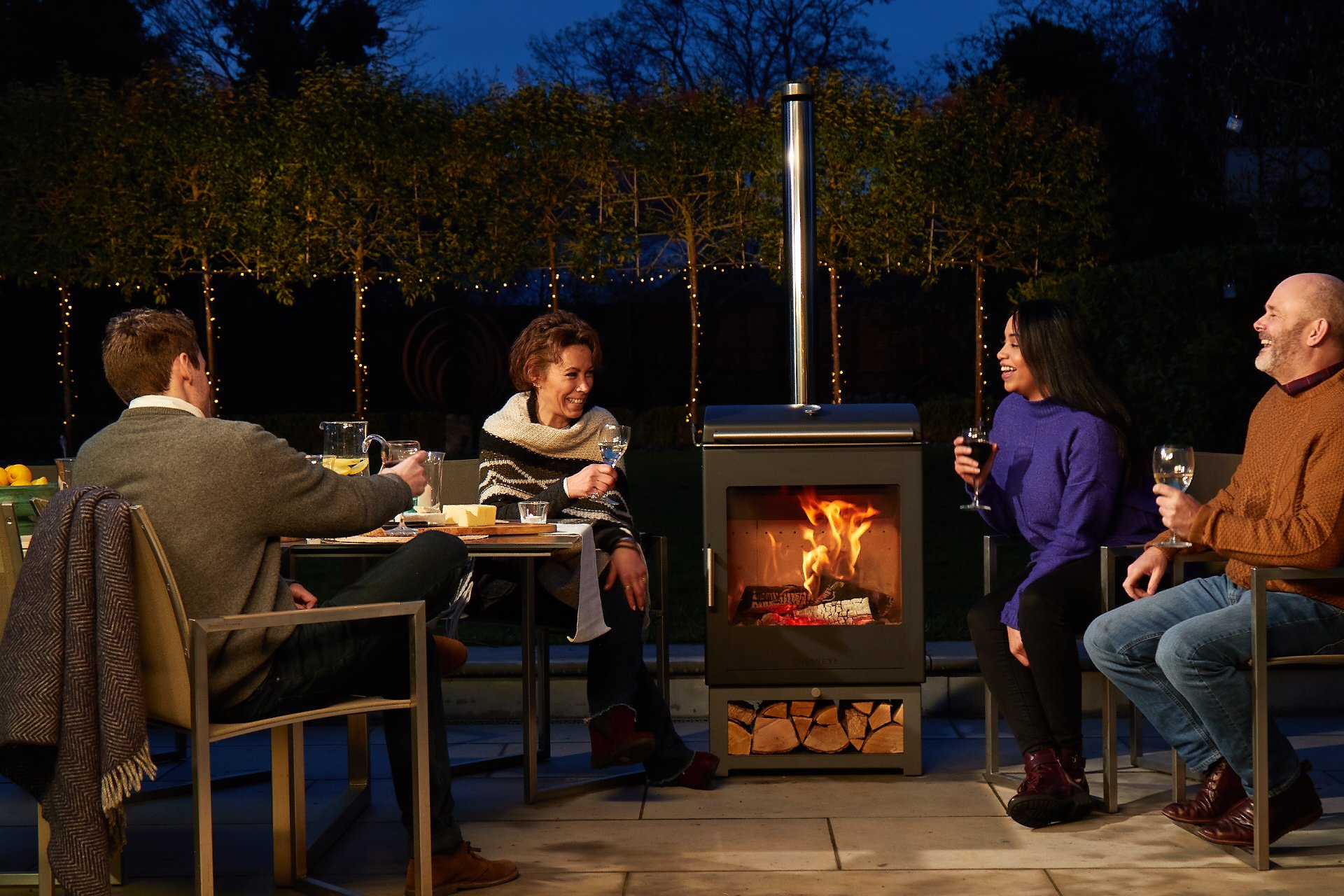 Care for your garden
Taking the time to look after your garden means less time spent worrying when you're entertaining. On top of the general trimming and pruning of your plants, it's also important to look after your garden once your guests have arrived. Unlike fire pits, each Heat & Grill is built with award-winning clean burn and air-wash technology — ensuring its wood burner is carbon neutral and smoke-free. With this one-of-a-kind technology, you'll be able to overcome the environmental concerns attached to traditional wood-burning stoves, allowing you to enjoy your evenings guilt-free.
Bring the indoors, outside
Rather than being confined to stuffy offices, or in the kitchen cooking, it's time we found more ways to enjoy the break that outdoor cooking, eating, and relaxing offers. As those in Mediterranean countries know all too well, entertaining in the fresh air is one of life's great pleasures. If you have the space, making your balcony, patio or garden space into an extension of your gorgeous home means they won't get overlooked — whether its summer, autumn, winter or spring you can find a way to enjoy a barbecue.
Ready to get the most from your garden this outdoor season? All that's left to do it select the perfect Chesneys stove to elevate the experience? You can discover the Heat & Grill online along with our full range of HEAT appliances, or head to your nearest stockist to see them in action.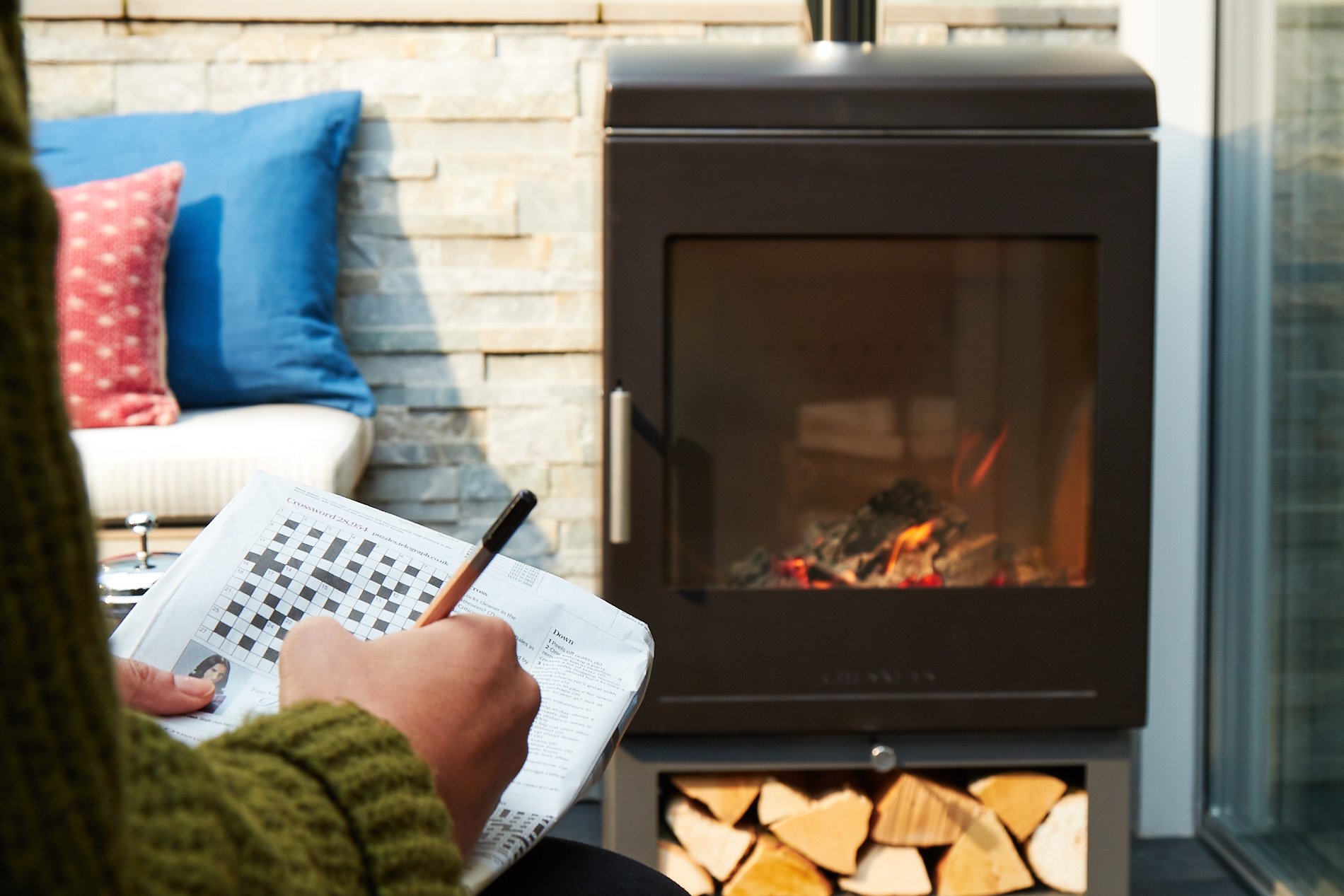 Back to Outdoor Living News