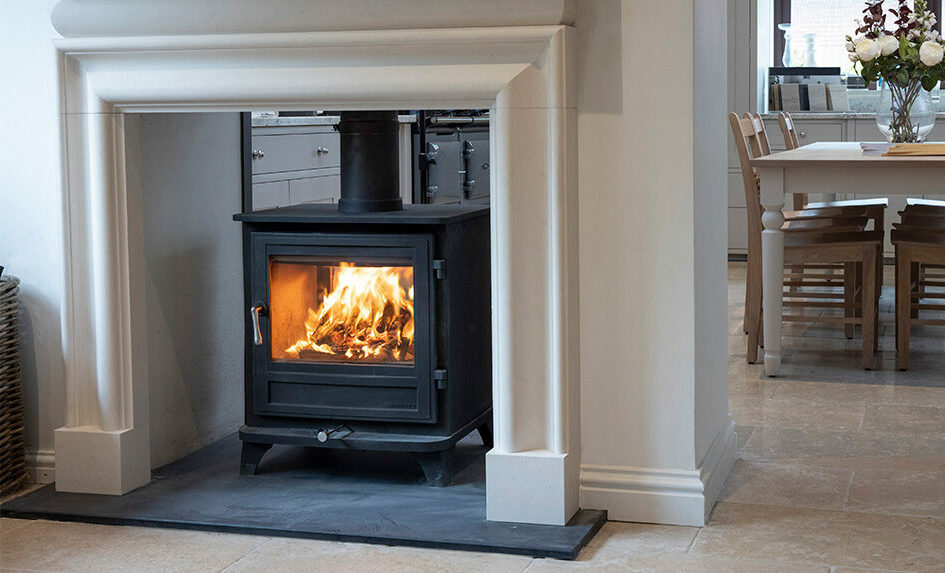 Installing a wood burning stove in an existing fireplace
Wood burning stoves are an energy-efficient source of heating that offer a wealth of benefits. Whether you're looking to reduce your energy bills or just enjoy the crackle of a log fire, there are many good reasons to convert a gas fireplace into a wood burning stove.
Fortunately, installing a wood burner into an existing fireplace is usually a fairly simple process. If you currently have a gas fireplace in your home, keep reading to find out the best way to convert it into a wood burning stove.
Can all types of gas fireplace be converted?
Unfortunately, not all fireplaces are able to be converted. Whether or not you're able to install a wood burning stove depends on several factors:
The size of the fireplace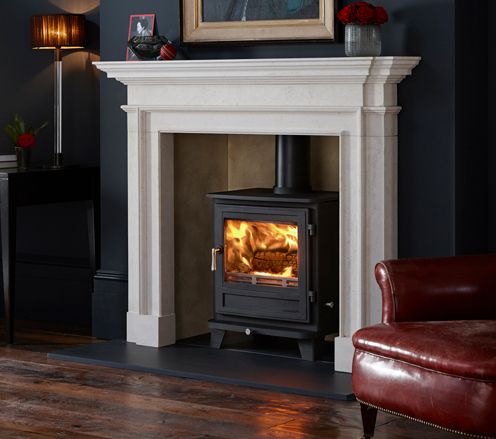 The opening of the existing fireplace needs to be large enough to comfortably accommodate a wood burning stove, while also allowing sufficient space around the stove itself. There needs to be a safe distance between the stove and combustibles such as wallpaper that may catch fire if too close.
More space around the stove will also allow more air to circulate, improving ventilation. Which brings us to the next point to consider…
Room ventilation
Fire needs oxygen to burn, which means that a wood burning stove needs plenty of air in order to work properly. If your existing fireplace is located in a room without adequate ventilation, you're likely to encounter issues such as excess smoke or difficulty getting the wood to burn. A stove with an nominal output of 5kW will not require additional ventilation but please check with your HETAS installer for further information.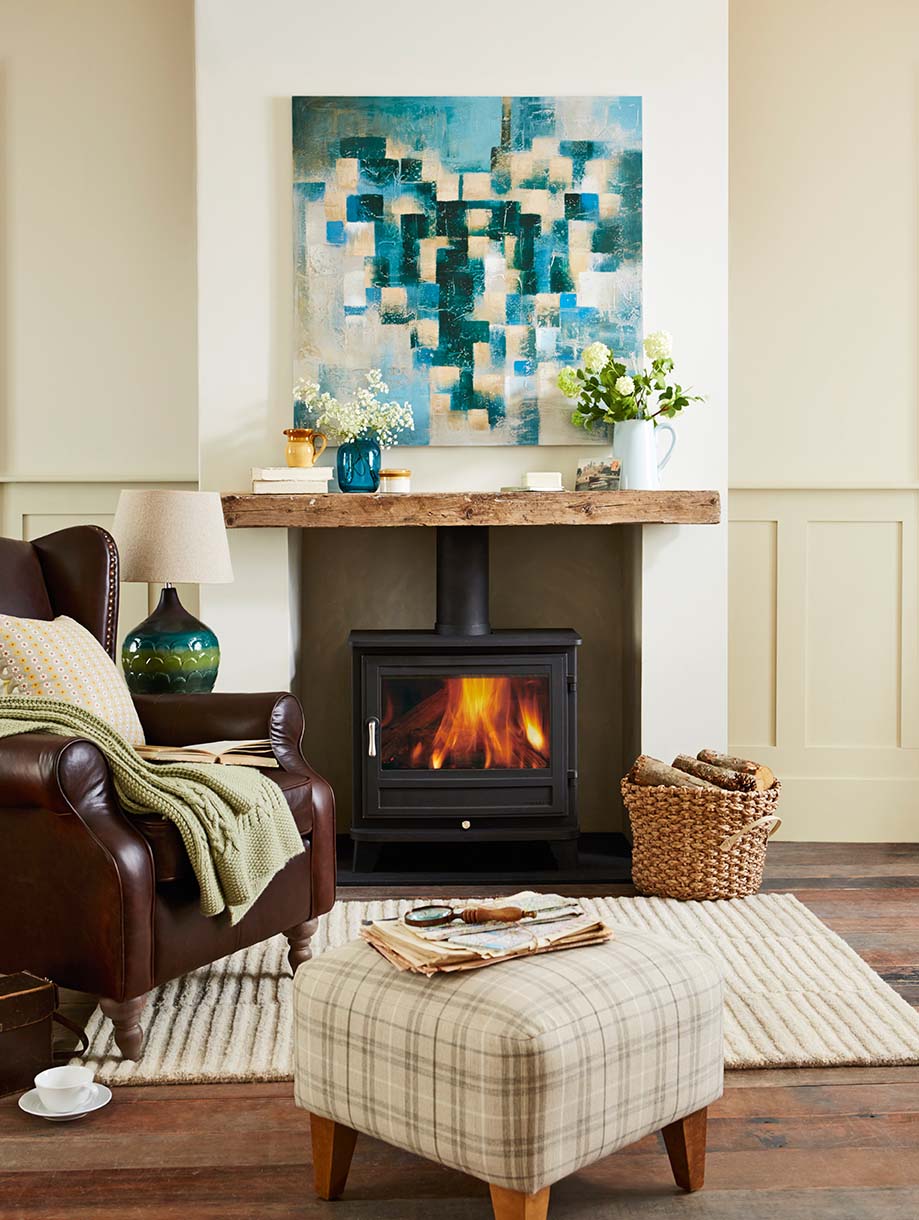 The chimney and flue type
The chimney is one of the most important things to consider when evaluating whether your fireplace is appropriate for fitting a wood burning stove. If you live in a house without a functioning chimney, it may not be possible to install a wood burning stove. 
The flue system is also important to consider. Many gas fireplaces are flueless or use a gas flue that is unsuitable for a wood burning stove, so you would need to have a new flue fitted in order to convert it.
Smoke Controlled Area
You will need to check if you are in a smoke controlled area. If this is the case you will need to ensure you install a DEFRA exempt product. All Chesneys stoves are DEFRA exempt.
How to convert a gas fireplace to a wood burning stove?
Once you've determined that your fireplace is suitable for conversion, your next step is to find out how to install a wood burning stove. This can seem like a daunting task, but we've outlined the process below to help you out.
Have your chimney inspected and swept
A properly functioning chimney is vital for a wood burning stove, so it's very important to make sure that all elements of the chimney are in good working order. You can do this yourself if you know how to go about fireplace maintenance, but it may be easier to enlist the help of a professional.  
It's also important to sweep your chimney to ensure it's properly cleaned before installing a wood burning stove, as any build-up in the chimney could lead to a fire. Chesneys recommend that ALL chimneys are lined with a suitable liner, prior to the installation of a stove. This will ensure the most efficient burn possible. The liner also prevents the chimney from leaking carbon monoxide as the stove is then sealed at both the stove and the exit of the chimney.
Choose an appropriate stove model
Wood burning stoves come in different shapes and sizes, and it's very important that you choose the right one for your space and needs. 
You should also take into account the heat output of the model, and make sure that it will be powerful enough to heat your home adequately. If the room your fireplace is in is big or has high ceilings, you'll need a stove with a higher heat output.
Remove the gas fireplace
Before you can install your new wood burning stove, you'll need to have your old gas fireplace safely removed. It's very important that the gas line is safely disconnected, so you should call a Gas Safe registered engineer to do this for you. They will be able to disconnect the gas supply and cap the connection.
Find a professional to install your wood burning stove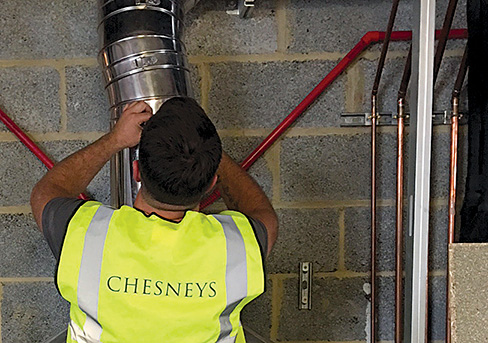 Though you may be tempted to install your new wood burning stove yourself to save money, this is not recommended as an incorrect installation can be very dangerous. We recommend that you contact a HETAS-registered installer to carry out the installation for you, as they will make sure that everything is fitted correctly and safely, and that your chimney is properly lined. The HETAS installer will provide you with a HETAS Certificate which must be retained by you as this will be required in your "house sellers pack" should you move property.

Fit a carbon monoxide detector
You are legally required to fit a carbon monoxide detector near your new wood burning stove. The detector must be located in the same room as the stove, either on the ceiling or high on a wall. The horizontal distance between the carbon monoxide detector and the stove should be between one metre and three metres. Your HETAS registered installer will place this in the correct position prior to signing off your installation.
What is the cost of converting a gas fireplace to a wood burning stove in the UK?
The stove installation is the most expensive part of the process, and will usually cost between £1500 and £2500. This price will vary depending on whether you need to install a new chimney or flue system, so make sure you do your research and find out exactly what work will be needed.

Wood burner pros and cons
The major advantage of a wood burning stove is that it is far more efficient than an open fire. Unlike an open fire which loses the majority of its heat up the chimney, only around 15% of heat generated by a wood burner goes up the chimney. This means it provides a far superior heat output, and should provide enough heat to keep your home warm and save you money on energy bills. 
A wood burning stove is also considerably more eco friendly than an open fire. Replacing an open fire with a modern eco design stove will reduce your PM2.5 emissions by 90%. All Chesneys stoves are eco design 2022 approved, which means they are both highly efficient and produce fewer emissions. A wood burner will also reduce the amount of fuel usage overall with increased heat performance into your room. We strongly recommend the use of 20% moisture content logs (or below). Please look for the "woodsure" logo to ensure the best possible fuel!
If you're looking to buy a stove, you should have a look at our wood burning stove buying guide or head to one of the nearby stockists to have a look at the available models.