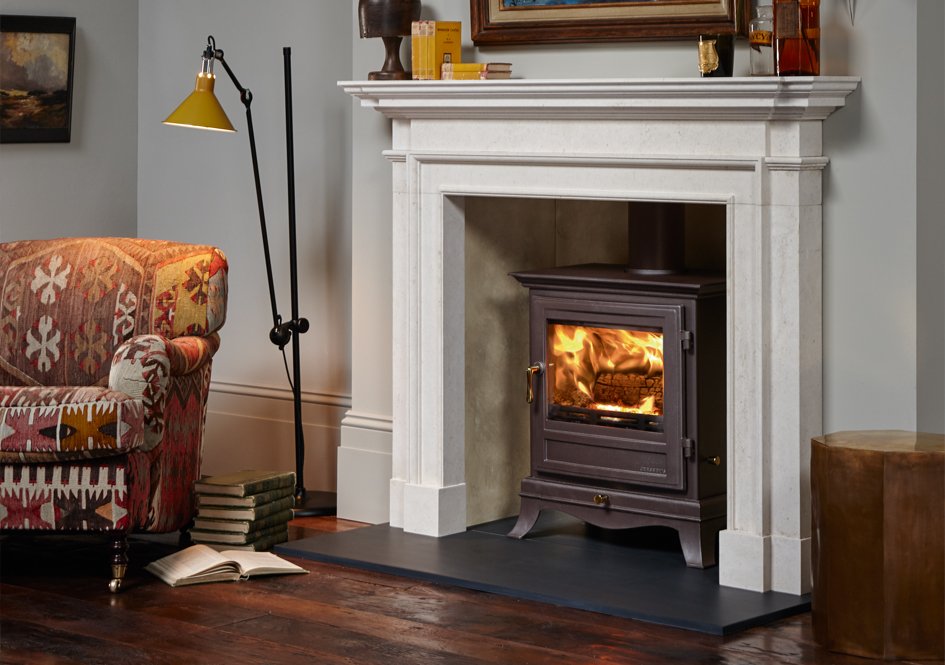 What are the benefits of a wood burning fire? (And which homes they suit best)
There is something evocative about a wood burning fire. Watching the flames flicker up the chimney is a pleasant pastime. However, a glorious display isn't the only benefit of having a wood burning fire in your home.
More and more people are opting for fireplaces and stoves over more conventional forms of heating – here are a few reasons why you should consider doing the same.
WOOD BURNING FIRES ARE COST EFFECTIVE
Although analysis carried out by the Department of Energy & Climate revealed that the price of domestic fuel fell slightly in 2015, electricity and gas are still the most expensive fuels to use to heat your home with. By comparison, using wood to provide warmth to rooms is substantially cheaper. As of January 2016, wood logs work out at 7.1 pence per kWh, whereas electricity is 15.6 pence per kWh.
IT'S MORE ENVIRONMENTALLY FRIENDLY
It may seem counter-intuitive to say that burning wood is an environmentally friendly way to heat your home. However, depending on where you source your fuel, wood logs and pellets are much better for the planet than an electric fire.
Firewood sourced from plantations and cultivated woodland is a renewable energy source, as felled timber is regularly replaced with new trees. If you can, source wood from your local area as well. Not only does this reduce the carbon footprint, it also helps your local economy.
How efficient your firewood is depends on the moisture content (stove expert Huw Williams answers questions on wood burning stoves) – the dryer the better as this means less smoke and harmful emissions are produced. As a guide, use logs that have been dried (seasoned) for at least one year, preferably two so the moisture content is below 20%. Be aware that hardwoods like oak will dry out slower than softwoods like pine.
YOU'RE NOT BEHOLDEN TO AN ENERGY COMPANY
If you have a large home, it is likely you will still require a more traditional boiler to heat rooms without a fireplace. However, on chilly evenings, it is a delight to curl up in front of a fire and reflect on that fact you are not paying an energy company for the privilege. It is also a comfort to know that in the event of your electricity being cut off, perhaps by extreme weather, you can always pop a log on the fire and stay warm while the storm rages outside.
A WOOD BURNING FIRE IS A BEAUTIFUL FOCAL POINT IN ANY ROOM
The appealing nature of a wood burning fire cannot be ignore. Not just a feature to be marvelled at in period properties, the right fireplace can be a focal point in even the most contemporary of homes. As a fireplace is a functional feature that involves open flames, there are certain building regulations that need to be adhered to when installing a fireplace or stove – especially if one doesn't currently exist in your home. Our Fireplace Installation manual has more information about this.
Providing you adhere to all safety requirements, it simply becomes a question of deciding on the right design of wood burning fire to suit your home. The key questions to consider are:
Will your fireplace be the main centrepiece in the room or secondary feature?
Do you want to integrate the fireplace into the overall design scheme of your home or introduce a different aesthetic?
What is the main use of the room where the fireplace will be? Is it a cosy nook where you come to relax or an expansive space where everyone gathers together?
Thinking of choosing a design from the same historical period of your home? Or fancy playing on the contrast between old and new with a contemporary design? Chesneys has a stove to match your needs. Explore our wide range of wood burning stoves.
For more advice and design inspiration, check out what style of fireplace will suit your home. Our experienced sales team can also offer tailored advice to help you find the right wood burning fire. Get in touch by phoning 020 7627 1410 or email us at sales@chesneys.co.uk. For more updates follow us on Facebook, Twitter, Instagram or Pinterest.