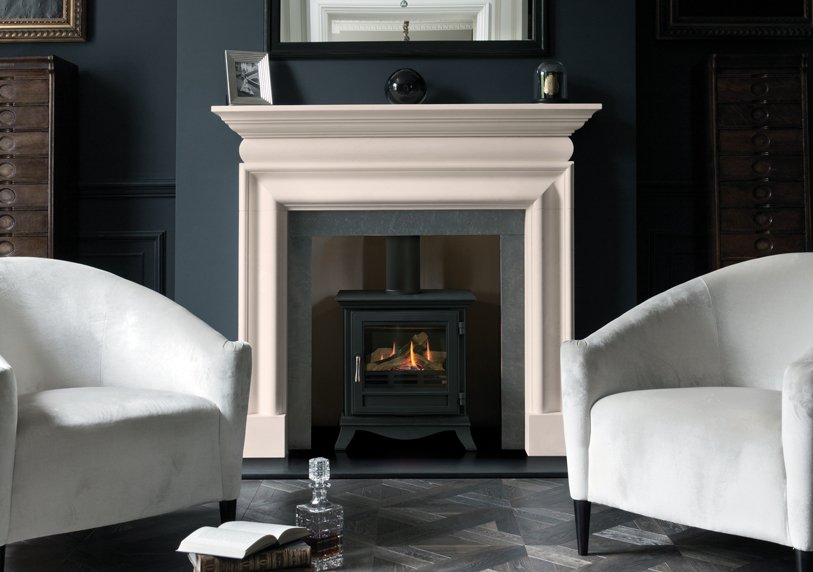 Wood burning stove alternatives: Which fires should I consider?
A wood burning stove offers an array of benefits, so it is no surprise that over 1 million UK homes have one. But is a wood burning stove the best heating option for your home and lifestyle?
Should I install a wood burning stove in my home?
Whether you dream of Christmas Eve sipping mulled wine by a soft crackling flame or are looking for a way to  , a wood burning stove is usually your first thought.
However, while a wood burning stove is a desirable option for many, in reality, it may not be suitable for every home. Whether you live in a modern property without a chimney or the proper infrastructure for installation, or you're concerned about the upkeep of your stove, other options may be more fitting. Luckily, this doesn't mean your dreams of creating a cosy atmosphere can't still be a reality — a wood burning stove alternative may be just what your home has been waiting for.
What are the alternatives to a wood burning stove?
When it comes to discussing wood burning stove alternatives, there are three main options: bioethanol, gas, and electric. Much like a wood burning stove, they all come with their own pros and cons. Here is what you can expect from these three options.
Gas
If you love the look of a wood burning fireplace, then a gas alternative offers the convenience of the beauty and warmth of a real fire that can be controlled from the comfort of your armchair — particularly Chesneys real flame effect Alchemy gas fires. This option also eliminates the need to constantly fuel the fire with wood, as a gas hook up conveniently does all the work for you. A perfect option to sit back, relax, and not worry about the fire's needs. With gas options there will be no aromatic wood smell, and while you don't need a chimney, you still need a ventilation option.
Who should consider a gas fireplace? Anyone who wants the look of a wood fire without the maintenance, those without a chimney, and individuals that want an eco-conscious fire source.
Bioethanol
A bioethanol fire offers a living flame, efficient heat output, no hazardous fumes, and a burn time of up to seven hours without the need to refuel — and all without the use of a chimney.
Bioethanol fires can fit into a traditional fireplace surround to provide a classic aesthetic but their versatility means that they're also highly suited to modern spaces that are looking for  . Plus, some models can even be controlled from the comfort of your sofa with a smartphone, tablet, or smart home system. If you are looking for a fire that generates a lot of heat, other options are available.
Who should consider a bioethanol fire? Anyone without a flue, those who value convenience and low-maintenance, or households looking to embrace a sleek and contemporary aesthetic.
Electric
An Olympus electric fire is a ready-to-use option that requires minimal installation time, doesn't need a chimney, and offers the heat and ambience of a fire, without a lot of maintenance. Not ready to give up an ambient fire in warm weather? With an electric option, you can toggle the settings to display a flame, whilst also ensuring there is no heat output.
Who should consider an electric fireplace? Those without a chimney and individuals who move house often, as you can always take an electric fireplace insert with you.
Finding the best fire for your home
You may find that more than one option is well-suited for your home, so how do you choose the best heating option? Talk to an expert near you¸ explore our blog for more information and inspiration, or browse our fireplace options.
7 timeless ways to create a focal point
Elevate your modern living room with a wood burning stove